Home Equity In The U.S. Is The Highest It's Ever Been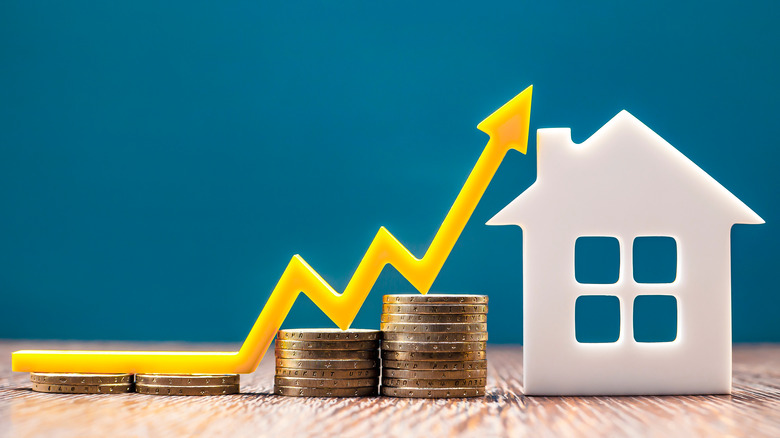 Sersoll/Shutterstock
If you're a homeowner in the United States, you may be sitting on a nest egg amidst the current real estate market. Recently, home equity in the U.S. has increased nearly 20% within the first quarter alone, hitting a whopping $27.8 trillion, as per The Wall Street Journal. This is the highest record despite the rise of economical inflation. The upsurge is mainly a result of the roaring housing market. While some homeowners are benefiting from the escalating home values, other prospective buyers are being pushed out of the heated competition.
What is home equity and why is it soaring? Home equity (real property value) is the variance between the value of your home and the amount owed on your mortgage. While you pay your mortgage, the amount of equity rises as well as when the house's value spikes. According to The Wall Street Journal, the Federal Reserve recently announced an increase on its standard federal-funds rate, which rose 0.75 percentage points to between 1.5% and 1.75%. Although proprietors may reach for home-equity lines of credit, increasing rates are making it difficult for them to use. This is because, while home equity normally elevates with time, presently, it may be more costly to borrow while riding against it. Keep reading to learn more about home equity rates!
How to take advantage of your home equity
William Potter/Shutterstock
If you've found your forever home, it could take you to the top of the mountain. As home equity fluctuates, there are times to tap in. Between 2005 and 2012, total equity in the U.S. decreased by approximately 42%, leaving homeowners owing more on their mortgages than what they were worth. Since 2012, total home equity has been progressively on the rise (with its last giant leap in 2013). Most recently, the increase of accessible equity has reached $1.2 trillion within 2022's first quarter, as per The Wall Street Journal.
How can you build your home equity? The first step is to pay a good sum for your down payment. Then, determine the best way to pay off your mortgage. After you start your payments, a smaller portion is applied to the primary balance, while the majority goes toward the interest. Therefore, the longer you nest in the same home (five years or more), the more money will be put toward the mortgage while building the equity simultaneously, per Quicken Loans. Other productive ways to ensure equity might be to periodically pay more than the principle to help reduce the total amount quicker or possibly renovate your home with modern upgrades.
How to calculate your home equity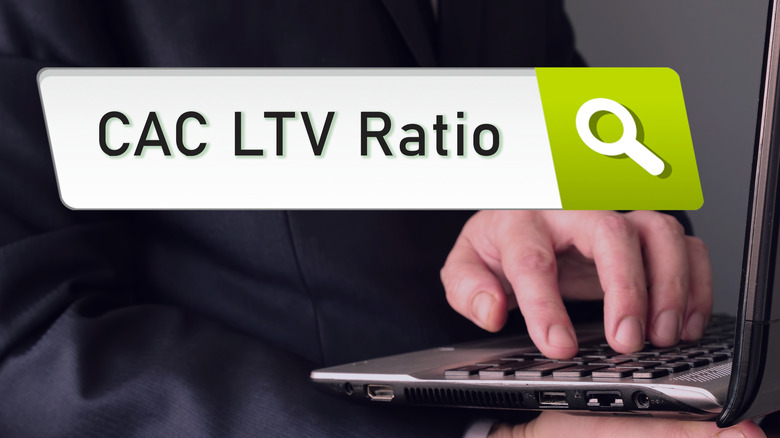 Yuriy K/Shutterstock
Calculating your home equity, or loan-to-value (LTV), is simple. Take the existing balance of your home loan and divide it by the appraised value, and there it is. LTV ratios are necessary for lenders to distinguish the potential risk exposure underwriters may face in processing a mortgage. If homeowners request a loan for a quantity that is exact or near the considered value, the bank sees that it may likely lead to evasion, per Investopedia. 
Can you take equity out of your home? The answer is yes, and here are a few ways to do this: a home equity loan (or second mortgage with a fixed amount), a home equity line of credit (HELOC) (second mortgage with balance), or a cash-out refinance (borrower receives the difference in cash). According to Bankrate, it's important to note that moneylenders will only allow a maximum amount that can be borrowed, which is often 80 to 85% of the presented equity.
Sensibly, a new loan or refinancing may be the best option if your home's value has increased, or you've already paid a substantial percentage of your mortgage. If you're eligible for a cash-out refinance or loan, you need to have at least 20% of equity put into the home. One of the best things about tapping into your home equity is that it offers access to cash at lower interest rates in comparison to credit cards and personal loans.