How To Create A Relaxing Steam Shower In Your Own Home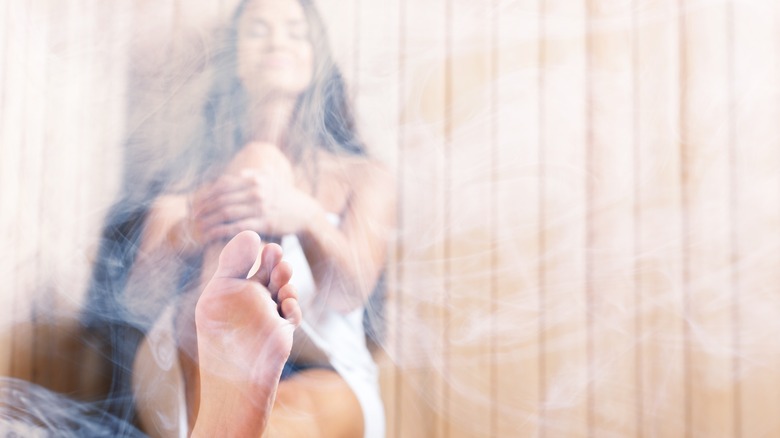 Billion Photos/Shutterstock
It's definitely been a stressful couple of years, and many people may be seeking different ways to relax their body and mind. Yoga, meditating, and reading are all good options — but you can also easily incorporate relaxing devices into your home to effortlessly soothe your stresses away. For example, steam can help alleviate congestion, joint stiffness, and bronchitis symptoms, while it also works to clear your skin and lower blood pressure, according to WebMD. You may not have a steam room, but a shower should suffice.
This Old House says having a steam is easier now than ever, as you can now convert your shower into your own personal relaxing destination. There are multiple factors to look into, but if you have the time and money — it can end up being worth your while. Home Industry Standard Design says the cost can vary from $800 to $4,000 depending on the materials you use and if you call in a contractor. This could be something you can easily do yourself, so let's take a look at the steps to complete this project.
Your personal relaxation getaway
This Old House says there are four elements to creating your own steam shower; a generator, controls, steam head, plumbing and power. The generator will help create the steam as it warms up the water to the right temperature, the controls help you determine how much steam you'd like to use, and the steam head shoots out the steam. You'll have to make sure the water line goes to the generator, the steam line goes from the generator to the shower, and you'll need the proper drain line.
However, there are a few things you'll have to determine before starting. The generator needs to be the right size. For example, those with high ceilings or large bathrooms will need a bigger generator. Also, the type of material inside your shower will determine the generator you use as they all handle heat differently. In order for this to be a relaxing sensation, you also must be able to control the amount of steam produced. These controls can be purchased at a nearby home improvement store. Lastly, install anything else that you find relaxing, such as waterproof speakers, essential oil diffuser, towel warmers, and anything else that can safely go into a bathroom.