The Unexpected Container Store Item People Are Always Recommending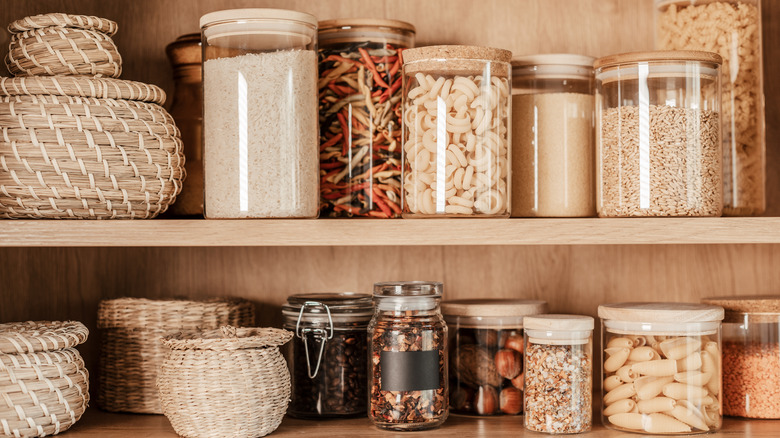 Netrun78/Shutterstock
This year is the year to be more organized, just like the year before, but somehow it only lasts for a couple of months, and you have to start all over the next year. The Container Store makes it easier for you to stick to the promise you made yourself when you were writing your New Year's resolutions. Even though we're halfway through the year, it's never too late to start organizing stacks of mail, toys, or blankets you may have lying around your house. Storage bins have become popular when it comes to organizing spaces throughout your home, and The Container Store has numerous options.
It can be hard to figure out where to start organizing if you want to make sure every item has a home. Abby and her blog Abby Organizes give over 100 tips on how to organize every room and make the most of your space. She covers the use of bins, hooks, shelves, and more to keep your things clean and tidy. USA Today claims there are 12 items at The Container Store that make the best storage units you can buy. Here's one item reviewers seem to always recommend.
Multi-purpose bins
The multi-purpose bins will have you throwing your magazines, books, and notes in them to keep your desk and side tables free of clutter, per USA Today. These bins come in four different sizes that you could buy individually for $6.99 or a case of 12 for $75.49, according to The Container Store website. It received 4.9 stars from over 400 customers who bought the bins. They're described to be used for notebooks, magazines, and binders, but customers have found other ways to use them.
One of the reviewers claims that they work great for holding their school projects and paper without causing any bends in the paper. They're "roomy and sturdy," being able to place them in a pantry or refrigerator at home as well. It seems that even professional organizers have used these bins in their client's homes, claiming they enjoy the range of sizes, and the handles make it easier to pick up.