Why DIYers Are All Buying This Item At HomeGoods
With a vast selection of indoor and outdoor home décor products like kitchen supplies, furniture, lamps/lighting, pillows, specialty foods, and rugs, among other items, savvy shoppers look to HomeGoods for its diverse assortment of affordable home goods items. For ardent HomeGoods customers, finding prime merchandise within the long list of name brands the store carries — like DKNY, Ralph Lauren Home, Cynthia Rowley, and Vera Wang — is a regular thing, per First Quarter Finance. Among the store's distinctive collections, many DIYers love the deals that HomeGoods offers, especially in the linens section. From cloth dinner napkins to dish towels, including various tablecloths, the inexpensive home furnishings store provides a diverse assortment of workable linens.
Established in 1992, HomeGoods (founded as the New England Trading Company in 1919) is now owned by TJX Companies under CEO Carol Meyrowitz. According to Showbiz Cheat Sheet, it's significant to know that HomeGoods customers can also use their store gift cards at sister stores Marshalls and T.J. Maxx. Also, as Better Homes & Gardens reported, HomeGoods' online store finally launched in the fall of 2021, allowing you to shop for the store's full line of products directly from your home. If you're a DIYer on the hunt for great items for your next sewing or stitching project, HomeGoods offers cheap yet versatile fabrics to choose from. Read on to learn how to repurpose your cloth linens from HomeGoods!
Convert cloth napkins and towels into pillow covers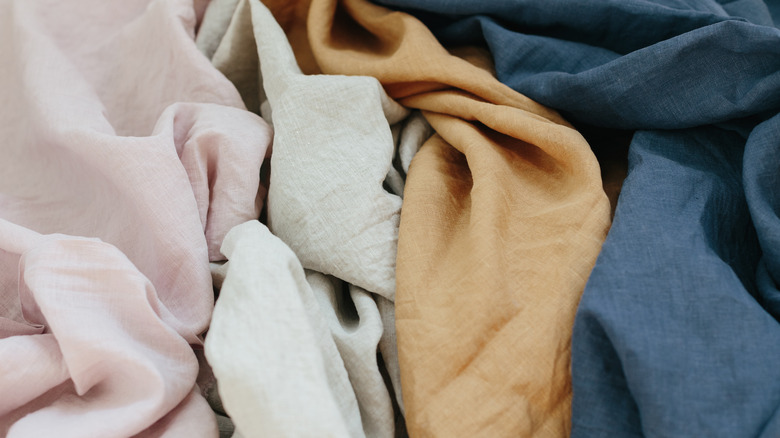 Switlana Sonyashna/Shutterstock
Accent or throw pillows can make a bed or sofa look more appealing and inviting. Changing them out each season may start to diminish your storage space while becoming costly. Depending on the size, fabric, filling, or add-ons, throw pillows can range from $20 to $200. If you're looking for a fresh way to save on your cushion money, you might try a DIY project and sew some of your own creations.
There are several different materials you might use to create your own pillow covers like cotton, linen, nylon, satin, or silk. Want to transform those napkins or dishcloths into something new? How about new pillow covers? A quick look at the HomeGoods website reveals you can easily find a bargain six-pack of cloth napkins for around $8 (up to $12). Besides the stuffing, that's approximately $3 for each pillow at about the same price ($8 to $12) for all the napkins.
To DIY your new pillow covers, remove any tags prior to starting and wash your napkins or towels to establish their reduced size. Also, determine the right-sized pillow to coincide with the chosen material. If you don't sew, you might assemble them by using fabric glue, per The DIY Mommy. A simple, no-sew method is to apply the glue along each of the first few edges, press firmly, and let dry for at least an hour. Then, put in your pillow or stuffing and seal again; you might use paper clips to help secure that last opening as it dries. Meanwhile, In My Own Style recommends using yarn and larger stitches instead of thread.
Turn your tablecloths into curtains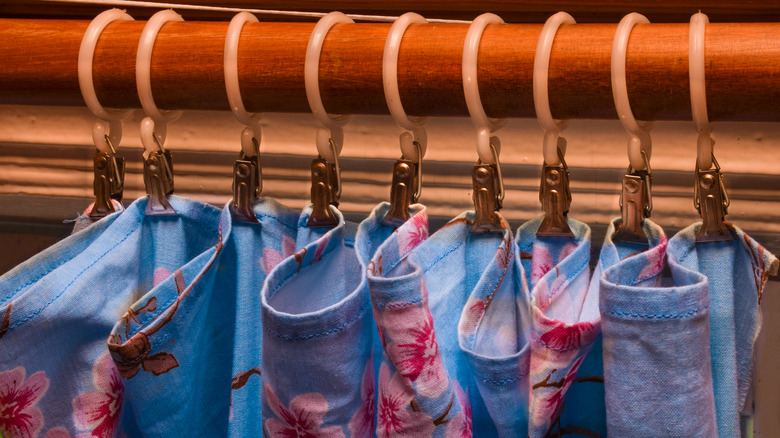 Anna Efimova/Shutterstock
Tablecloths are made from various fabrics that are meant to be both resilient and decorative. Many consist of cotton, linen, polyester, and vinyl, among other finer materials. There are so many ways to repurpose tablecloth material, like creating a cloth tote bag, decorative fabric for holiday décor, mixed media art, or wreath/ribbon material. Why not use them for curtains?
With an ample amount of fabric included in a large tablecloth, the potential to make lovely curtain panels is there. According to 2 Bees in a Pod, you can purchase two 96" length tablecloths for $8.99 each at HomeGoods to decorate most commonly-sized windows, including 12-foot ceilings. With this project, sewing may not be required either. Mother/daughter design duo Jenn and Vicki (of 2 Bees) added clip-on curtain rings for hanging the curtains instead of needing to sew anything.
Along with the clips, this is an enormous deal considering the average price for a yard of fabric is typically well over $20. Depending on the quality of a fabric, the average price can run between $15 and $50, and $1,000 per yard for luxury materials, per Silver Bobbin. Make sure you iron your material to rid them of creases before the job. If using a sewing machine, measure and hem your edges, then determine the loop space for the hanging rod. If you use an even larger tablecloth (like 60" x 104"), you might be able to make a set of curtains from one tablecloth.