How To Integrate A Hanging Chair Into Your Home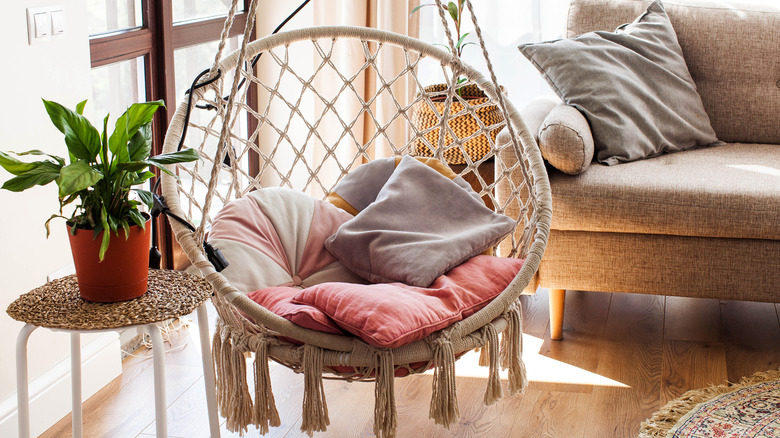 Kabachki.photo/Shutterstock
At the intersection of two of the biggest interior design trends for 2022 according to Pinterest – curved lines and biophilic design – lies one retro furniture item that perfectly encapsulates both. The hanging chair, commonly made out of natural materials such as rattan or cotton macrame, is a great way to incorporate the calming effects of curvy lines and outdoor influence into your home.
The trending chair is an evolution of the Egg chair designed by Arne Jacobsen in 1958, according to Forbes. The Egg chair's shape is designed to hold the sitter comfortably and wraps around the sides offering protection. In 1959, designers Nanna and Jorgen Ditzel extrapolated on the idea with their rattan hanging egg chair, which further enhanced the experience since the chair can also swing. It's no wonder, then, that this cozy furniture item is making a big comeback in an era when many of us are spending more time at home and craving an extra dose of comfort.
Finding your perfect hanging chair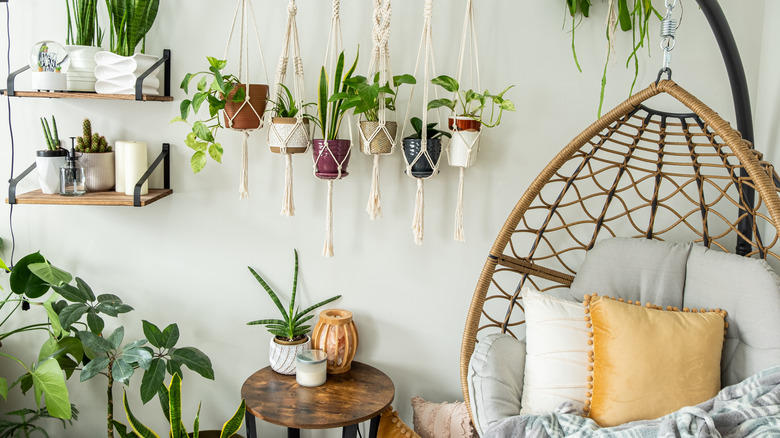 TippyTortue/Shutterstock
There have been many iterations of the style since the emergence of the hanging egg chair. No matter the aesthetic of your home, you can probably find one that will fit right in with your decor. Choose the material and shape that calls out to you the most — popular styles include chairs made of classic rattan, mod acrylic spherical versions, boho cotton macrame hammock chairs, and more. Keep your eyes open for the authentic vintage beauties at thrift stores or estate sales, or shop around for the (often more affordable) modern versions.
Once you pick the perfect option for you, take care in installing the chair in your home. To hang it from the ceiling, you need to use a stud finder to locate a ceiling joist, explains Better Homes and Gardens. If that isn't possible in your home, consider one of the many available freestanding versions that include their own weight-supporting frame.
How to style your new seating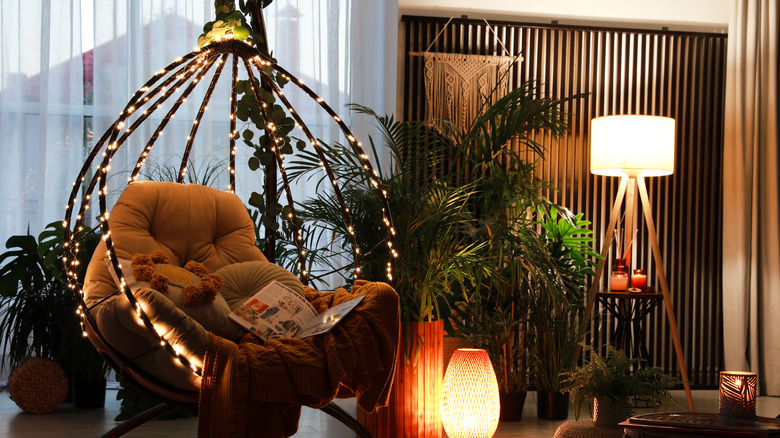 New Africa/Shutterstock
While deciding where to place your new chair, make sure that it isn't too close to any walls or obstacles to allow it room to sway. Better Homes and Gardens suggests putting your hanging chair somewhere where it can catch a slight breeze, such as a patio. If you can't get enough of the great outdoors, consider incorporating a hanging chair right into your backyard for the perfect place to recharge in nature.
The cozy enveloping shape of hanging chairs also makes them a great candidate for a reading nook. Style it near a bookshelf with a few throw pillows and a blanket to create the ultimate safe haven. According to The Practice of Biophilic Design, creating spaces of refuge in your home replicates our natural desire to find safety and therefore encourages a calming atmosphere in your space. Hanging chairs can also be a fun seating option for a kid's room or nursery, Better Homes and Gardens recommends. No matter where you decide to put your hanging chair, its comforting shape and gentle motion are sure to encourage you to slow down and relax.