This Multi-Purpose Home Depot Tool Has Everything You Need For A Quick-Fix Job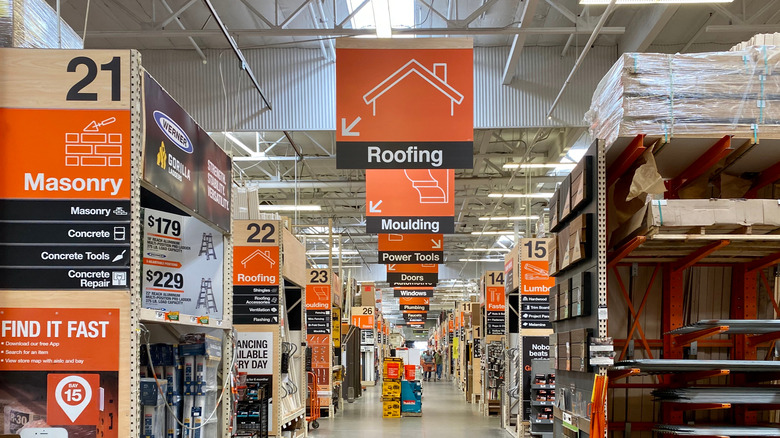 ZikG/Shutterstock
Since 1979, Home Depot has provided do-it-yourselfers with tools for the many home improvements they dive into. Home Depot claims its goal is to provide a single place where people can purchase everything they need to take on and complete a do-it-yourself project inside or around their home. Today, it is known as the world's largest home improvement retail store, with over 500,000 employees.
Home Depot has plenty of the materials you need to build, rebuild, and care for your home, from kitchen appliances to yard care items to wood and tiles. Along with the materials, the retail giant also provides a wide variety of tools to make your projects even quicker and easier, including hammers, screwdrivers, and more. Out of all these tools, however, one stands out more than the others. This 14-in-1 Hammer Multi-Tool is a must-have for do-it-yourselfers or anyone looking to accomplish a quick-fix job. The best part? It's less than $15.
The 14-in-1 hammer multi-tool
According to The Home Depot, the Sheffield 14-in-1 hammer is a compact, multi-purpose tool that costs just $13. It is made with stainless steel, and a designer hardwood handle makes using the tool easy and comfortable.
As the name implies, the 14-in-1 hammer multi-tool includes 14 different features that can help complete a range of tasks in your home or on the go. These features include an 11-ounce hammer nail claw, a 1/4 and 1/16-inch slotted screwdriver, a #2 Phillips screwdriver, Linesman pliers, regular pliers, a serrated blade knife, wire cutters, a wire stripper, a can opener, and a key holder file. According to reviewers on the website, it's an easy alternative to carrying around a heavy tool bag for tasks that are meant to be quick and straightforward. Most reviews are five stars, and 86% of reviewers say they would recommend the product. Multiple reviewers mentioned that it's an excellent item for backpacking and hiking. One reviewer called it a "practical tool for backpackers," noting that it's sturdy and well-built. 
The reviewer with the lowest rating gave it two stars, saying that "because of its small size, this tool lacks serious leverage for serious applications." However, they noted it could be helpful on the go, saying they would recommend it as a backup tool while camping. Since even the critics have good things to say, it seems that this tool is worth the small investment for quick fixes on the go or at home.