How To Clean Glass Tiles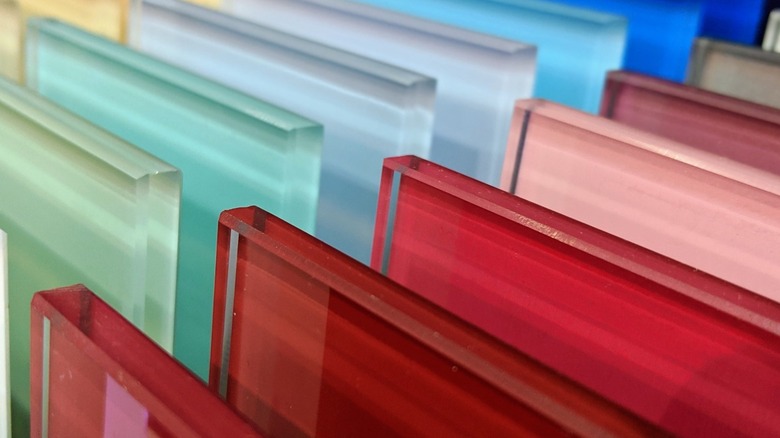 mbrphoto/Shutterstock
Glass tiles and splashbacks give a modern, sleek, and contemporary look to any bathroom or kitchen and are increasing in popularity. They are resistant to mold, mildew, and all kinds of different stains and come in a huge variety of colors, shapes, and styles. The ease of cleaning them also adds to their appeal. But what is the best, most effective way to do that? Per Westside Tile and Stone, the best way is via regular maintenance because fingerprints and water spots can spoil the glass' shiny appearance. Although it may feel as though surfaces such as these need more maintenance than ceramic or matte tiles, once you have them back to their glossy best, you will soon feel it's worth the extra effort.
There are so many tips and tricks on keeping glass looking its best, and sometimes the easiest solutions are often the best. Homemade cleaning alternatives are environmentally friendly, kind on your wallet, and just as effective as store-bought items.
Homemade glass tile cleaner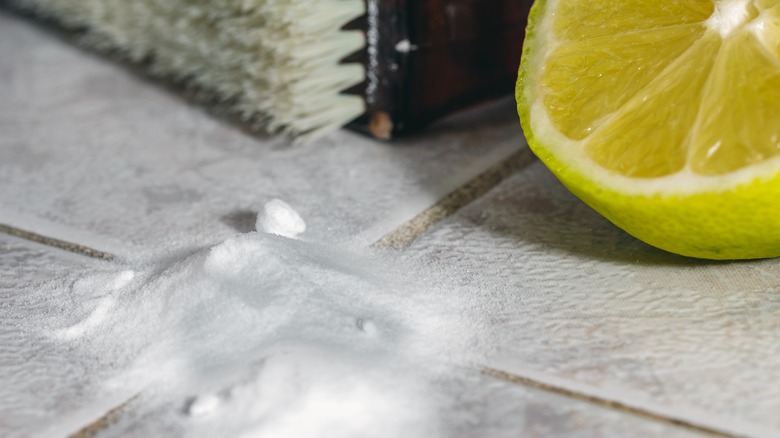 Daniele De Vivo/Shutterstock
There's no need to rush out to the store and buy expensive, chemically loaded cleaning products for your beautiful glass tiles. There are numerous homemade recipes that use simple products you will likely already have in your home.
The Frugal Girls had a great recipe that promises to keep your glass looking its shiny best without costing a fortune. For this method, you will need 1/4 cup distilled white vinegar, 1 cup of water, three drops of dawn dish soap, a spray bottle, and an added optional extra is four drops of any essential oil for a nice scent. They suggest a citrus-based one such as orange or lemon.
After you have gathered these items, simply mix them together in the spray bottle and shake it well before every use to ensure the oils are well combined. Spray the cleaner all over the glass tiles and buff dry with a dry microfiber cloth.
If there are any hard water spots on your glass tiles, spray the solution onto these areas and leave it for 10 to 15 minutes to break down the excess minerals such as magnesium and calcium. Culligan Water explained that these marks may look like an unsightly, chalky residue that is left over after the water has evaporated away.
Keeping your grout in perfect condition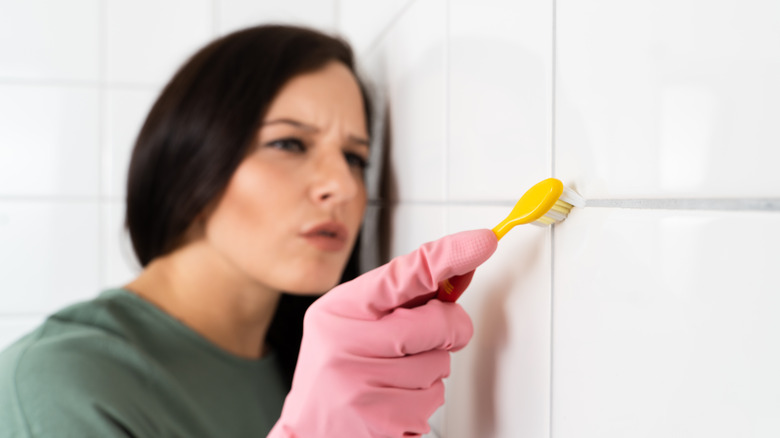 Andrey_Popov/Shutterstock
If there's one thing that's going to spoil your sleek, shiny tiles and ruin the overall look of your modern bathroom or kitchen, it's dirty or badly maintained grout. You ideally want your grout to be as bright and clean as your tiles, but as grout is porous, it does attract mold and mildew. If it is very badly cracked and stained, sometimes the best approach is to remove it all and completely regrout. To avoid this worst-case scenario, as with most things, maintenance is key.
Tile Mountain had this tip — mix 1 part water and 2 parts baking soda into a paste and rub it on the grout. Let it sit overnight and dry out, then scrub it off with a stiff brush.
Another way to clean grout is to mix equal parts of bleach and water into a spray bottle and spray it all over the grouted area. Let it sit as long as necessary and when all the stains and marks are gone, rinse thoroughly. Do take care with this approach as bleach can stain most materials, so please use it with caution.
Another tip from Tile Mountain is to use a dark-colored grout, which is also increasing in popularity recently. It would certainly work well alongside the modern aesthetic of glass tiles, and whilst it would still need cleaning, being darker in color would help to disguise marks and stains much easier than its bright, white counterpart.