20 Flowering Annuals That Will Last All Summer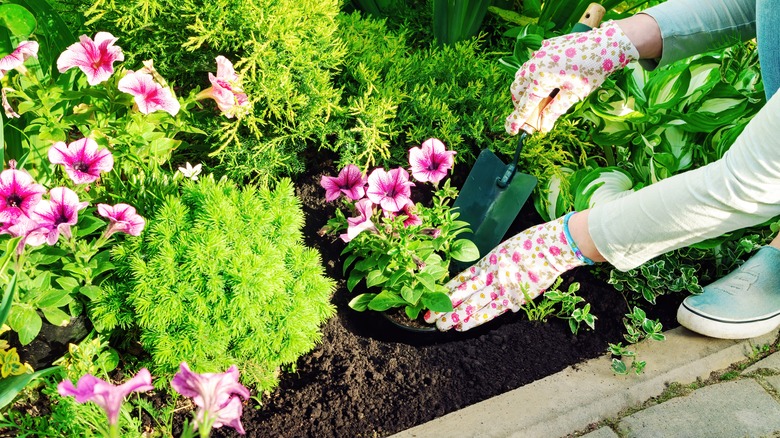 nieriss/Shutterstock
Is it really summer if you don't have blooming, brightly-colored flowers lining your garden bed, potted on your balcony, or hanging on your porch? We don't think so. Summer is already in full swing in most regions around the United States, and your favorite summer annuals are ready to enjoy warm days and bright sunshine.
Designing the perfect garden can be extremely enjoyable and fulfilling, however, when you pull up to your local garden center anxiety may start to creep in. There are dozens of options to choose from, so how do you make the right choice? It's important to consider how much sun your garden beds receive and the colors of the flowers you like. Some thought should also be put into your climate, soil, and the size of your plants. With the help of some carefully made decisions, your home can boast colorful selections of blooming flowers all summer long. Here are some great options for you to choose from.
Calibrachoas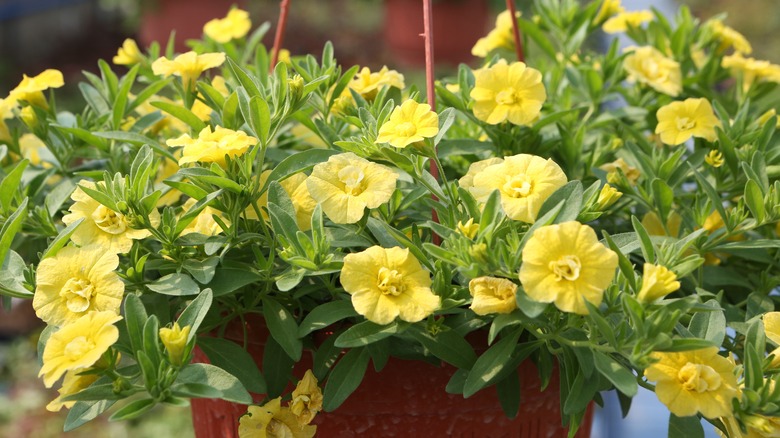 Sergey Bezgodov/Shutterstock
Calibrachoas, more commonly known as million bells, are trailing plants with gorgeous bell-shaped blossoms that bloom throughout the summer. These flowers can be pink, white, red, blue, purple, or yellow. They are best planted in hanging baskets with well-draining organic soil and more than eight hours of full sun every day. Calibrachoas love warm weather and need their soil to be warmer than 55 degrees Fahrenheit in order to survive and grow to their mature size of 1-foot tall by 2 feet wide.
Pentas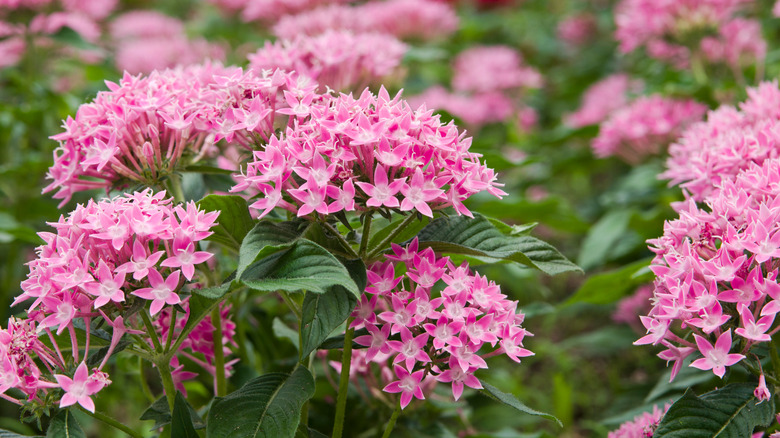 zzz555zzz/Shutterstock
Pentas (Pentas lanceolata) is another hot weather-loving flower that is hardy to USDA zones 10 and 11. They feature red, pink, purple, or white star-shaped flowers that attract butterflies and hummingbirds throughout the summer. They prefer hot and humid conditions as well as well-draining soil and at least six hours of direct sunlight per day. Generally, pentas are considered annuals, but they can be grown as perennials in consistently warm states such as Florida. When cared for properly they can reach 3 feet tall in adulthood.
New Guinea impatiens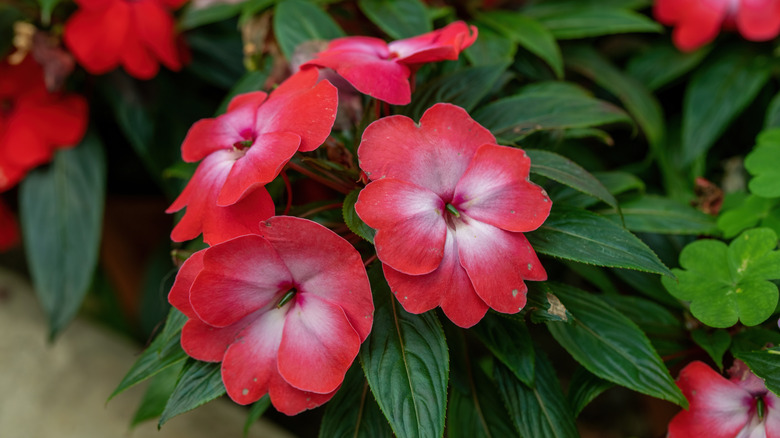 Julian Popov/Shutterstock
New Guinea impatiens (Impatiens hawkeri) are a popular selection for summer gardens because they have a high tolerance for the harsh morning sun. These flowers are great at adapting to areas where other flowers wouldn't survive. You can plant them just about anywhere in your yard or on your porch, even in shady locations. They only require partial sun, well-draining soil, and soil temperatures above 60 degrees Fahrenheit. In USDA zones 10 through 12 they may be grown as perennials where they will reach the size of 2 feet tall by 1 foot wide.
Vincas
Alexander Denisenko/Shutterstock
Annual vincas (Catharanthus roseus) are known for their tolerance to heat and drought. They are characterized by pink, red, purple, or white pinwheel-shaped flowers that bloom throughout the summer. Grown as annuals in most regions across the United States, vincas prefer full sun conditions and well-draining soil. When cared for under a watchful eye, they can become as large as 2 feet in height and length depending on the cultivar. Keep in mind that they do not need much water to survive. They should only be watered once per week if there is not enough rainfall.
Geraniums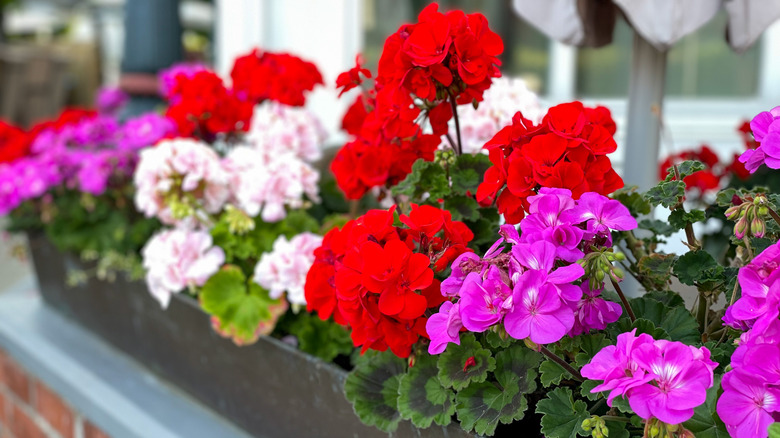 Lapa Smile/Shutterstock
Geraniums (Pelargonium spp.) are fragrant flowers that can give your garden gorgeous color and a sweet scent. Geraniums are commonly available in shades of white, pink, red, and coral. Most varieties bloom for quite some time from the early spring to fall as long as you can provide them with loose organic soil and a location with bright morning sun and shade in the afternoon. With good care, you'll have a tall, blossoming geranium plant with full blooms. Deadheading (removing the spent blooms) will keep your geranium blooming profusely all season long.
Cosmos
Cosmos (Cosmos bipinnatus) is a graceful, feathery-looking plant that blooms profusely through summer until the first frost. This cottage garden favorite is available in shades of white, pink, and orange. You can find single- or double-flowered varieties, as well as varieties that feature bi-colored blooms. They're also easy to grow from seed, either started indoors under lights (or in a sunny window) or sown directly in place in the garden. Cosmos generally grow about 2 to 3 feet tall, though some varieties can reach up to 6 feet tall. Give them a spot in full sun. They aren't overly picky about soil, and can withstand dry conditions, though you will need to water them during an extended drought. In fact, too much water will result in lots of foliage and fewer flowers.
Zinnias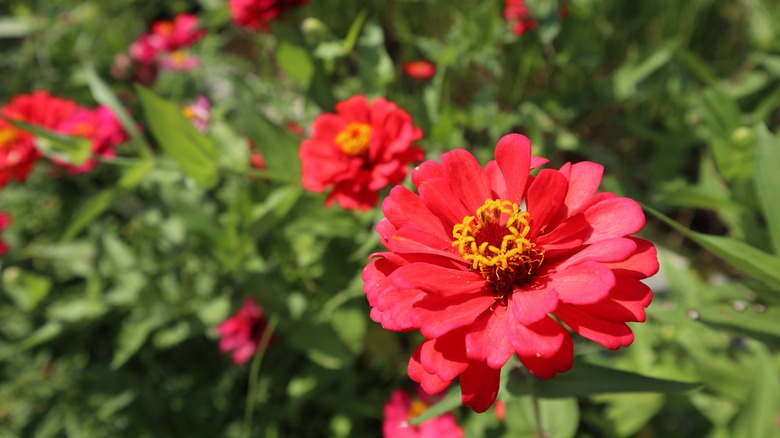 vickyfatkhur/Shutterstock
Zinnias (Zinnia spp.) are an extremely popular summer blooming flower for the garden. You can pick them up almost anywhere that sells flowers for planting. The plants are characterized by coarse leaves and blossoms of several different colors. Zinnias prefer conditions with full sun, regular watering, and well-draining soil. They grow as annuals in most climates. Mature Zinnia plants will become about 3 feet in height when mature, though there are also shorter varieties that are well-suited to growing in containers.
Begonias
S. Mariya/Shutterstock
Begonias, (begonia spp.) which can become as tall as 2 feet high in adulthood, feature bright fluffy flowers with large green leaves. They are popular all over the United States as they only need partial sun, regular watering, and well-drained organic soil. Blooming throughout the summer, gardeners use these flowers as bedding plants, in containers, or in hanging baskets. With more than 1,000 species and even more varieties to choose from, Begonias are a great option to look at when designing your summer garden.
Salvias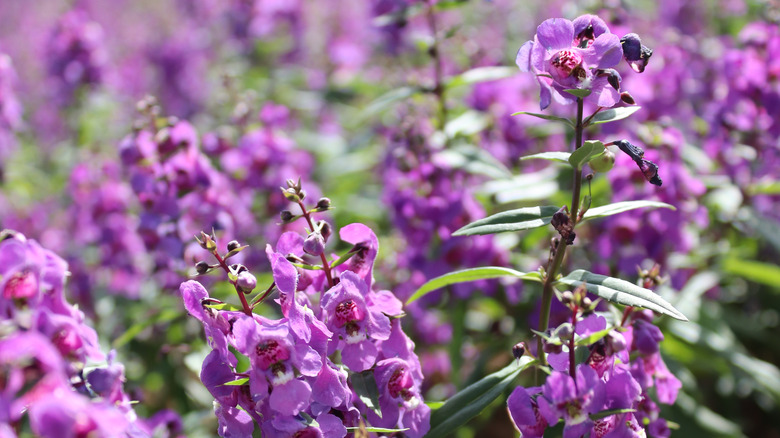 YEH CHIH CHUN/Shutterstock
Salvias (Salvia spp.) are tall flowers that bloom constantly in the summer. They are identified by their red, white, purple, or blue flowers and long leafy stems. Salvias can be grown in USDA zones 8 through 10 as perennials and as annuals almost everywhere else. All they need to survive is eight hours of direct sunlight per day, frequent watering, and rich well-draining soil. If you are looking to bring more bees, butterflies, and hummingbirds to your garden, you should consider planting this flower.
Petunias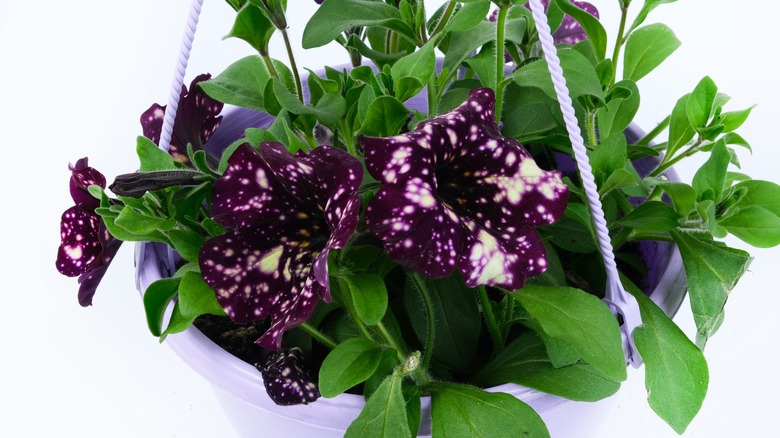 Rufina Zhigalova/Shutterstock
In the Petunia (Petunia spp.) genus, there are more than a dozen species that have given life to hundreds of varieties. From black velvety blossoms to speckled pink flowers, there is a cultivar for everyone. Petunias are not only delightfully fragrant, but they also bloom from spring until the first frost. They can be grown in any region throughout the summer as long as they are provided with daily direct sunlight, well-draining organic soil, and frequent watering. With good care, you can expect to see your petunias reach 15 inches tall.
Mandevillas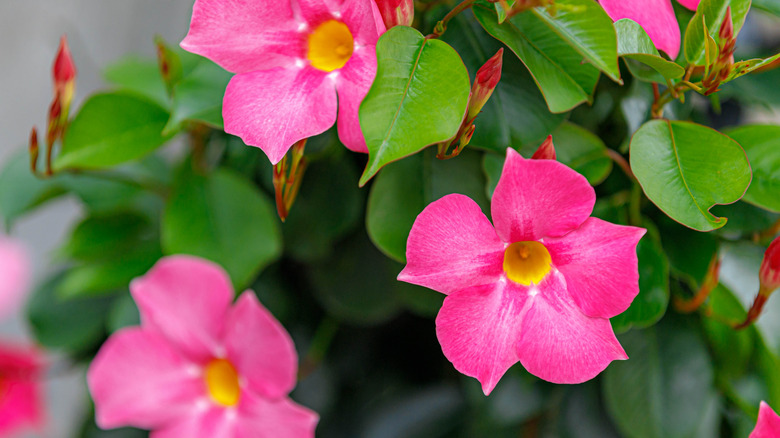 Wut_Moppie/Shutterstock
Mandevilla (Mandevilla spp.) is a tropical American woody vine. They are characterized by oblong, waxy green leaves and bright, showy blossoms in red, white, pink, or peach. These plants can grow quite large with some species reaching up to 20 feet. Native to the tropical south, most people can only grow mandevillas in containers indoors or as annuals. During the summer, you must provide it with humus-rich sandy soil and bright indirect sunlight, which will ensure that the flowers bloom throughout summer and for a second time in the early fall.
Ageratum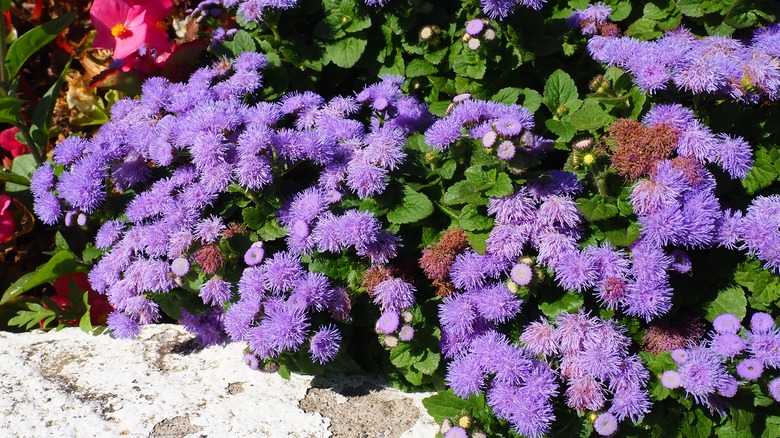 Karjalainen/Shutterstock
If you're looking to add some cheer to your summer garden, consider the ageratum plant's blue, white, red, and purple pompom-shaped flowers. Ageratum (Ageratum conyzoides) is commonly used in containers, as border plantings, or in mass plantings in gardens across the United States. A member of the Aster family, like zinnias, these flowers can range in height from 8 inches to 3 feet. To care for them, you'll need to provide rich well-draining soil, full sun, and weekly watering. Under proper supervision, your ageratum will bloom from spring to fall.
Impatiens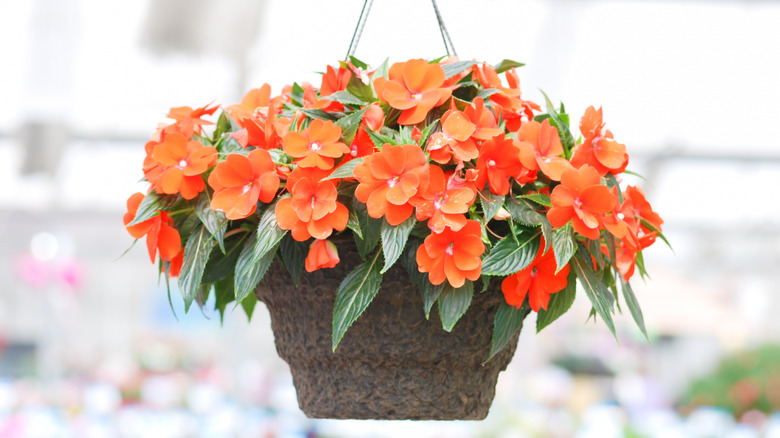 Yui Yuize/Shutterstock
Impatiens (Impatiens walleriana), also referred to as busy Lizzie or patient Lucy, are succulent perennial herbs. They feature orange, pink, purple, white, or red flowers with small, hairless, ovate leaves. These plants are not tolerant to drought and they can only be grown year-round in USDA zones 10 and 11. Finicky plants by nature, they need well-drained soil that contains organic material, frequent watering, and a location that has partial shade and sun. They will flower all summer and grow between 6 inches and 2 feet high.
Scaevolas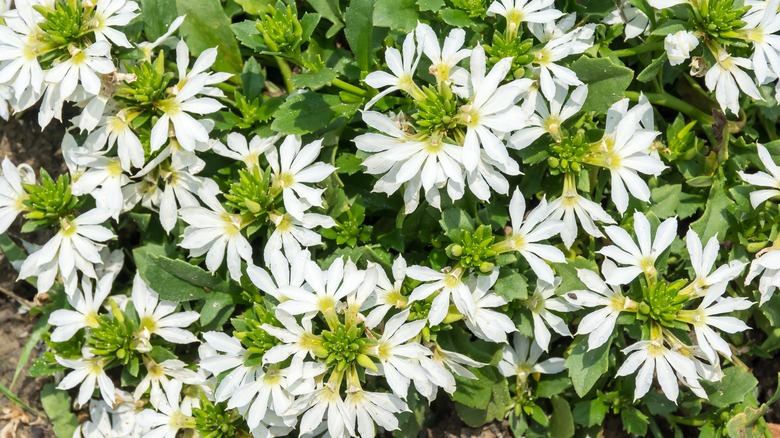 Reallyice/Shutterstock
The award-winning flower, Scaevola (Scaevola aemula), is another great option for your summer garden. Hailing from the land down under, this plant is identified by its fan-shaped blue, white, or purple blossoms and its skinny green foliage. Caring for Scaevola flowers is easy. All they need is well-draining organic soil, lots of sun, and a little water. They are very drought-tolerant plants that will bloom during the summer and fall and grow up to 10 inches tall if you don't overwater them.
Marigolds
Roman Smok/Shutterstock
Marigolds (Tagetes spp.) are not only beautiful, but they repel pests too. These prolific bloomers take almost no effort to grow. Provide yours with full sun and just some water on their roots every once in a while and they will thrive. Marigolds are native to the southwestern United States therefore they prefer warmer weather. In most regions, they grow as annuals in loamy organic soil, blooming from early summer to late fall and reaching heights of 6 inches to 3 feet tall.
Celosias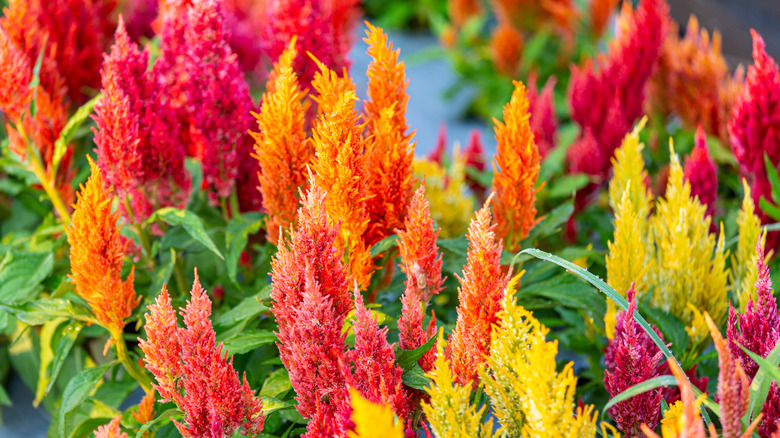 Deaw59/Getty Images
For an easy-to-maintain, colorful burst in your garden, consider celosias. These stunners, perennials in zones 10–12, have flower tufts that look like flames. Flower colors include purple, pink, and red, and the leaves can also vary in color. Celosias grow best in full sun, warm temps, and soil that drains well, with some varieties reaching over 30 inches tall. An added bonus? When the plant is young, its leaves are edible! They taste similar to spinach (but become bitter-tasting once the plant has flowered).
Primroses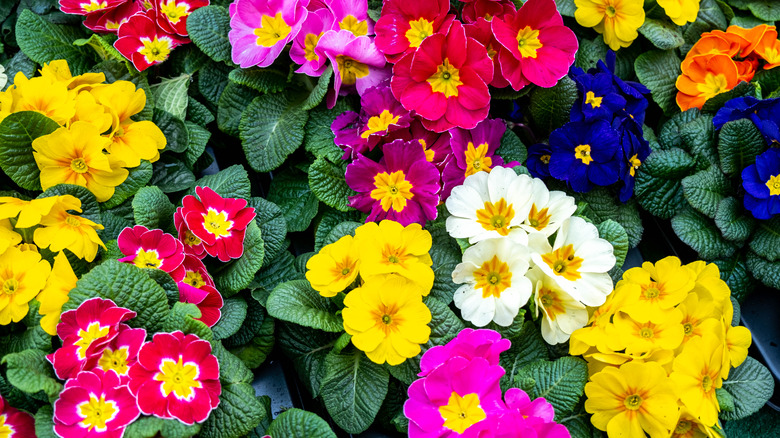 Martinrlee/Getty Images
Primroses provide a lovely, and low, color pop in spots like borders, rock gardens, or as potted plants. They produce delicate, round flowers in vibrant colors like purple, red, and blue with a center that is not the same color. While many varieties remain on the shorter side, some can reach upwards of 24 to 36 inches in height. They are sensitive to extremes like full sun or very dry weather and instead thrive in shady, cool spots and moist soil. When adding primroses to your yard, keep in mind that they are prone to pests and plant diseases.
Lobularia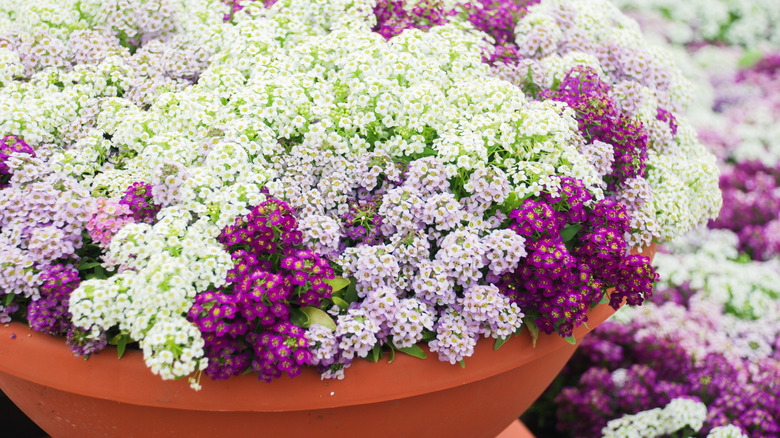 Yui Yuize/Shutterstock
Also known as "sweet alyssum," lobularia grows in clumps low to the ground, giving it a mat-like appearance. These plants typically stay under a foot both tall and wide. Its clusters of flowers can be singular in color or multicolored in white, purple, pink, and other colors. Drought-tolerant, lobularias do best in full sun to part shade and work great along edges in garden beds or amongst plants of other heights and shapes in a container. If you're in one of zones 9–11, lobularias will perform as short-lived perennials.
Angelonia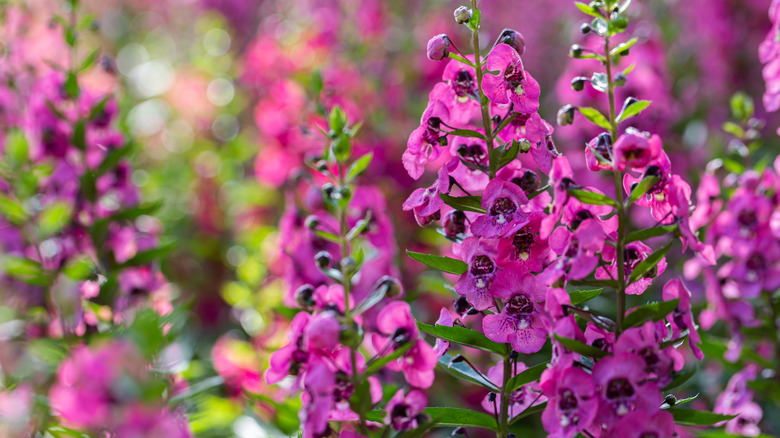 Old Man Stocker/Shutterstock
Drought- and heat-tolerant, angelonia plants produce stalk-like flowers similar to snapdragons in shades of white, purple, lavender, and pink. In fact, they're often called the "summer snapdragon," according to Central Texas Gardener, an Austin-based public television series. Growing around 12 to 18 inches in height and width, they make an excellent and long-lasting cut flower in vases or arrangements. Their unique scent is similar to grape soda! In zones 9 to 11, angelonias will grow and function like a perennial.
Moss roses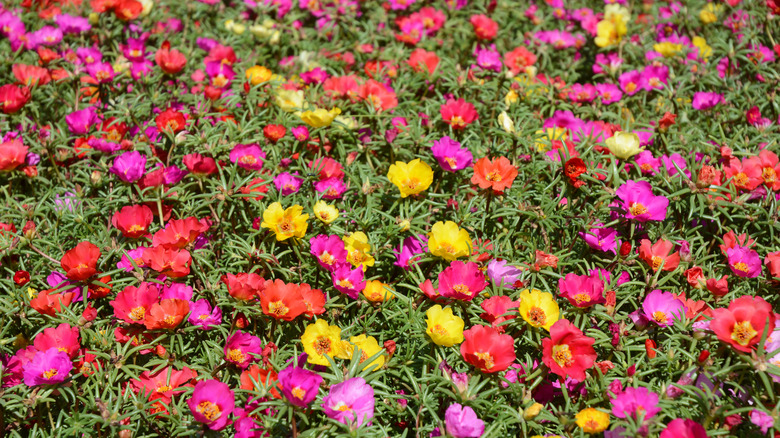 Lex20/Getty Images
With flowers that are similar to roses in saucer-like shapes, moss roses make for a lovely and interesting addition to a garden. Its flower colors range from white and yellow to pink and red. They are semi-succulents and grow low to the ground, forming a colorful "mat" wherever they're planted. In containers or hanging baskets, they'll add dramatic visual interest by spilling over the edges. Moss roses need little maintenance and do well in hot and sunny spots with well-draining soil.