Home Window Tinting: What To Know Before You Buy
Are you hoping to lower your electric bill? Are you searching for a renter-friendly way to gain some privacy? There are endless reasons why you should consider tinting your home windows, but a little research goes a long way, especially when it comes to home improvement projects. First, you'll need to decide why tinting is the right choice for you. From there, you can explore the three main types of tinting and some lesser-known options and then choose what suits your individual needs.
From start to finish, there are more than a few steps to take in the home tinting process. Make sure you avoid common mistakes like not measuring precisely, learn how to prepare and clean your windows, and don't forget to consider renter-friendly options. Here's everything you need to know about home tinting before you buy — from types of tinting to cost, and from hiring a professional to possible DIY products.
Tint your windows for privacy and curb appeal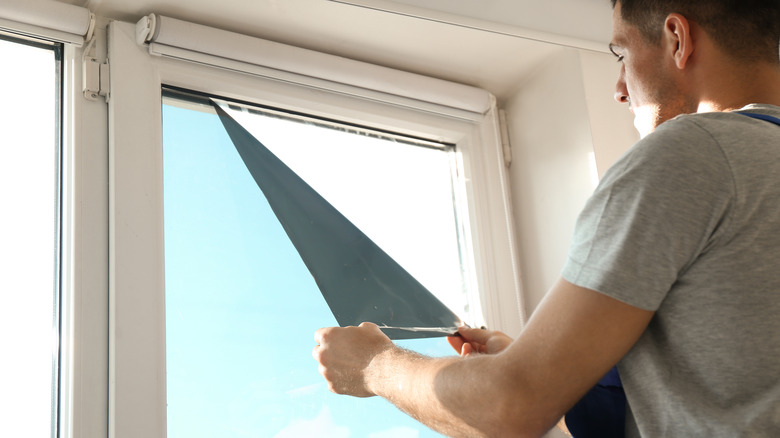 New Africa/Shutterstock
You may be familiar with tinted car windows, but have you considered the pros and cons of tinting your home windows? We're here to share that there are countless benefits when it comes to tinting your home windows, whether it's your porch windows, your kitchen, or your home office. Consider these well-known and lesser-known reasons for this home addition.
According to Dark Shade Window Tint, a few common reasons to tint your windows are safety/privacy and curb appeal. A darker window or patterned film can largely impact your home's privacy. A well-chosen product can effectively keep wandering eyes away from your windows, and potential intruders won't be able to see in during the day or night.
In addition, tinted windows can keep your home private but still allow natural sunlight into your home. There's no need to block out your view or daylight with bulky shades or curtains. Tinting gives the outside of your house a finished and refined appearance that you and your neighbors will love!
They can help you save money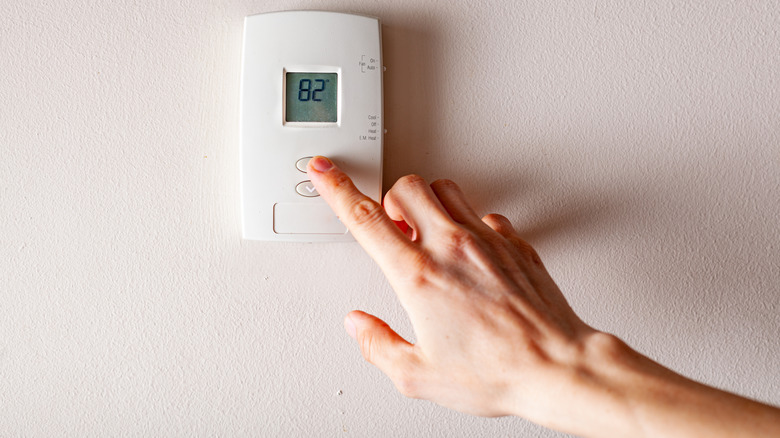 Grandbrothers/Shutterstock
You may also want to consider tinting your windows for financial reasons. This is a big one for homeowners and renters alike, especially since the cost of rent and interest rates have hit a record high this year. Every little bit helps, and tinting provides an opportunity to save. Tinting your windows can reduce your heating and cooling bill and prevent your household items, such as flooring and fabrics, from fading in direct sunlight. This simple upgrade can also add value to your home!
According to Meridian Window Tint, tinted windows slow down the damage that heat can cause, such as fading and wear and tear. Fading is a common problem for furniture in rooms that receive direct sunlight, but tints filter out a large amount of the UV rays responsible for the damage.
Regarding temperatures inside your home, tinting can also keep your home cooler in the summer and warmer in the winter, which can take some of the strain off your heating and cooling units (via Tint To U). Tinting reduces heat mainly because less light and sun rays can pass through the glass, keeping the temperatures lower inside. 
Different types of home window tinting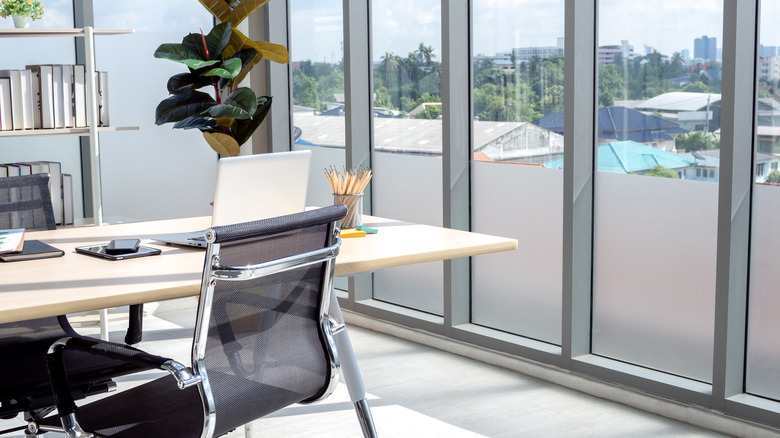 Tete_escape/Shutterstock
With a bit of research, you will soon discover that there are a variety of brands and types of tinting to choose from. Three of the most well-known options on the market are decorative tinting, solar films, and security tinting.
Decorative tinting is pretty self-explanatory. The main purpose of this tinting is to boost the appearance and overall look of your home. This type is not the most energy-efficient option, however, some brands offer decorative and energy-efficient products, which are worth considering even if your goal is decorative. Solar Shade Window Tint describes decorative tinting as a way to add flair or exciting patterns to your home. There are endless designs, colors, and patterns to choose from. Some films even boast rainbow patterns in the sunlight.
Solar films are your number one choice when it comes to lowering your heating and cooling bill. This energy-efficient option is typically sturdier than decorative options, but is not always as thick or dark as some security options. Security tinting is the best option if you want to add an extra layer of security to your home. This provides the darkest and thickest tint, acting as a replacement for blinds or curtains.
Other types of window tinting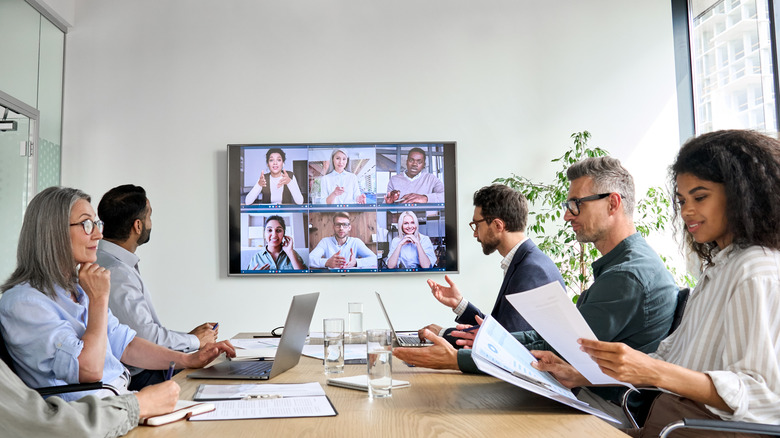 Insta_photos/Shutterstock
Glare Control window film targets and eliminates the glare on electronic screens. Have you ever settled in to watch your favorite movie only to realize an intrusive glare is hitting the center of your screen? You may want to consider glare control window films or tints. Similar technology is used to coat glasses and screen protectors, which can reduce the intensity of the light as it passes, according to Great Lakes Glass Coatings.
Ceramic films don't contain the metals and dyes found in some other types of tints. If you decide on ceramic films, you'll avoid harmful metals and dyes, reduce UV rays and glares, and have a non-reflective tint. This durable option checks all boxes, which is why it is the most expensive type of film.
On the other hand, metalized films deflect heat and can help lower temperatures in the summertime, but they also help trap heat indoors during cooler months. This means that your heating and cooling bills could be lowered throughout the year, no matter the season. How are metalized films different? Metalized films are typically made from copper, nickel, and aluminum, which block various light rays.
Tinted windows can reduce temperatures inside
Light or sun rays passing through glass can raise the temperature in your home significantly. Home Window Tinting & Commercial shows that certain window tints and films are effective against the sun's heat, up to 80%. Essentially, this means that your A.C. or cooling unit won't have to kick on, and won't be working as hard to keep your home cool.
You may not immediately notice a large difference in your home's temperature, but small savings and changes to your heating and cooling bill over time can really add up. This is one of those investments that just make sense if you're planning to live in a house for the next 10 to 20 years. Energy-efficient products can affect your energy bill within two to five years after installation.
This is also another added bonus when you plan to sell or rent your home. Small details can add up, especially when you can advertise your home as energy-efficient!
Do it yourself or hire someone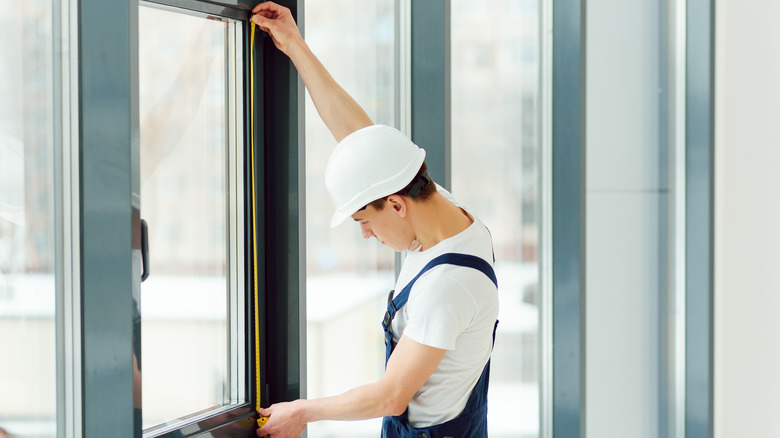 Hryshchyshen Serhii/Shutterstock
Deciding whether or not to hire a professional can be tricky. Consider a few things before making this choice, such as extra costs involved and measuring. Installation may cost extra and will need to be scheduled in advance. If you are hoping to save money or get the job done quickly, you may not have the time to schedule installation. In terms of cost, HomeAdvisor recommends adding anywhere from $5 to $10 per square foot to account for installation. Depending on your budget and what type of tinting (temporary or permanent) will help you decide whether or not to hire a professional.
As for measuring, the edges of tinting films must be precise and can significantly affect the overall appearance of a finished job if not done properly. This means that measuring and cutting must be done to near perfection. Hiring a professional is not absolutely necessary, but you will need the proper tools and patience to do it yourself. Window Film and More suggest measuring twice, creating or buying a pattern, and purchasing extra film in case of mistakes.
How long do tints last?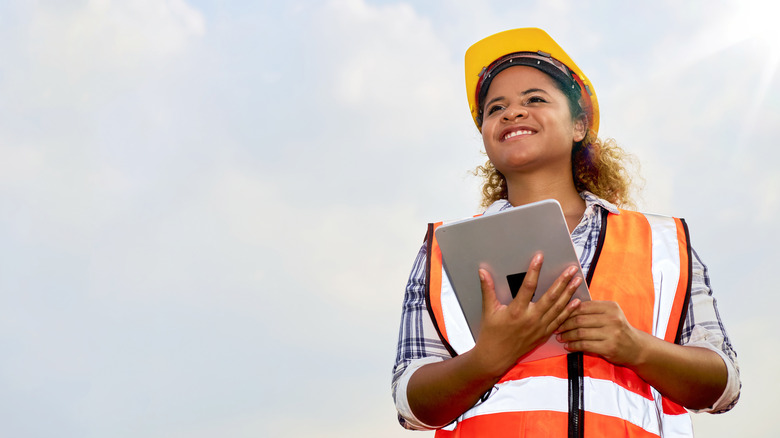 Ju PhotoStocker/Shutterstock
It's important to assess your individual needs before hiring a professional or doing the work yourself. If you are renting, you may not want to risk causing damage during installation or removal. If you are unsure about tinting, you may want a less permanent option that can be removed. Consider how tinting will look throughout the seasons, not just the current season.
Professional or do-it-yourself products will determine how long your tinting job will last. SmartFilm estimates that, on average, a tinting application can last up to five years with the proper installation and maintenance. Higher-quality products tend to last longer and could remain effective for up to 10 years. If you are looking for something long-term that will last, hiring a professional can make all the difference. If the windows are not properly cleaned, measured, or cared for, then the adhesive could break down, bubble, or wrinkle, and need replacing.
What to consider when choosing your budget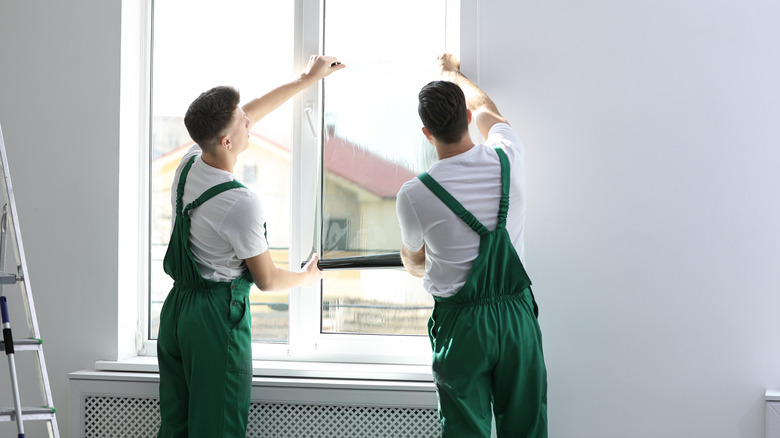 New Africa/Shutterstock
The cost of tinting your home windows will depend on various factors. Consider some of these factors before buying: How many rooms will you be tinting, how big are your windows, and are you looking for something permanent or removable.
When it comes to the amount you will be tinting, it may not be necessary to change all of your windows. But if you are choosing a darker tint and want the exterior of your house to look cohesive, you may want all of them done. Some homeowners will only tint the side of their home that gets the most direct sunlight. Each home is different, and you should get what suits your needs, but remember that this will affect the cost of your project.
The installation cost could also vary based on the type of windows you have. Are your windows standard, and somewhat traditional, or are they unique or custom? According to Bob Villa, windows that aren't typical, such as curved windows, could require different tools and cost more. In addition, larger windows, like glass doors, require single large sheets of film. These larger sheets are hard to work with and could result in a higher cost. 
The cost of tinting your windows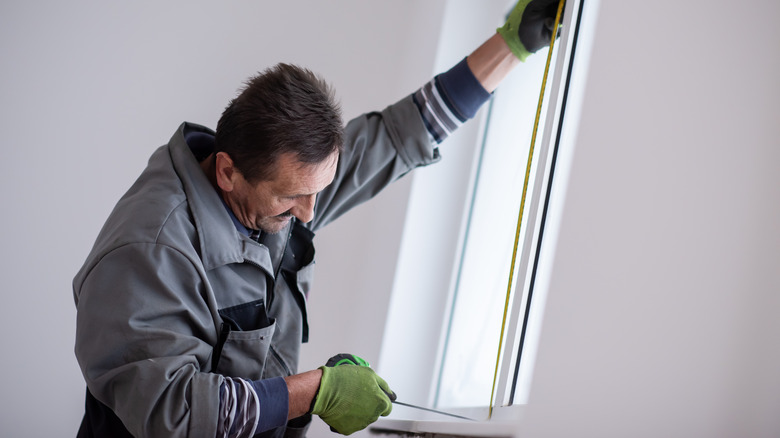 Dotshock/Shutterstock
The average cost of professionally tinting or hiring someone to tint your windows is approximately $587, according to HomeAdvisor. The film costs between$2 and $10 per square foot, and will cost between $5 to $10 per square foot to install. That's why the type of film, size, and window style are important factors when considering your budget — they will either make the price go up or down.
If you have a small budget, flat windows, like double-hung and casement varieties, are the cheapest types to tint. Other types of window films, such as static cling and self-adhesive, are less expensive and do not include installation costs, because the average consumer can install them. According to Window Film Depot, window films that you can stick on yourself typically cost about $7 per square foot of glass.
The best tint percentage for your home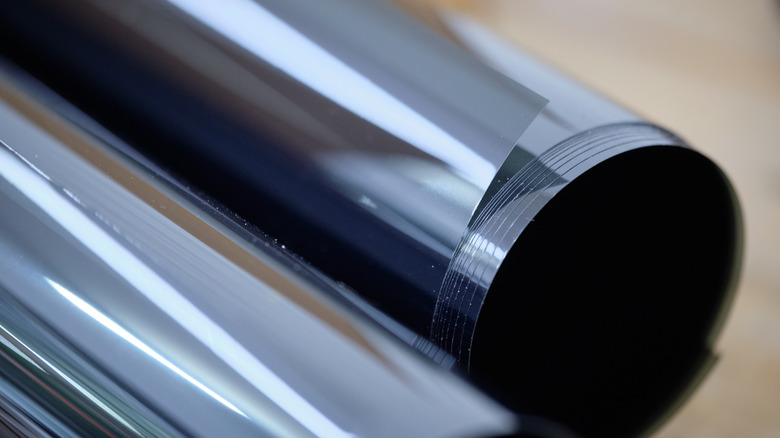 Kullapong Parcherat/Shutterstock
Window tint percentage refers to the percentage of light and ultraviolet rays that can pass through the film and your windows into your home. For example, if you only want 40% of light and UV rays to enter your house, then you would need 40% tint. This will depend on your individual needs and reasons for tinting.
These examples should put tinting percentages into perspective for you. To reduce the glare on electronic screens, you should find a percentage in the range of 50%. According to Film Systems of Florida, this is the average percentage for office buildings that use a lot of computers and other screens. If you're striving for privacy, then aim for approximately 20% tint, which will prevent people from seeing inside but won't greatly impact your visibility. Percentages of 50% tint will be thicker and may impede visibility, but homeowners can rest easy knowing that their windows are secure.
How to treat and clean your windows before starting
Before tinting your windows, they must be thoroughly cleaned and prepped for treatment. Lowe's recommends wiping windows and surrounding areas down with a lint-free cloth and a solution of 1 teaspoon of baby shampoo and 1 gallon of filtered water. Avoid using abrasive ingredients like ammonia or vinegar since they can damage the film. Windows that are not properly cleaned will not react well to the adhesive and can lead to unwanted wrinkles or bubbles in tinting and films.
Be sure to adhere to each brand's specific instructions. Some professionals may undertake cleaning your windows themselves in order to produce an extremely smooth and precise finish. Some films require a damp surface, while others must be dry to the touch. Carefully read any instructions from your installation company or the directions that come with your product to ensure your windows are adequately prepared for tinting.
What to avoid when tinting your windows
Mistakes can be common when tinting your home windows. For example, Solarworks Glass Tinting says not finding the right professional can result in a poor job or low-quality materials. Forgetting to clean the windows is a time-consuming mistake that is often overlooked in the excitement of a new project. Inaccurate measuring can also result in overspending, added time for the project, and an overall messy look to the finished job.
How can you avoid these mistakes? Make an initial appointment with your installation company to go over any unexpected challenges or requirements. This small detail will ensure a seamless installation. Then, you need to measure and measure again. Carefully measure your window space and record your results so that you can compare them to round two and catch any mistakes.
You should also give yourself some room for mistakes. It's better to over measure or cut and then have room to clean up edges than to come up short. A pattern can also make cutting easier. And lastly, buy quality products. You don't have to choose the most expensive option, but the old cliche (you get what you pay for) really holds true in home improvement projects.
Renter friendly options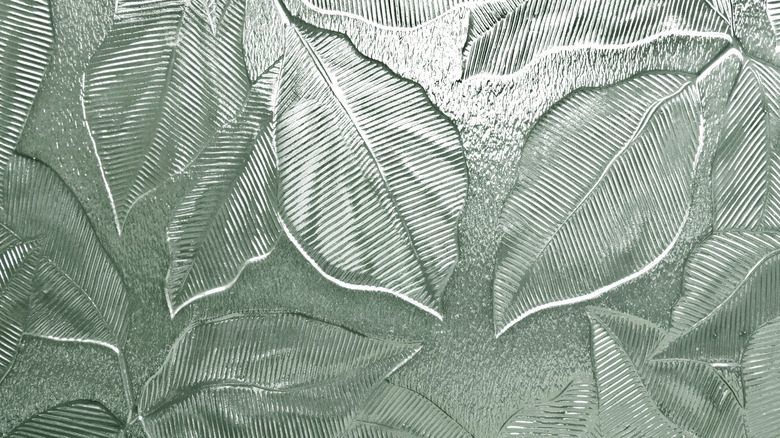 Ray49/Shutterstock
Like wallpaper, flooring, and backsplashes, companies are offering renter-friendly products. This means they are less expensive and can be easily removed when it's time to change addresses. Static cling window films are the most popular option for renters who want privacy. These films are often thicker and contain intricate designs that make seeing inside practically impossible, according to Apex Window Films. These products are renter-friendly and can be easily removed when moving out by simply peeling them off the glass from the corner because they do not have an adhesive back. In addition, the static cling products are durable, reusable, and easy to apply and remove.
Finally, renter-friendly options often come in beautiful and aesthetic designs. Whether you want a simple tint or a stained glass appearance, there is a renter-friendly option for every home. All it takes is a quick Google search to find the perfect one for you.