30 Pink Paint Shades For A Dreamy Splash Of Color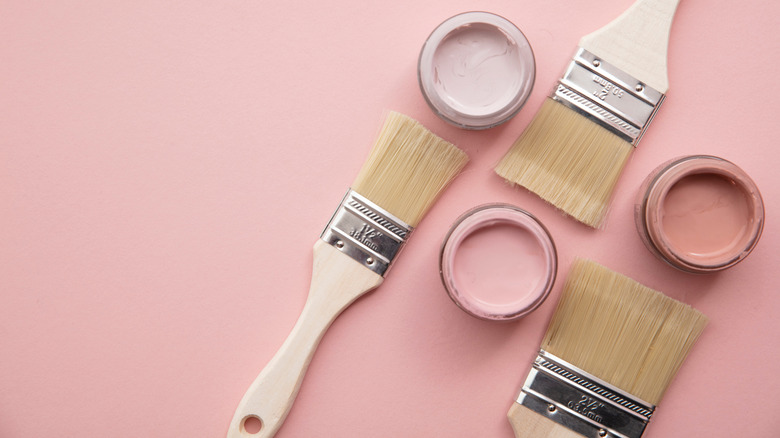 Ink Drop/Shutterstock
Pink isn't just for baby girl nurseries and playrooms anymore. This understated shade blends beautifully in office rooms and bedrooms and gives a beautiful splash of color to patios and backyards. When looking at paint colors for your home, it's easy to go with a white or neutral to match furniture, but it's worth considering an out-of-the-box color like pink.
According to Art Radar, pink is a welcoming and soothing color, which can affect how you feel in the room. Color has a significant impact on mood, so picking a shade like soft pink or bright berry can be great for a bedroom when needing to rest or for office space to help handle stressful work meetings. We've got some pink shades that you might want to consider for your next trip to the paint store. Check out our curated pink shades for a dreamy splash of color.
1. Millennial pink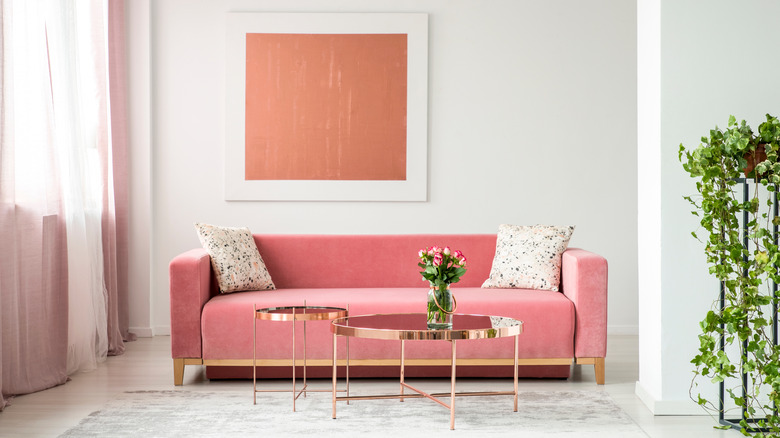 Photographee.eu/Shutterstock
The trendiest of pinks, we had to include this particular group on our list. According to Storables, millennial pink is a range of pretty and subtle hues like blush and bubblegum with various undertones. It goes well with gray as the shade gives a calm and soothing vibe.
2. Baby pink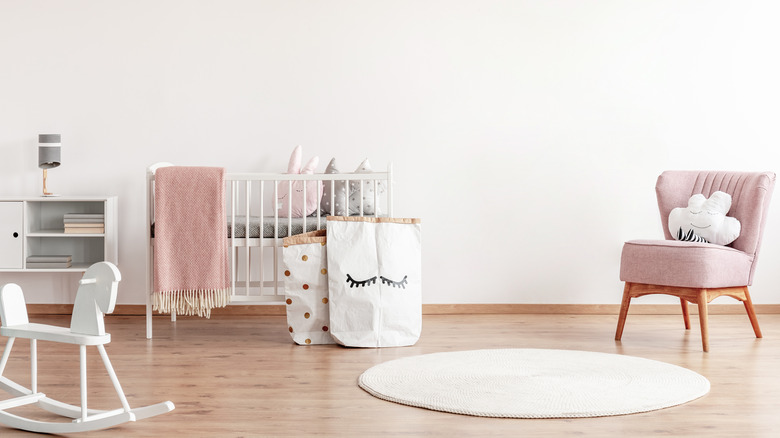 Photographee.eu/Shutterstock
This is the traditional baby girl nursery color that everyone is so familiar with. Beautifully innocent, pastel in the shade with soft white undertones. Touches of baby pink are great in playrooms and kitchens as well.
3. Luscious pink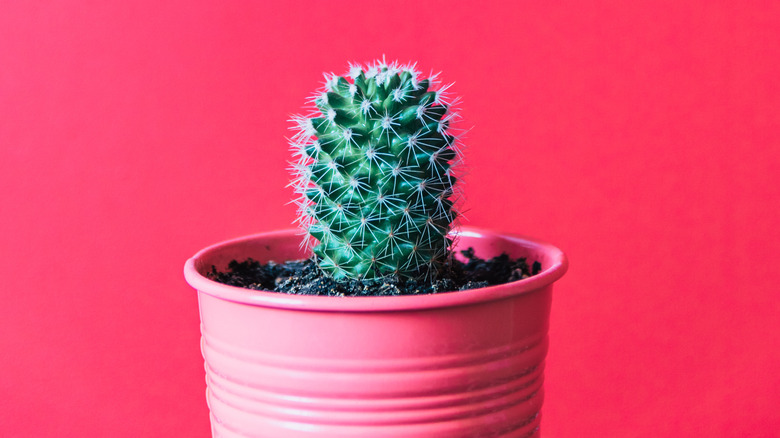 Katya Havok/Shutterstock
Bold pink with red and orange undertones resembling lush dragonfruit, pitaya, and pink guava, according to Andrew Martin. Great as an accent wall in a bedroom or dining room for a touch of arresting sophistication.
4. Blush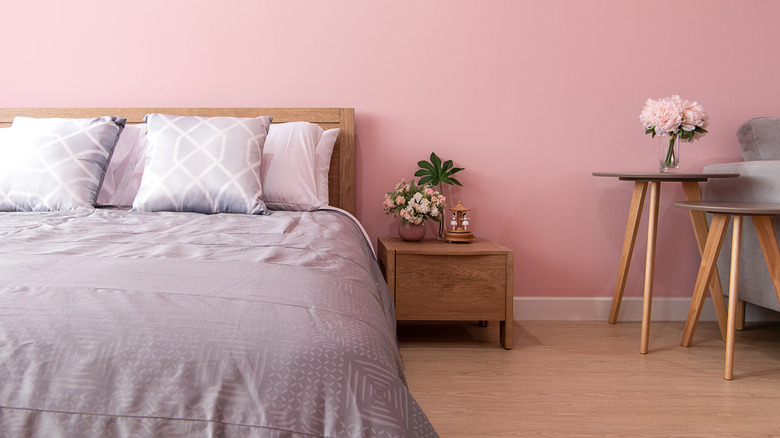 Kitthanes/Shutterstock
Subtle and romantic, blush is an excellent shade for a bedroom or living area, and it blends easily with neutral colors and compliments dark furniture nicely. If white or beige seems too dull, try a light blush shade for the walls for just a touch of color.
5. Peony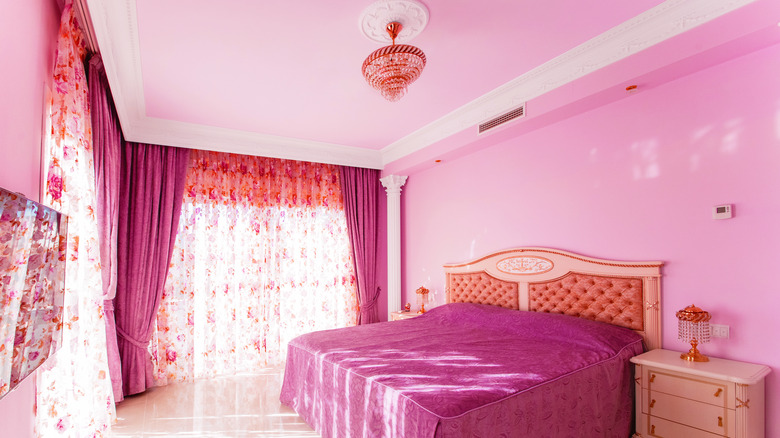 STEFI PANCHESCO/Shutterstock
The way peonies open up in delicate layers is already a showstopper, and the shade is nothing short of bold and bright. Elle Decor suggests using the paint on the ceiling for a dramatic effect.
6. Rosé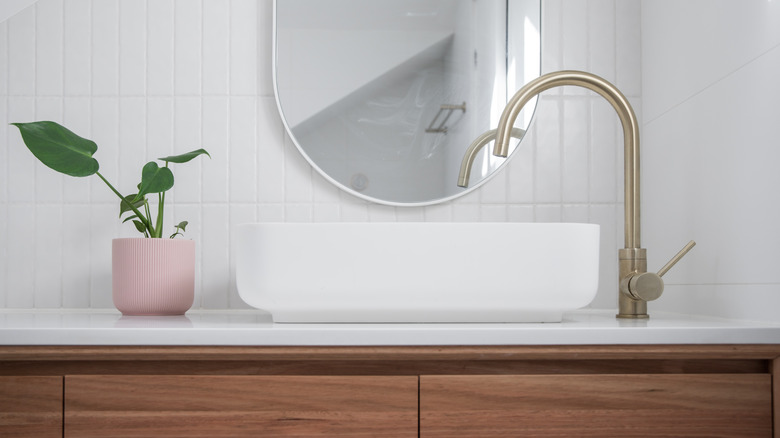 LIGHTITUP/Shutterstock
All the way, rosè! This bubbly pale pink hue is already a pick for baby showers, wedding showers, and birthday parties since it is so delicate and feminine. Try it in an office space or bathroom to feel your best self.
7. Petal pink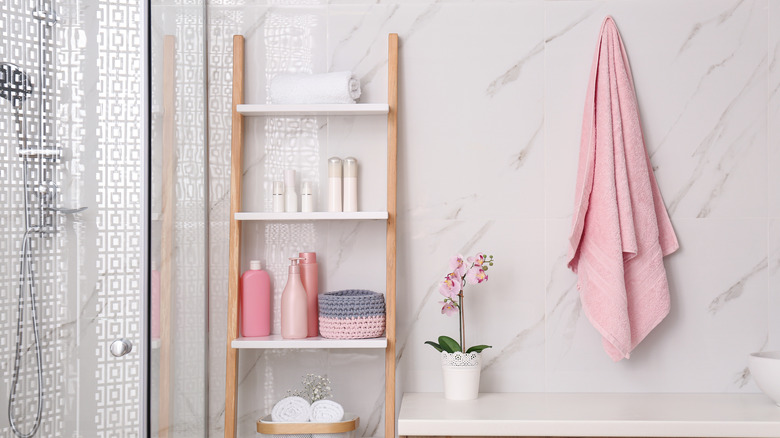 New Africa/Shutterstock
Delicate and innocent, this pale pink goes well in a baby room or reading nook, and it's soft and comforting without being too bright and chaotic. We love this petal pink in bathrooms and breakfast areas.
8. Pink princess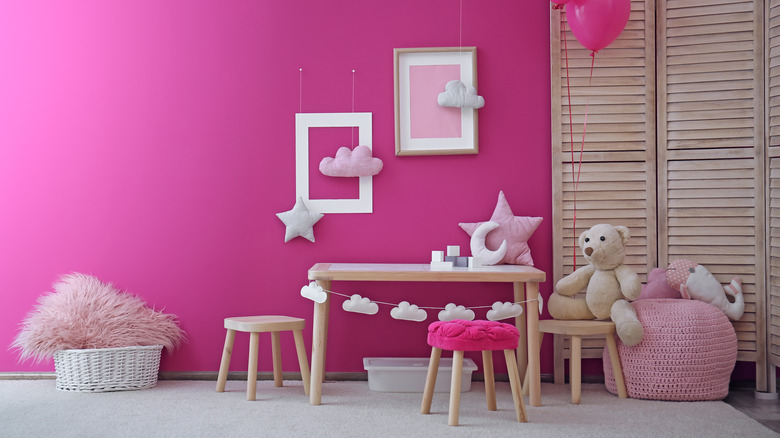 New Africa/Shutterstock
This is the shade of barbie doll dresses and My Little Pony. Great for a playroom or outdoor playhouse where fun, nostalgia, and imagination is the goal. While this shade isn't for everyone, it definitely makes a statement.
9. Coral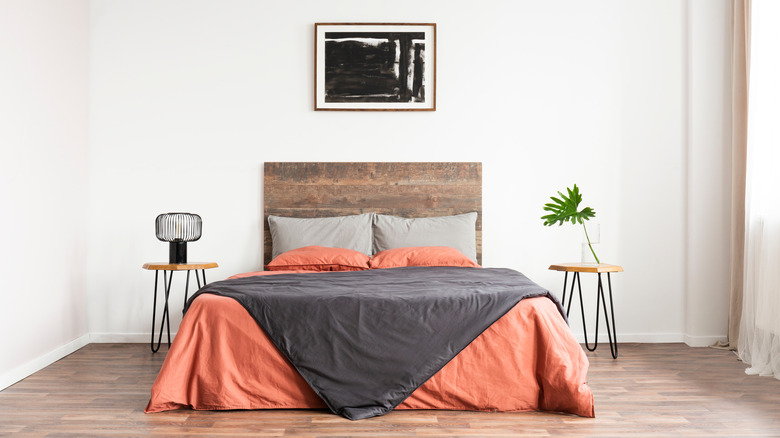 Photographee.eu/Shutterstock
Tropical, bright, and airy, this cheerful pink with orange undertones is so pretty in sporadic accent places. Coral pillows would look dreamy in a bedroom and is an excellent shade for a kid's bathroom.
10. Desert pink sand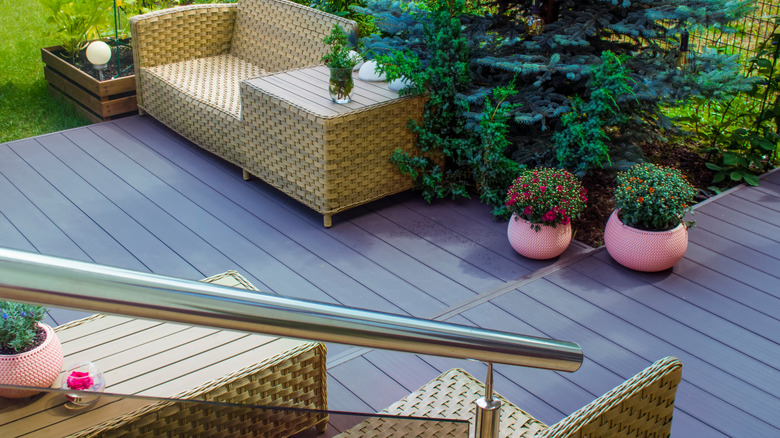 Natal.is/Shutterstock
Dusty pink with brown undertones, this shade is similar to terracotta with a pink edge. Beautiful in an outdoor patio décor around the pool, and it's sophisticated, feminine, and dreamy.
11. Pink pearl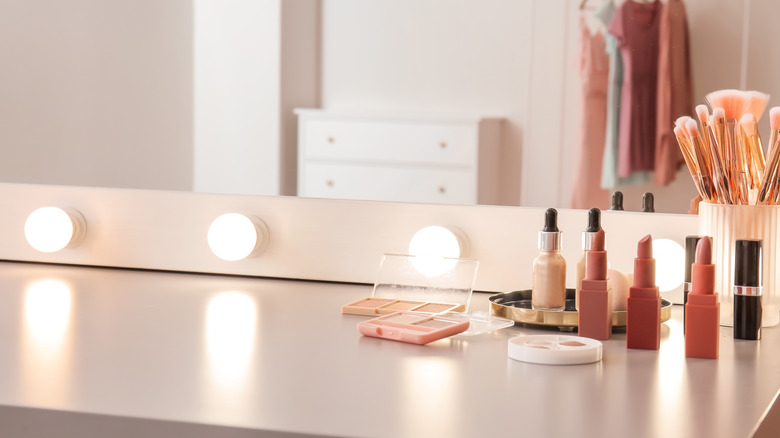 Pixel-Shot/Shutterstock
Iridescent, this shade is far from that pink glitter your kids keep asking you for in their room. Slightly shimmery with a pale pink highlight, it's a coloring perfect for bathrooms, vanity areas, and nurseries.
12. Hot pink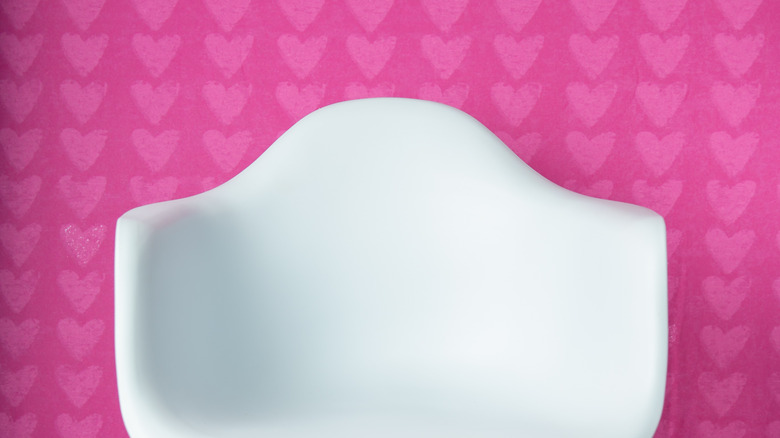 Ursula Page/Shutterstock
Not for those looking for something subtle; hot pink makes a statement. Great for an office for inspiration and focus all day, but can also be used on walls as a pattern with stripes or stencil.
13. Bubblegum ice cream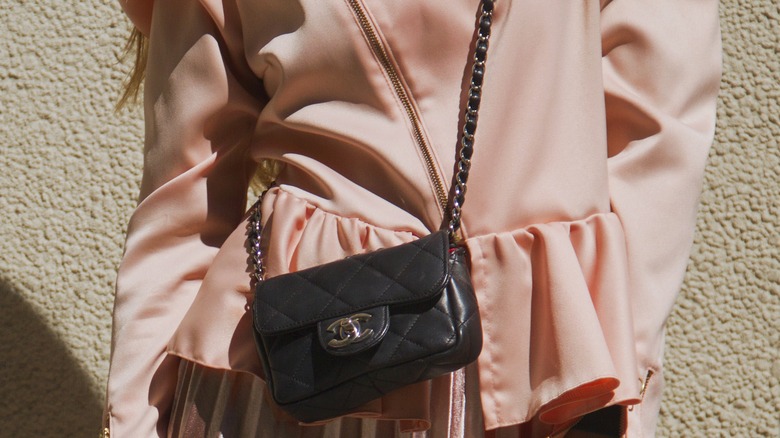 Georgie Hunter/Getty Images
Taking it back to the old-school ice cream shops with pink bubblegum ice cream, this soft and creamy shade is fun, not too bold, and great for a workout room or bathroom.
14. Sunset pink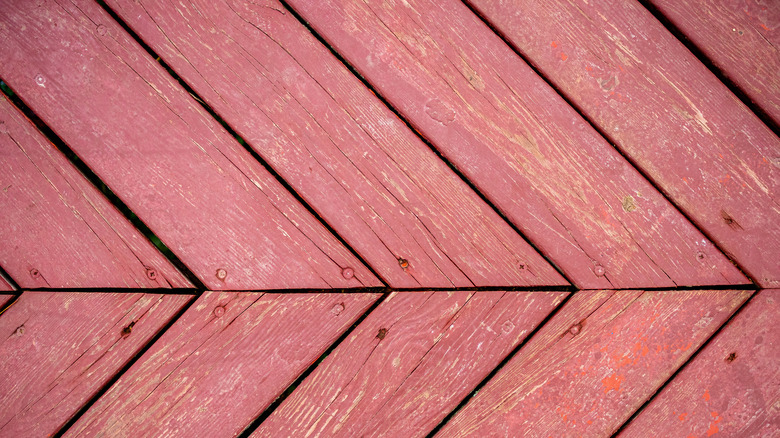 Korobcorp/Shutterstock
This pretty pink with warm undertones is perfect for a backyard, reminiscent of the sunset on a summer day. Try it as accent furniture or décor to frame the deck.
15. Fruit punch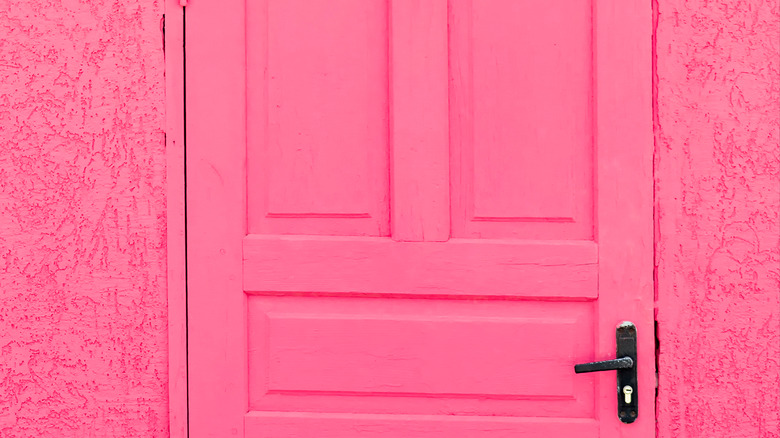 Essffes/Shutterstock
A bold and bright color, this one would make a unique statement as an entryway. If you find the front door too bold, try it as a pretty trim or décor around the front of the house for a punchy color splash.
16. Powder pink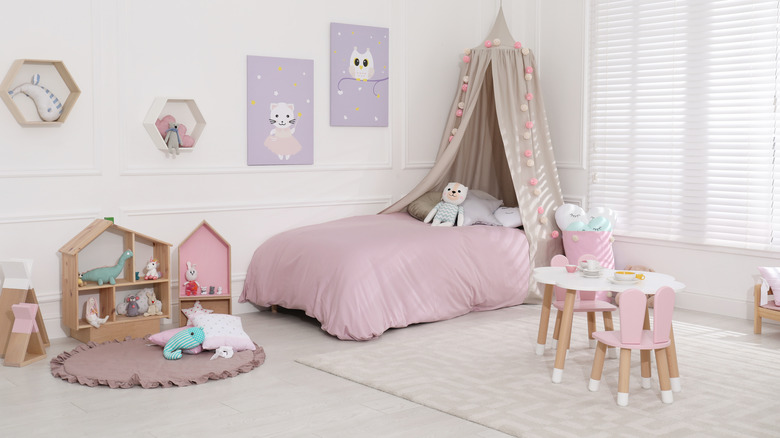 New Africa/Shutterstock
Taking it back to the 1950s, when pastels were all the rage, this powder pink is soft, airy, and gives a subtle sprinkle of color to walls and décor. We love a powder pink for a kid's room or even a home office.
17. Mauve
arosoft/Shutterstock
This bold color is energizing and vital for a pink shade with purple undertones. It's an excellent hue for a home office for focus and energy or a front door as a welcoming burst of color for guests.
18. Cherry blossom pink
New Africa/Shutterstock
Like the beautiful tree with delicate white and pink flowers, a cherry blossom pink would look stunning in a bathroom. Paint the walls this color or even use it as an accent color for appliances like sinks and cabinets.
19. Salmon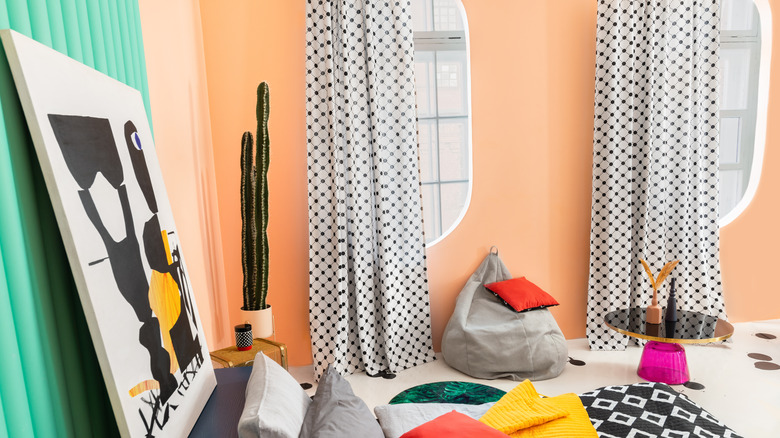 thelavrova/Shutterstock
Salmon, a pink with orange-red undertones, is a gender-neutral shade versatile enough for any room in the house. Try it in the kitchen, like the colors for cabinets and shelves or a kid's playroom.
20. Peachy pink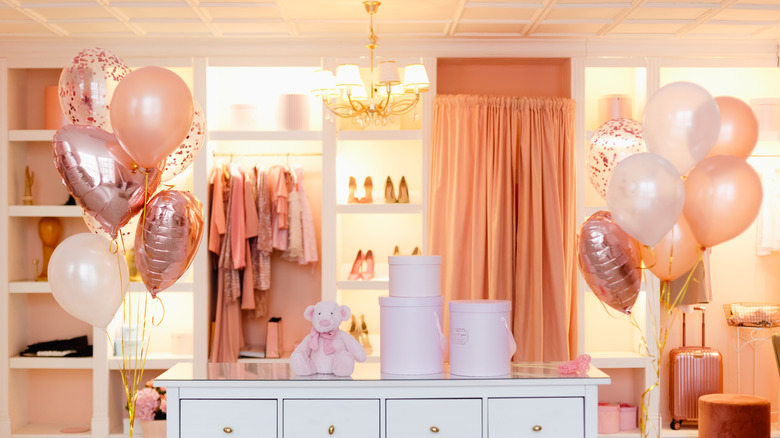 TsElena/Shutterstock
More orange and yellow with pink undertones — this shade is great for anyone just wanting a hint of pink but favors orange and yellow more. Try it in the kids' playroom or an exercise room to evoke feelings of energy.
21. Coral reef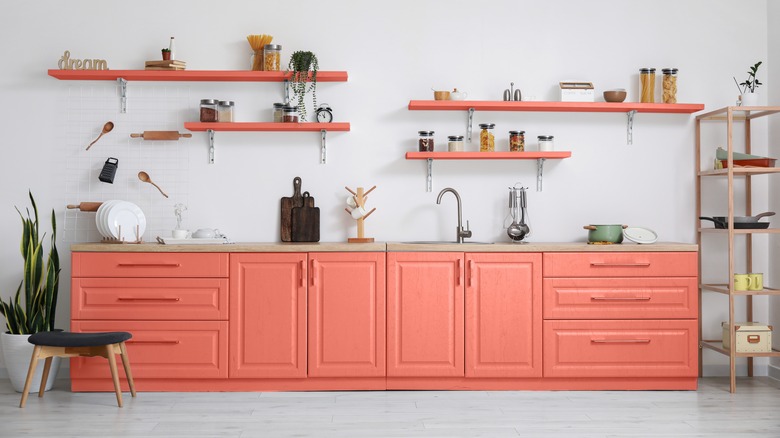 Pixel-Shot/Shutterstock
A bright and cheerful coral reef can be used to add a beautiful pop of color to living spaces. Incorporate them as tables and chairs in a kitchen eating area or the backyard patio as outdoor furniture.
22. Ballerina pink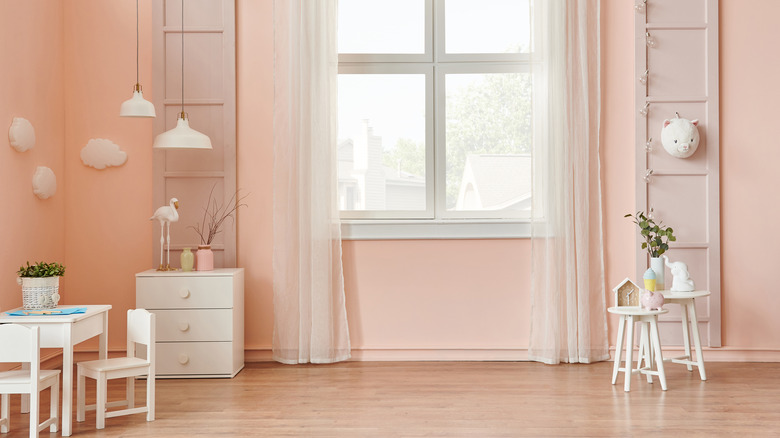 united photo studio/Shutterstock
Tutus and pointe shoes in this soft pink color can be a beautiful addition to a home as they give off a feminine and light energy. It's a great shade to pair with grays and whites in a baby girl nursery.
23. Rosewater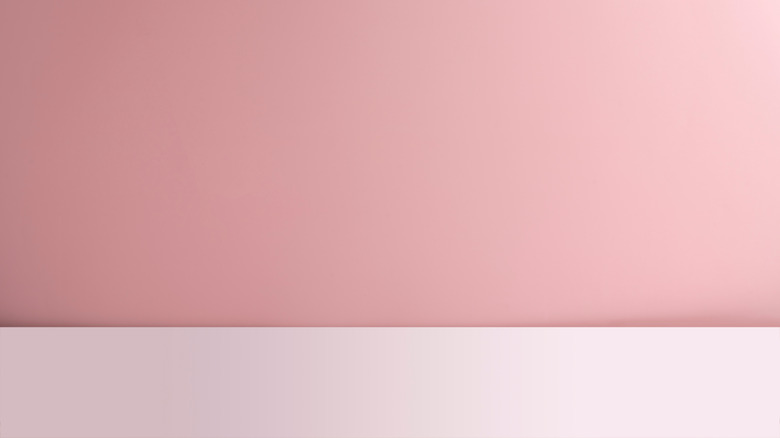 Khing Choy/Shutterstock
Another light pink but with gray undertones, this shade is great for a bedroom ceiling or a reading room. We love how rosewater can pair well with neutral tones, or you can brighten it up with reds and earthy brown.
24. Bright pink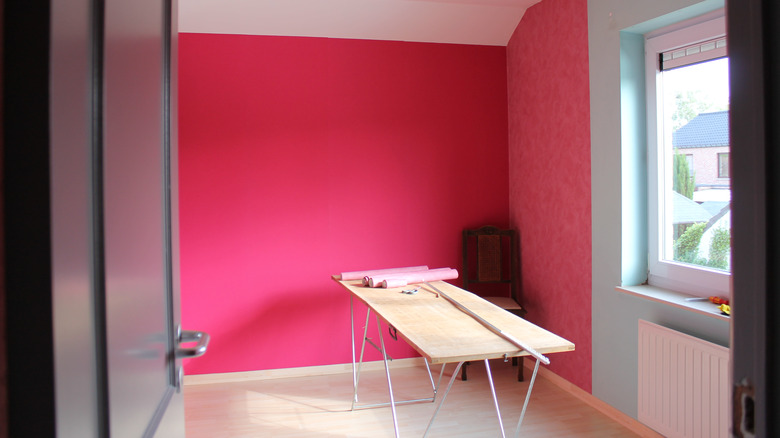 annika85/Shutterstock
Used in Latin décor for festivities and traditional holidays, this pink is bright, bold, and beautiful as an accent color. It's perfect for a front door or as a primary backyard color.
25. Watermelon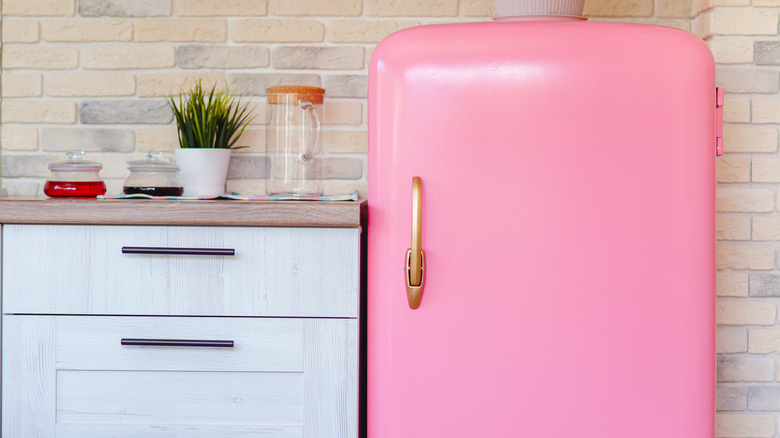 Karana/Shutterstock
With subtle red undertones, this fresh and clean pink can be used in the kitchen for pops of color or even as an accent wall. We love this shade for a kid's bedroom and playroom. 
26. Fuchsia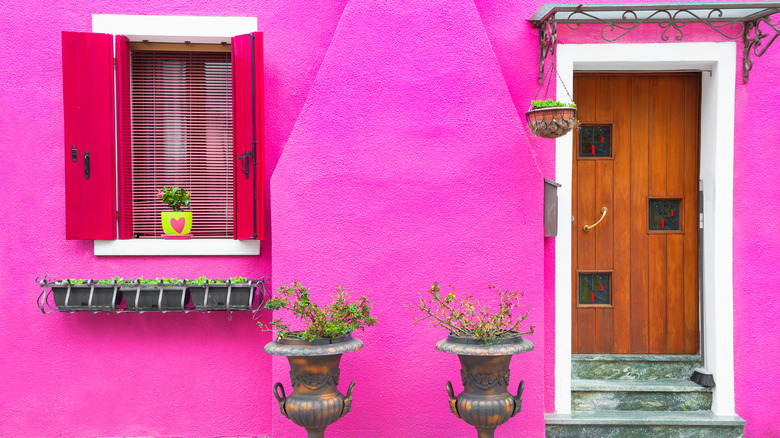 Desizned/Shutterstock
Fuchsia, another daring and bright shade, is a popular purple and pink color because you don't need to use a lot of it to make a statement. Great for an outdoor patio as hints of color for cushions and flower pots.
27. Flamingo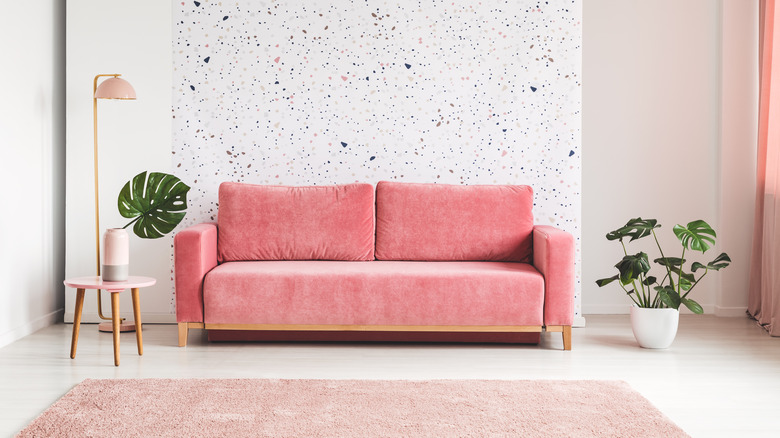 Photographee.eu/Shutterstock
A light to medium pink on the cooler side reminds you of the beautiful flamingo feathers. It's ideal for a bathroom or office space for a pop of color without being overpowering.
28. Piggy bank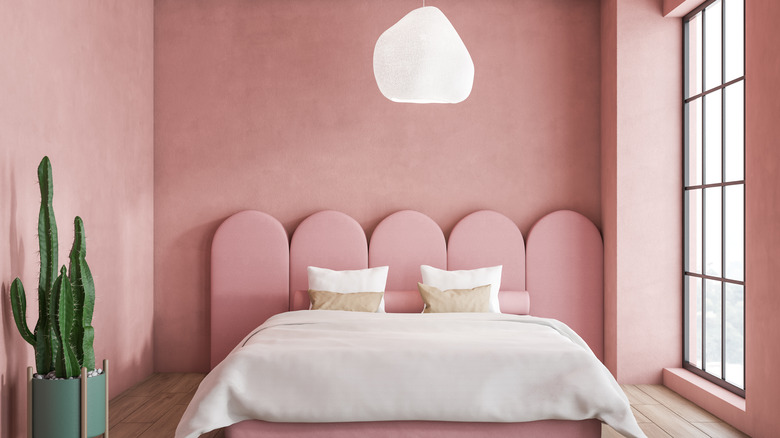 ImageFlow/Shutterstock
A soft baby pink like the piggy bank you had as a kid, this shade is beautiful with gray and dusty undertones. It can be used for a reading room, sitting area, or even the living room.
29. Pink lemonade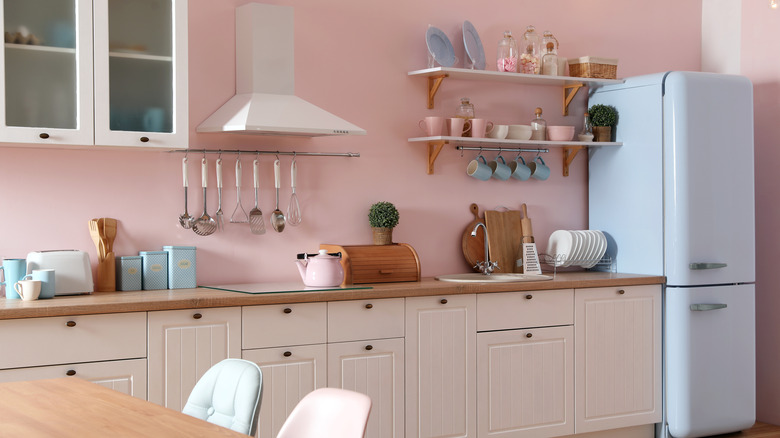 New Africa/Shutterstock
Refreshing as the famous drink, pink lemonade is a light pink that is more translucent and pale. It's an excellent shade for bathrooms, kitchens, and office spaces.
30. Amaranth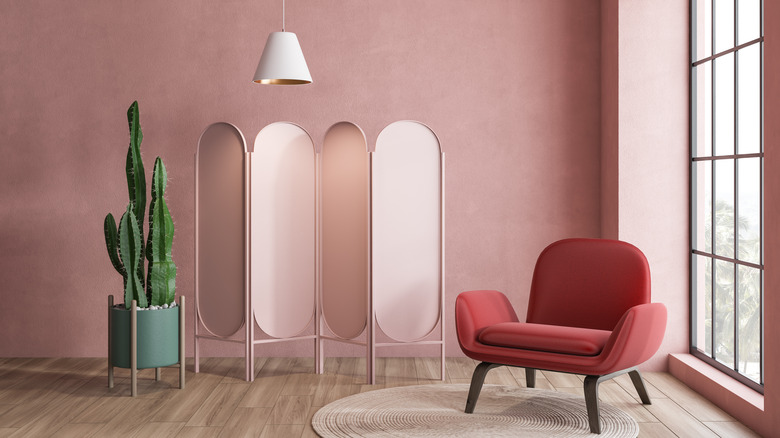 ImageFlow/Shutterstock
A rich, medium to dark pink with warm undertones, amaranth is excellent for a wood-trimmed office space or living room to create a warm and welcoming vibe.