The Best Roof Color If You Have A Gray House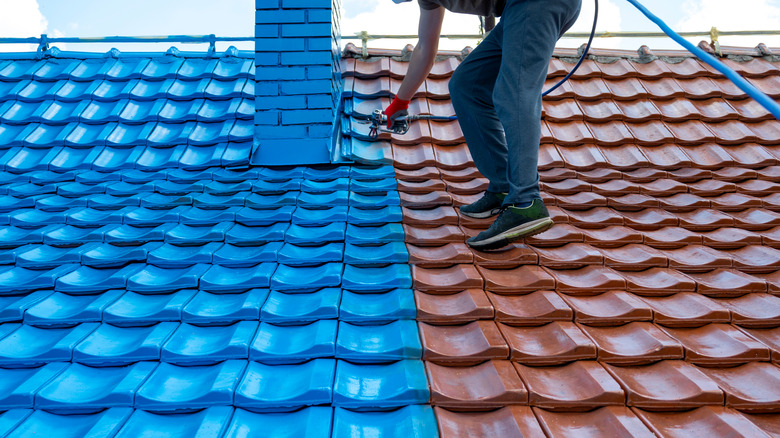 Branimir Todorovic/Shutterstock
Roof color is not something you think about until you have to make a decision, but honestly, there are several factors to consider. If only it were as simple as picking any random color!
To begin, you must understand that color is a complicated thing in general. Because your roof is a vast visual mass, the color you pick will affect the overall appearance of your home, its curb appeal, market value, and even energy efficiency. (via Heritage Construction Co.). Simply said, if you select the wrong color, it will be a very expensive mistake to correct since the cost of new roofs can vary significantly.
While the quality of the roofing materials and the people working with them are critical, you should give careful consideration to the color as well, as it actually plays an important role. Let's take a look at some of the intriguing elements that should go into your selection when choosing a roof color based on the exterior of your house.
Matching roof colors with house aesthetics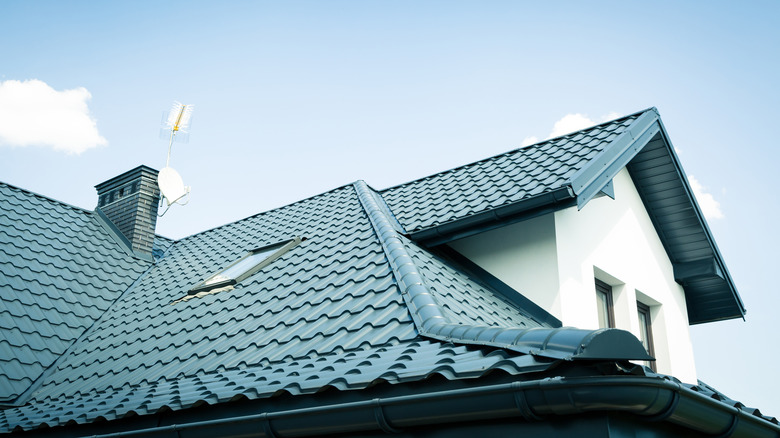 rzoze19/Shutterstock
The color you choose for your roof should complement the existing exterior of your home as well, to establish consistency and flow (via Pro Paint & Finish). This strategy is much simpler than re-considering your entire color scheme. In addition to matching the color palette of your home's exterior and general facade, the roof color you choose should complement the overall design and architectural features. Look into the guttering on your home, as well as the fascia, garage door, driveway, windows, doors, door architraves, fence, and the color of your brickwork, rendering, or cladding, when choosing a roof color.
If this seems overwhelming, not to worry. A simple rule of thumb is to select a roof color that matches at least two other aspects of your home's exterior, such as the garage door, fence, or trim. If you have a brick home, for instance, Brava recommends you choose a roof color that complements one of the tones present in your bricks. You'll also want to think about the size of your home and if you want it to appear larger or smaller. A lighter roof color will make your home appear larger, while a dark color will make it appear smaller.
Choosing a roof color for a gray house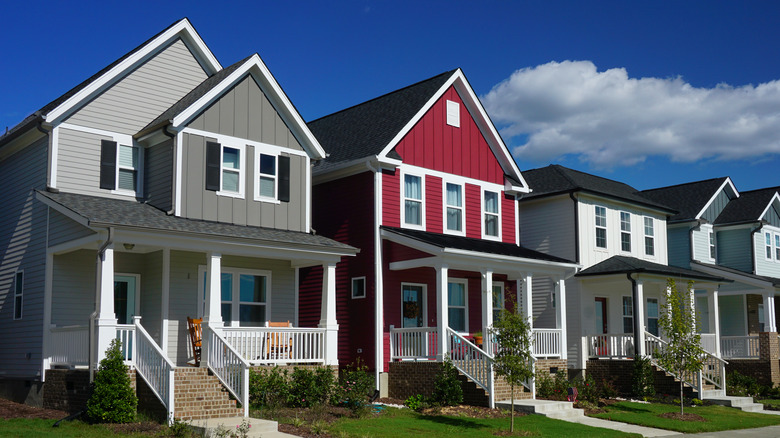 PT Hamilton/Shutterstock
If you have a gray house and are considering a new roof color, you may be far enough along in the process that you're simply hoping for some fresh color suggestions. Thankfully, Ideal Home has several recommendations to make the most of your existing color palette. 
Gray and red may sound too powerful a color combination, but with the appropriate shades, it can work. If you want a more subtle aesthetic, tone down the red in the roof by pairing it with an earthy, terracotta color and a softer, cloud-like gray.
Sage green has been gaining popularity as an exterior home color, despite being a relatively difficult roofing color to come by. In fact, if you have a green roof, grey is often recommended by experts such as Decorated Life as an appropriate pairing. Both have the same, grounding energy, and in fact, when green is coupled with the right gray, it can appear nearly neutral.
If you're seeking a sleeker, more modern vibe, or merely prefer a monochromatic palette, you can always pair gray with gray. If not done thoughtfully, it can seem a little dreary, but with the right shades, you can create a clean, classic effect. The key is to incorporate sufficient texture and contrast to create enough visual interest and impact.