15 Cheap And Clever Ways To Perk Up Your Patio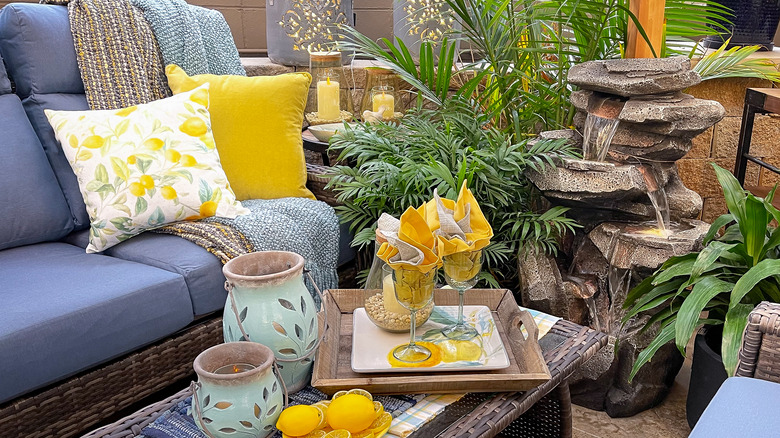 TammiMild/Shutterstock
Is your patio in need of a makeover? While it may not have had much use in the winter and colder season, it's starting to look like summer, and outdoor gatherings are happening again. According to the Old North State, a beautiful patio has a ton of benefits, including an increase in property value, having a place to entertain that will also let the little ones run around, and acting as an extension of your living room. Maybe you've started a vegetable container garden or want to plant some pollinator-friendly flowers now that the sunshine is out and nice enough to be outside to do some gardening.
In any case, we've got some cheap and clever ways to perk up your patio that'll fit any taste and style. If you like to DIY outdoor furniture or just want some ideas on decor that can give new life to your outdoor space, we can help. You don't need to spend a ton of money to do an overhaul, as there are a ton of ways to do that on a small budget. An outdoor space that encourages tranquility, peace, and relaxation can do wonders, making it a place you want to spend some time.
1. String lights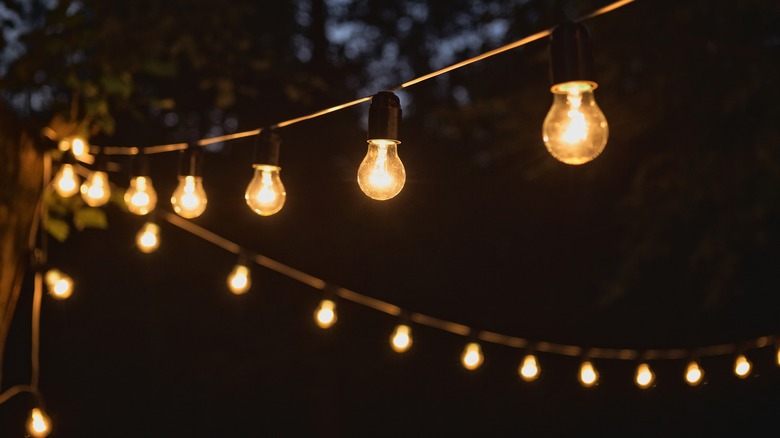 Profotosession/Shutterstock
String lights add an attractivebistro-style mood to a patio and are inviting for gatherings on beautiful summer nights. With such wide varieties like Edison, LED, solar powered, jar, twinkle, or lantern lights, it's an inexpensive way to add a warm glow to a neutral patio. Try some affordable paper lanterns in different colors to add pops of color in a subtle way.
2. Décor signage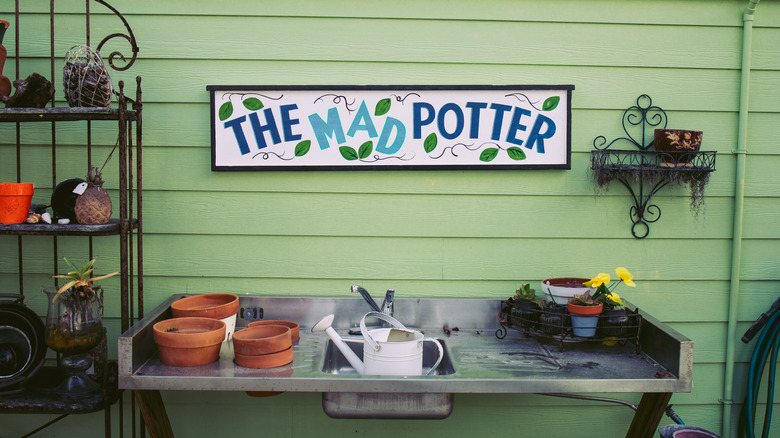 Fellers Photography/Shutterstock
Adding décor instantly perks up a patio and, at the same time, showcases your style and personality in an outdoor space. A simple welcome sign in a bold color is a great idea, keeping it classic. You can also try funny signage to bring some laughter or match the natural décor with a rustic one. The options are really endless and are readily available.
3. Garden beds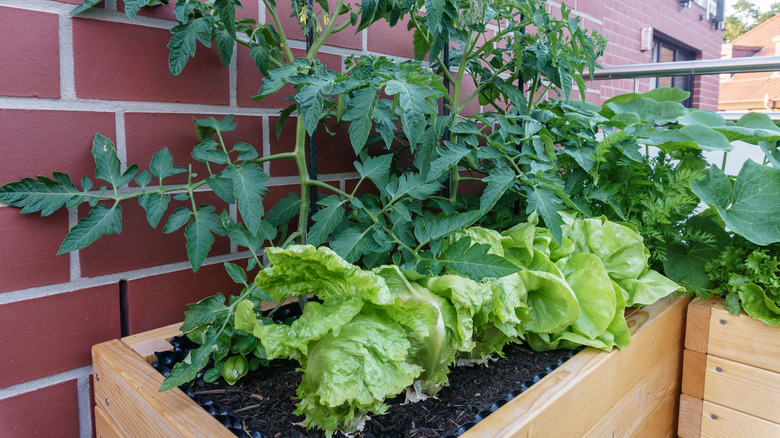 Otto Born/Shutterstock
Since you are already outside, go ahead and plant some flower or herb seeds in a garden bed against a wall, and you'll enjoy the benefits every time you're outdoors. An advantage of growing herbs is that you can use them for al fresco cocktails or grilling seasonings. Flowers add color and beauty and can even help the bees — if you plant pollinator-friendly varieties.
4. Area rug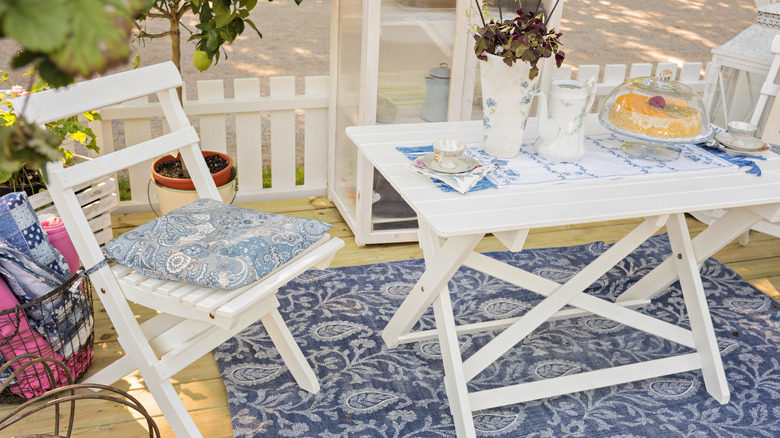 Sophie McAulay/Shutterstock
An outdoor rug brings an element of indoor spaces outdoors. While they won't be the shag or cotton kind, there are now many rugs in the marketplace that are soft, durable, and washable. Choose one with a color or pattern and place it under whatever patio furniture you have to add a warm and cozy feel to the outdoors.
5. Colorful pillows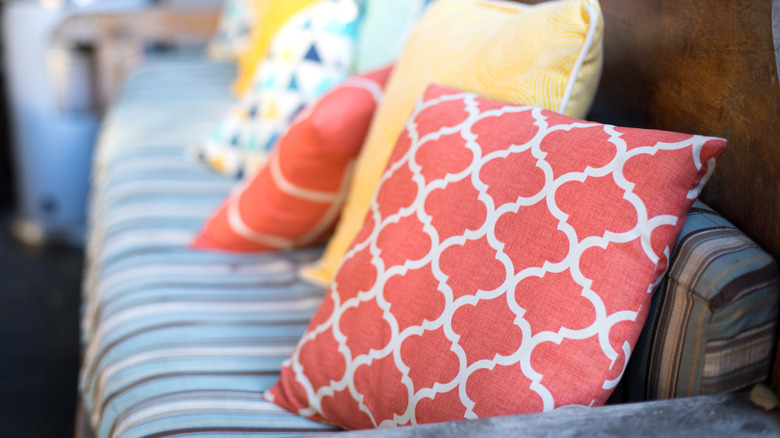 VDB Photos/Shutterstock
Pillows are great for many reasons besides adding a cozy and comfortable element to a patio. They can also act as décor and complement a color palette. Pillows can also serve as mobile seat cushions for kids outside for play or when it's time to eat around the patio table. These are inexpensive and can easily be changed out and washed when needed.
6. Shade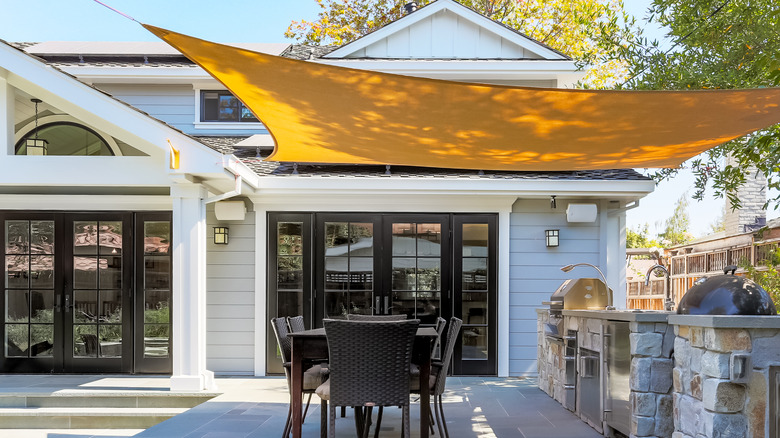 Krista Abel/Shutterstock
Whether it's a simple umbrella or a retractable shade, something to add some cover when the sun hits is a great idea. While it's easy to get overwhelmed with the many options for shade and not at an affordable price, it can be done. Try some patio curtains in a strategic spot where the sun hits the most, or try to design the seating area near a tree for natural shade.
7. Fire pit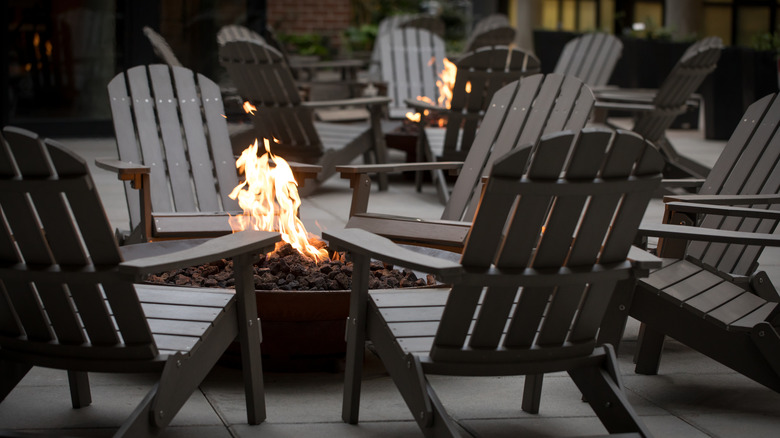 VDB Photos/Shutterstock
A fire pit is great for colder nights and doesn't have to be expensive. You can definitely DIY your own fire pit — there are many tutorials on how to do that effectively, customizing it to your liking. If you'd rather purchase one, the simple option on top of a table is just as beautiful and works fine for roasting marshmallows with the kids or during an outdoor family movie night.
8. Movie screen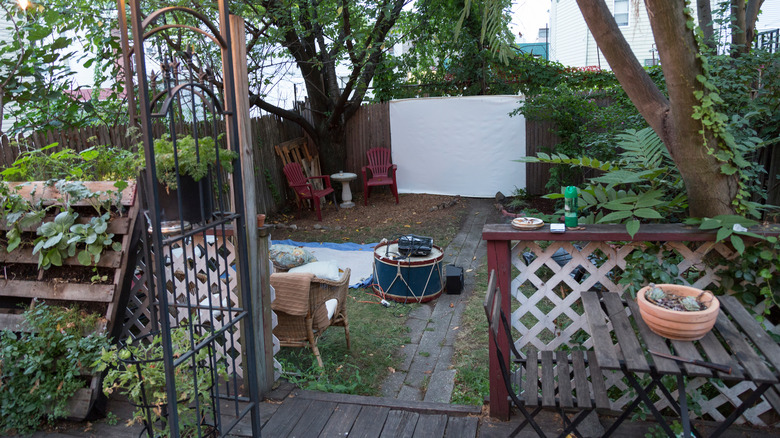 Mark Roussel/Shutterstock
Breezy summer calls for outdoor movie nights. You can set up a movie screen with a simple projector and blank wall, a white bedsheet as a screen, or a portable movie screen that can slide out of the way when not in use. The options are endless, and it's an easy way to get everyone together on the patio. Chairs, pillows, and blankets can be used as seating. Now all that's left is to pop the popcorn.
9. Hanging swing
Yashkin Ilya/Shutterstock
Swings are not just the kid variety found on school playgrounds. Outdoor swings are beautiful, with different colors and styles to choose from. We love a hanging swing with a throw blanket and pillow for a mid-afternoon nap or sitting alone in beautiful weather with a great book. They are easily installed and do not take up a lot of room, making them perfect for small spaces.
10. Paint a wall or fence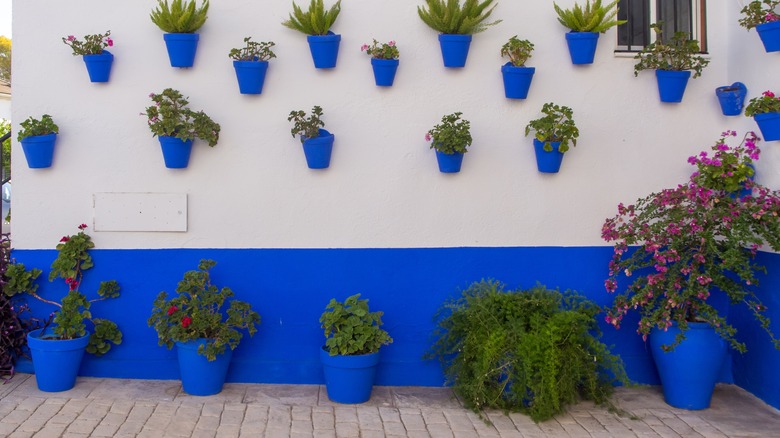 josera/Shutterstock
If you don't have a lot of room but still want to add some color and personal style to a patio, head over to your local paint store. Pick a color that matches the rest of the outdoor decor or a bold hue to make a statement. Then take a look at the patio and see if there is a wall that could be a focal point of the space. You can definitely perk up a patio with just a little time and elbow grease.
11. Storage bench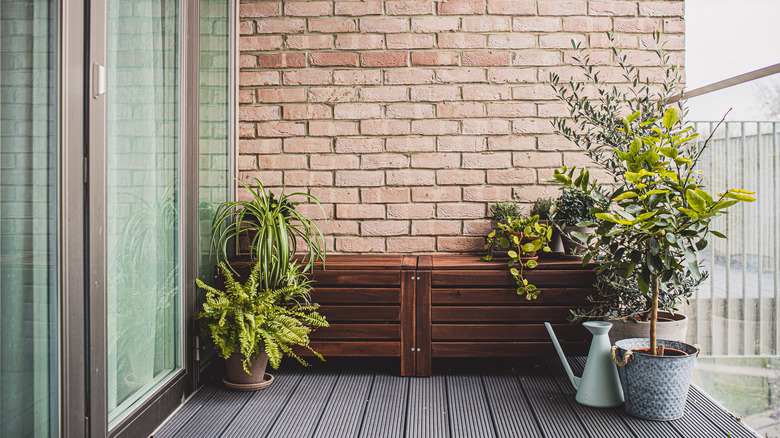 HouseOfMan/Shutterstock
If you have kids, you know the importance of having good storage. An inexpensive way to perk up the patio while keeping everything stored and neat is a storage bench. You can DIY a bench with accessible supplies from the hardware store, visit a flea market, or purchase something new and inexpensive that can be used as storage. Add a cushion to the top, and it will also serve as seating.
12. Vertical plants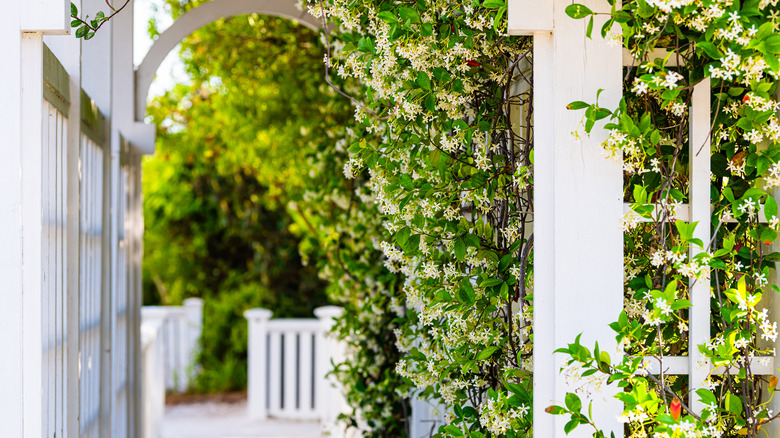 Andriy Blokhin/Shutterstock
Since the patio is part of the outdoor space, why not channel your inner gardener and plant some vertical plants to create a beautiful background or accent for the patio? Simply plant seeds or purchase some already sprouted, and hang a trellis to encourage plants to grow upwards. The simple greenery is beautiful, but you could also add some bright flowers to liven it up even more.
13. Stepping stones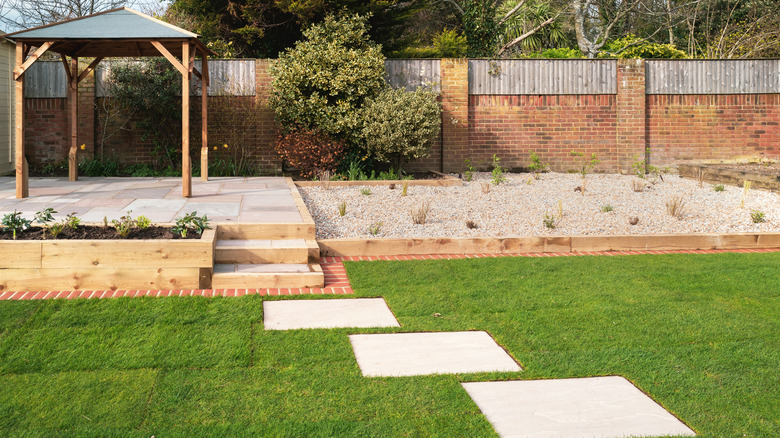 Christine Bird/Shutterstock
Stepping stones don't take up a lot of space, are very easy to find and buy, and are an excellent project for kids. Stones can be personalized, colored, in different sizes, or lead up to another spot in the backyard. We love how stepping stones can be a fun and easy project to do with kids, as they can decorate however they want and contribute to the space's décor.
14. Hammock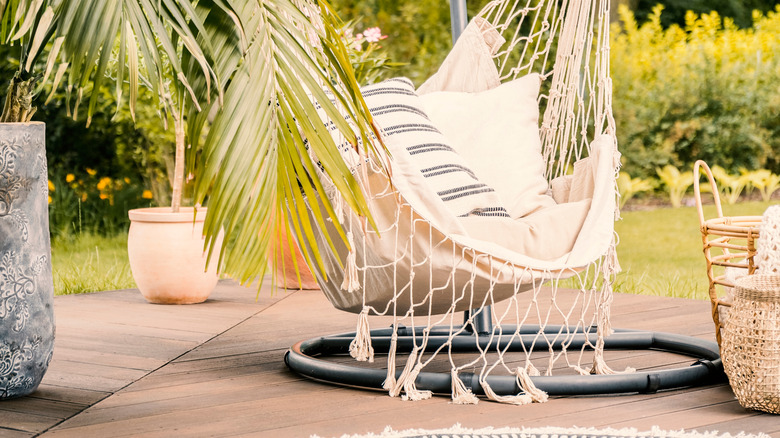 Photographee.eu/Shutterstock
What's more relaxing than a hammock on a cool summer afternoon? While you can definitely buy a large hammock that can be tied between two trees, you need something a bit smaller for a patio. Opt for a free-standing hammock that can be put away when not in use and easily accessible when lounging is required. With a wide range of colors and styles, it'll instantly perk up the patio.
15. Outdoor stools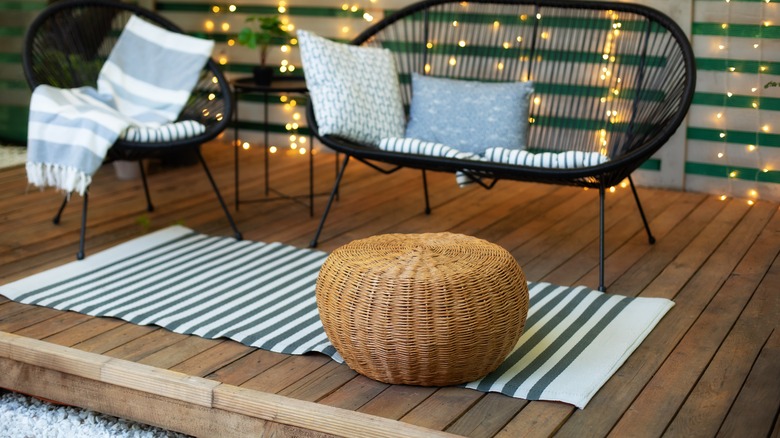 stock_studio/Shutterstock
Stools are great for adding a pop of color without a huge space or cost commitment. Easily moveable and replaced, a stool can be an accent piece, additional seating, or table area when guests are over. You can buy just one to be the accent piece or multiple as a design element to bring the space together.