25 Bathrooms That Will Make You Want To Install Subway Tiles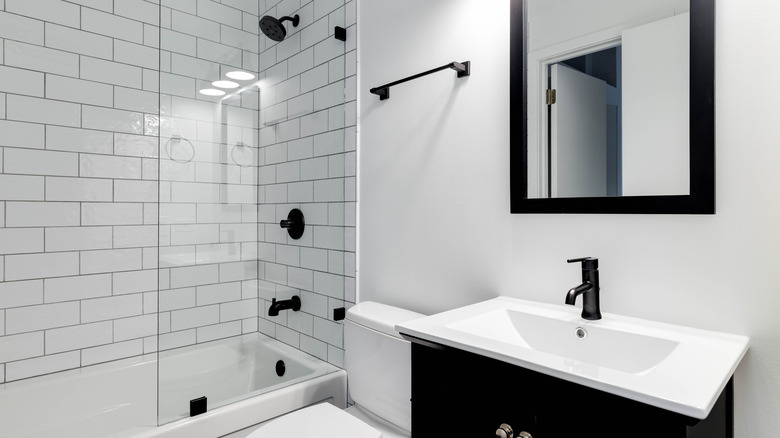 Hendrickson Photography/Shutterstock
There are multiple classic ways to design a bathroom; whether it's marble tile, black and white diamond tile, or even a stand-alone bathtub have all withstand the test of time. When choosing which materials to design a bathroom, you'll have to consider whether you'd like a simple or a creative design and which colors you would like to use to execute your desired look. Luckily, there is an affordable and diverse tile that can be used to create whatever design theme you're going for.
Subway tiles are probably the best way to go, especially since they usually cost about $2 to $3 per square foot of ceramic material, and those made of a marble material cost between $6 to $9 per square foot, according to Sweeten Stories. If you want something easy to maintain, subway tiles are simple to clean — the brighter it is, the more light they will reflect around in the space, per Remodelista. Depending on the design you'd like to create, you can purchase subway tiles in different sizes; some even have interesting patterns and 3D elements. Let's take a look at different subway tile designs to spark your creativity.
1. Bathtub texture
Subway tile can add subtle movement and texture to your bathroom design without drawing too much attention. This white subway tile was designed irregularly, creating a point of interest around the bathtub as the natural light illuminates its curves.
2. Marble border
This bathroom design features marble materials on the floor and the walls in different sizes and shapes. On the wall, you can see that the subway tile is installed above the larger tile, creating the visualization of a trim. They most likely did this because it seems the larger tile would not have fit in that space.
3. Blue focal point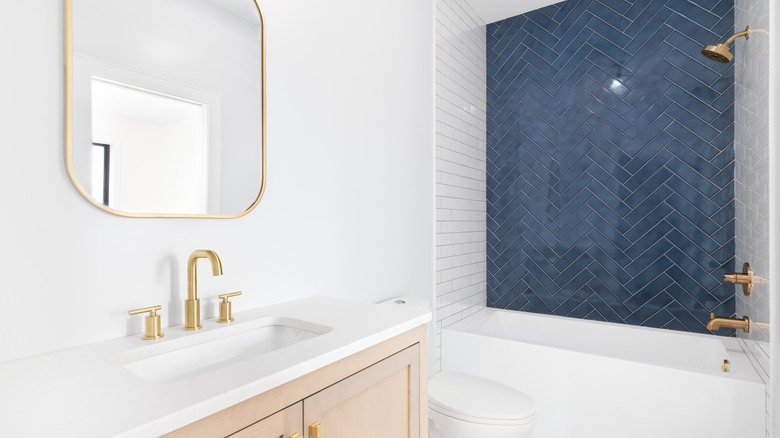 Hendrickson Photography/Shutterstock
This bathroom was beautifully done with complementary white, gold, and blue colors. The white subway tiles in the shower are placed in the typical horizontal pattern, while the dark blue variety has been installed in a herringbone layout, making it the focal point of the room.
4. Marble shower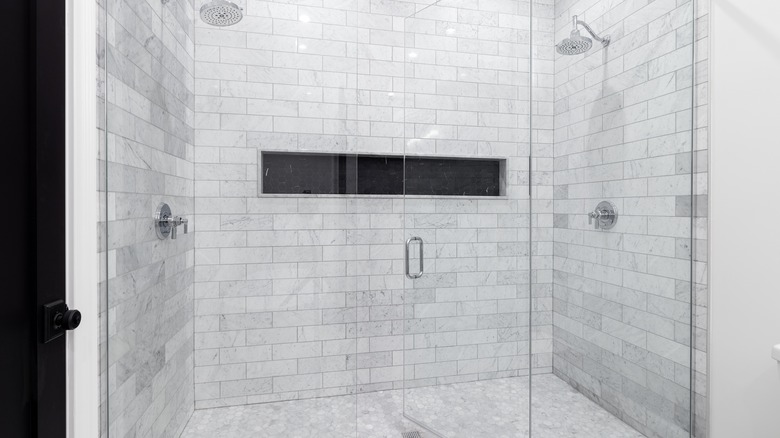 Hendrickson Photography/Shutterstock
This shower is cohesive like it was designed from the same marble material, but the walls are subway, and the floor was conceived from a hexagon mosaic. The cove was also designed with hexagons, but it is made of black marble to add contrast. This design creates a rhythm in the space to move the viewer's eyes from one spot to another.
5. Contrast with simplicity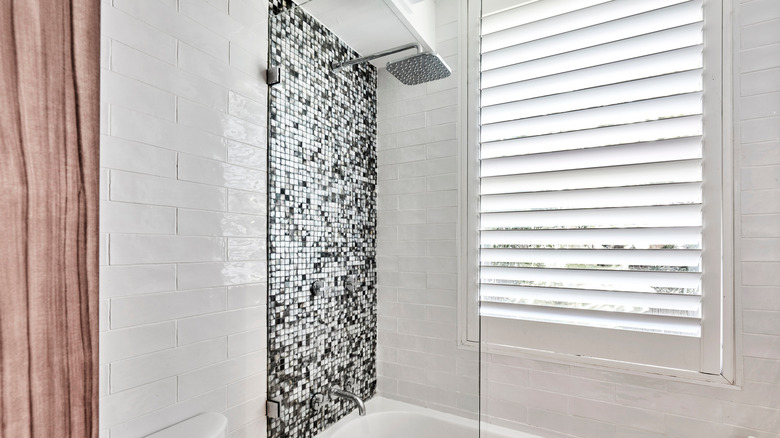 PhotoMavenStock/Shutterstock
When you have such a bright and eye-catching design in the bathroom, you won't have to direct any attention to it. Here, the designer has chosen to contrast the shiny mosaic tile with white subway tile; this way, there is contrast, and the mosaic still remains the focal point of the room. 
6. Neutral design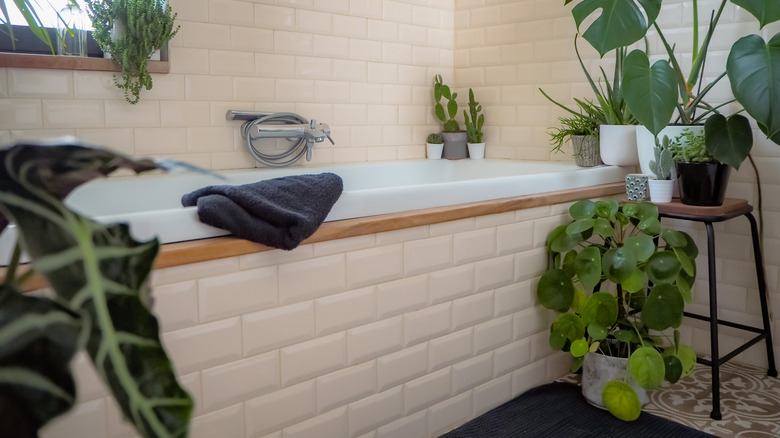 Luoxi/Shutterstock
This beige subway tile was used to create a neutral design in the bathroom, and it complements the brown floor tiles and the brown trim around it. The overall vibe of this design is a relaxed bohemian feel.
7. Gray bathroom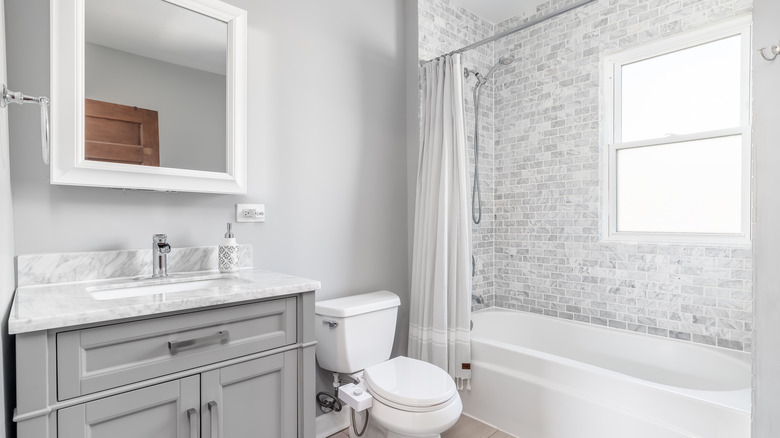 Hendrickson Photography/Shutterstock
If not done correctly, a gray bathroom design can be pretty bland. However, this design is bright and sophisticated. The natural light brightens the gray, and the white marble subway tiles pull colors from the vanity and walls to create a harmonious design.
8. Mix colors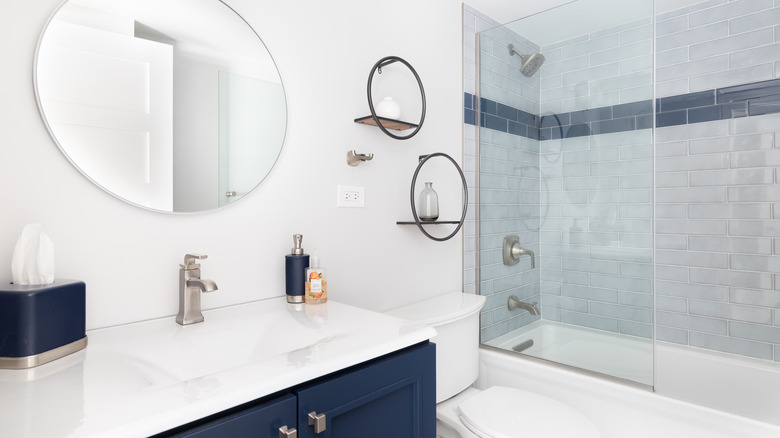 Hendrickson Photography/Shutterstock
Sticking to a blue and white bathroom theme, the designer chose two types of blue tile: dark blue and faintly blue. This coincides with the blue vanity and décor, creating a balanced and soft look. This mixture of light and dark blue subway tiles in the shower isn't overpowering and adds enough color to the space. 
9. Brown stone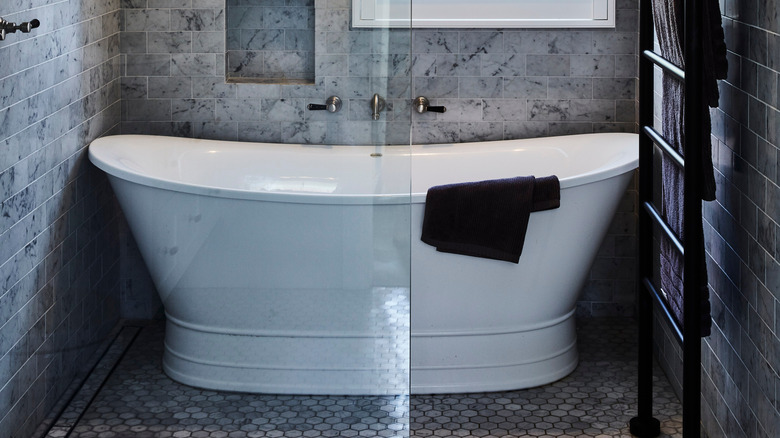 PhotoMavenStock/Shutterstock
This brown subway tile with hints of gray has created a warm space to enjoy this lovely bathtub. Here, they've pulled in two shapes of the same pattern — most likely part of the same collection — and used them to fill most of the bathroom, from the floor to the wall, as well as the trim and cove. 
10. Brighter and larger space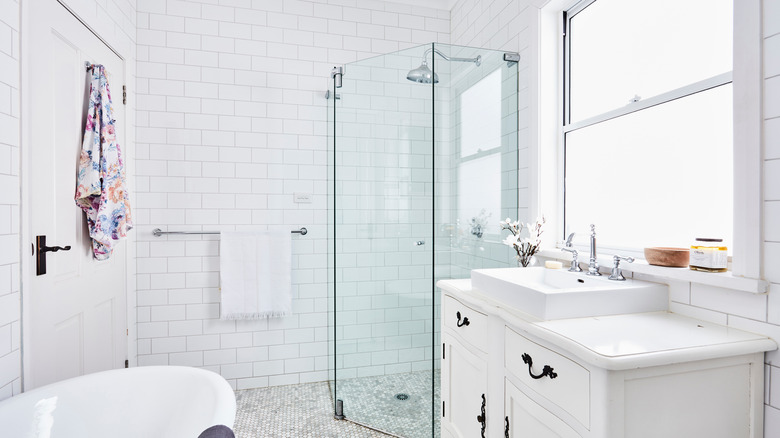 PhotoMavenStock/Shutterstock
This space feels large and airy with the white design and natural light. The typical white subway tile is seen all around the bathroom, and very light gray grout was used to complement the gray tile on the floor. The black hardware serves as a necessary contrast to ensure the design of this bathroom doesn't mesh together.
11. Black and white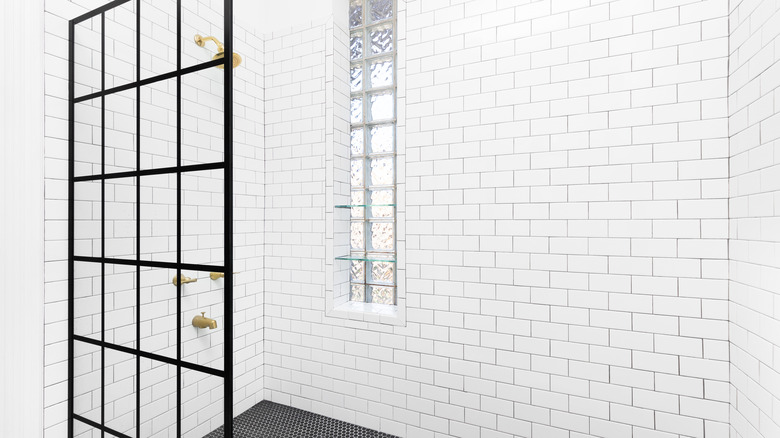 Hendrickson Photography/Shutterstock
Black and white have also been a classic combo, and this bathroom has a traditional design. The white subway tiles brighten up the bathroom and are paired beautifully with a black framed divider reminiscent of a French door. The gold accents in the shower finish off the look and pull the white and black together.
12. Vanity design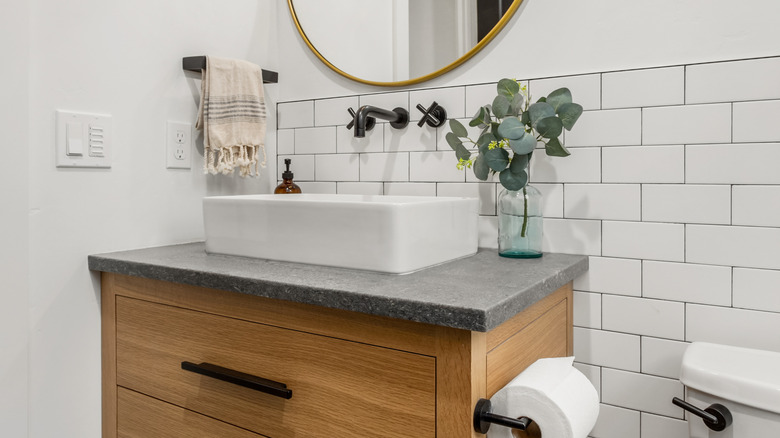 Breadmaker/Shutterstock
Add interest to your vanity by installing subway tile behind it. It's simple enough to add another element to the space without drastically changing the overall design theme of your bathroom.
13. One color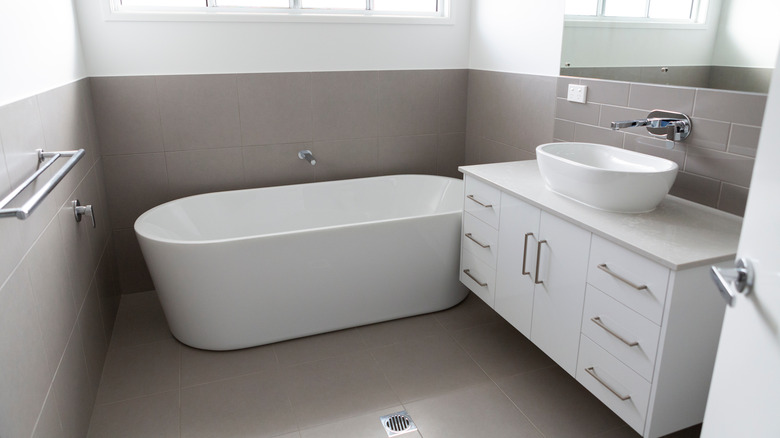 Caitlin Pass/Shutterstock
If you'd like to maintain one prominent color in your bathroom, changing it up a little with different sizes and finishes would be a good idea. This bathroom features a greige shade, matte square tiles on the floor and walls, and glossy subway tile behind the sink. Although the subway tiles are the same color, their glossy finish brings in the bright element the bathroom needs.
14. Vertical pattern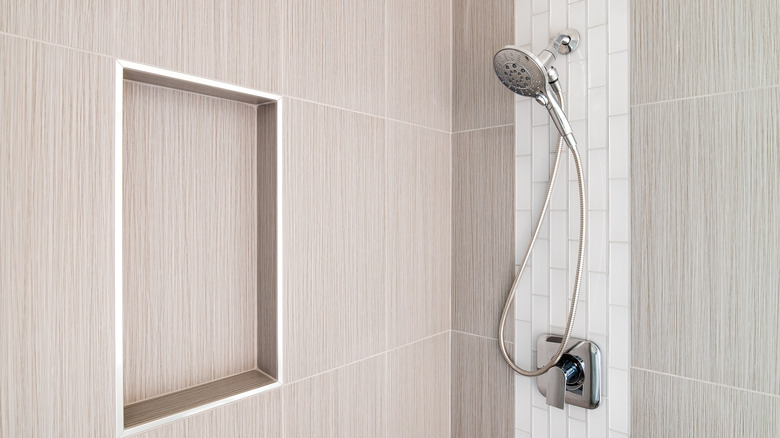 Hendrickson Photography/Shutterstock
The two colors in this layout beautifully complement each other. The neutral-colored wall with the white trim and subway tile is an excellent combination if you want something simple yet elevated. The white subway is presented as a brick mosaic traveling vertically behind the shower head, and it's made of glass, which brings in a new and bright texture.
15. Add contrast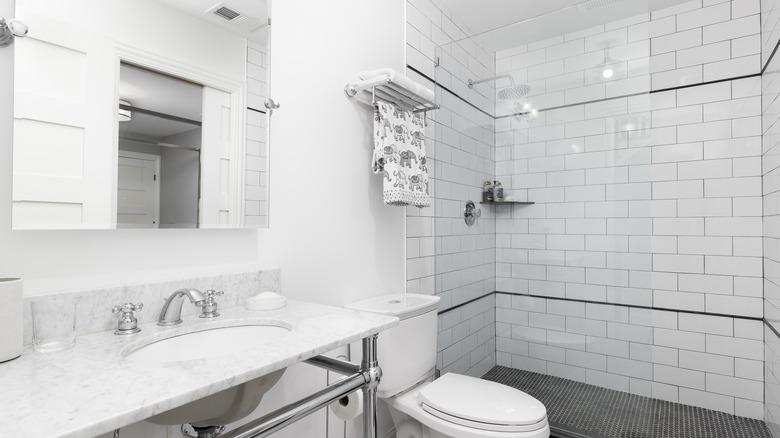 Hendrickson Photography/Shutterstock
If you love white subway tile but believe it is too bland on its own, there's a simple fix to that. First, determine a secondary color in your bathroom; then, you can choose a trim you love of that shade and add it to your shower design. This'll add contrast, allowing the color to flow through the room.
16. Wavy, glossy subway tile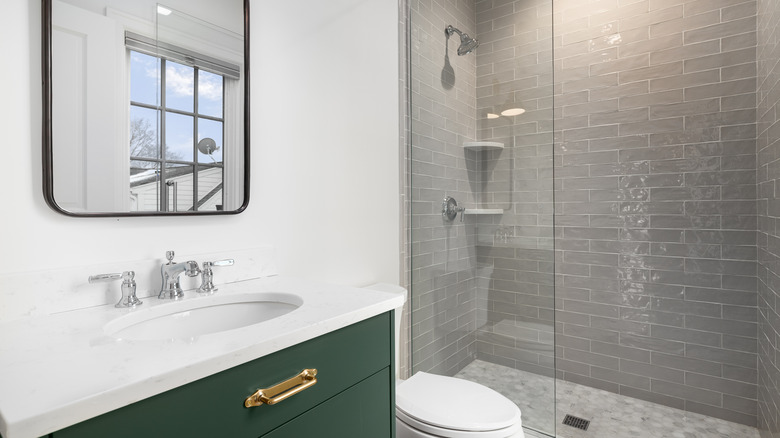 Hendrickson Photography/Shutterstock
The greige color of the subway tile in the shower complements the dark green shade as a neutral element. However, the subway tiles have a wavy texture and are also glossy — so it doesn't entirely sit in the background, as it also effortlessly adds more interest to the space.
17. Cover the shower in subway tile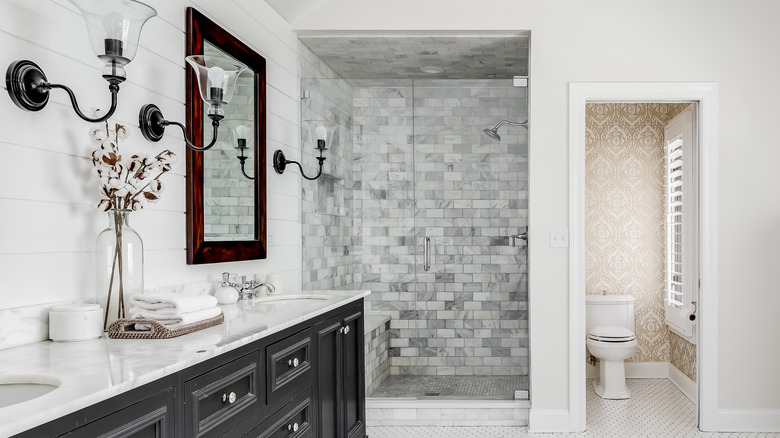 Hendrickson Photography/Shutterstock
There are subway tiles on the walls and ceiling and circular mosaic tiles take up the floor. This creates a space separate from the rest of the bathroom, where you can enjoy an elegant design. Although the tile is made of marble, it is in a simple subway tile shape to soften the various patterns. 
18. Mosaic wall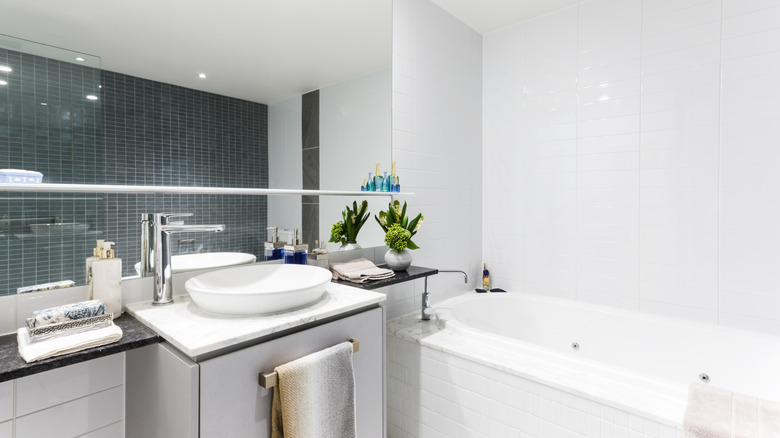 JR-stock/Shutterstock
Here, the designer chose a black mosaic subway tile in a stacked pattern. This pattern sits on the back wall, creating a focal point and exciting image that reflects against the mirror.
19. Flooring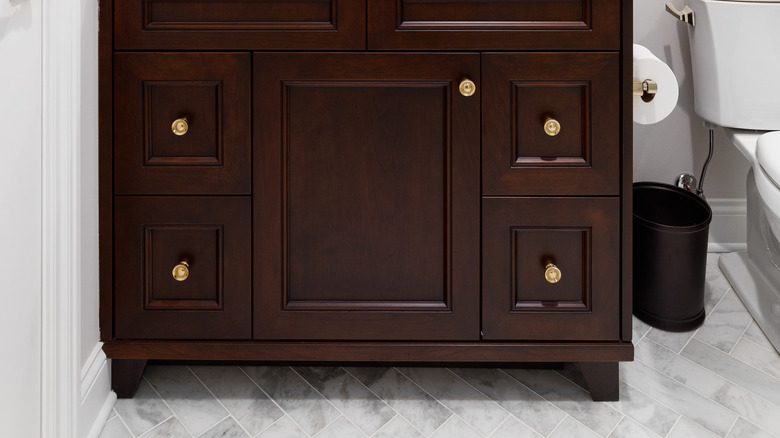 Hendrickson Photography/Shutterstock
The subway tile in this bathroom was used to create a herringbone pattern in a marble design. This is either real stone or porcelain, as it is easier to maintain.
20. Mix sizes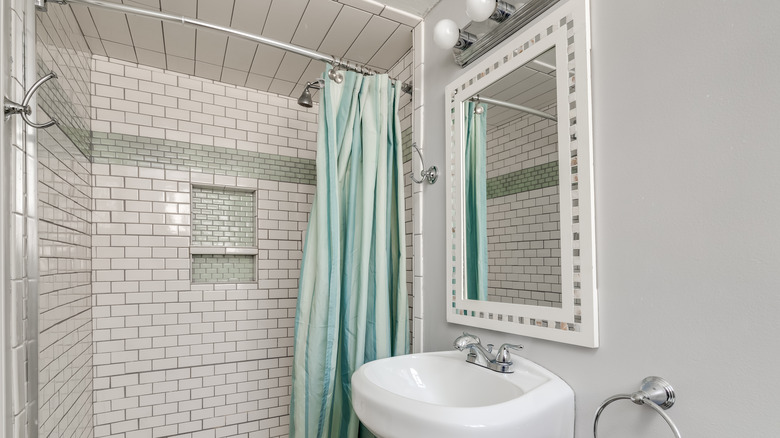 Hendrickson Photography/Shutterstock
Gather different subway tile shapes to keep a consistent look without using the same variety repeatedly. In this shower, there are 3-inch by 6-inch subway tiles on the wall, longer subway tiles on the ceiling, mosaic subway tiles of a different color in the cove, and decorative trim around the walls.
21. Long subway tiles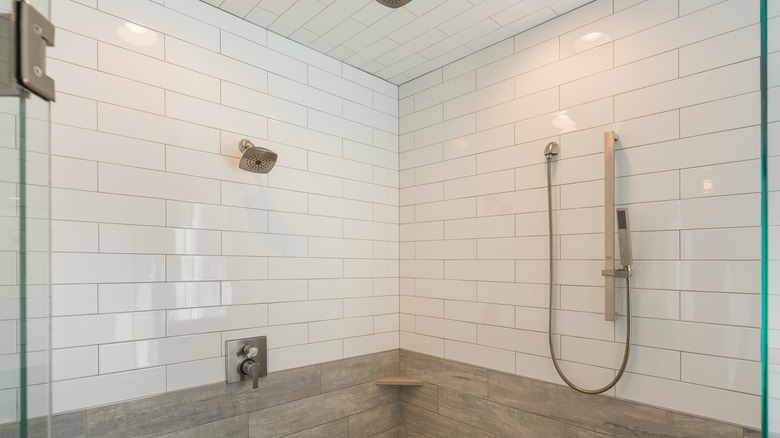 Neil Podoll/Shutterstock
The design of this bathroom consists of long subway tiles with a wood texture below and a smooth, white texture above. Long tiles mean fewer grout lines, making your space feel wider if placed horizontally or taller if installed vertically.
22. Section off a splash zone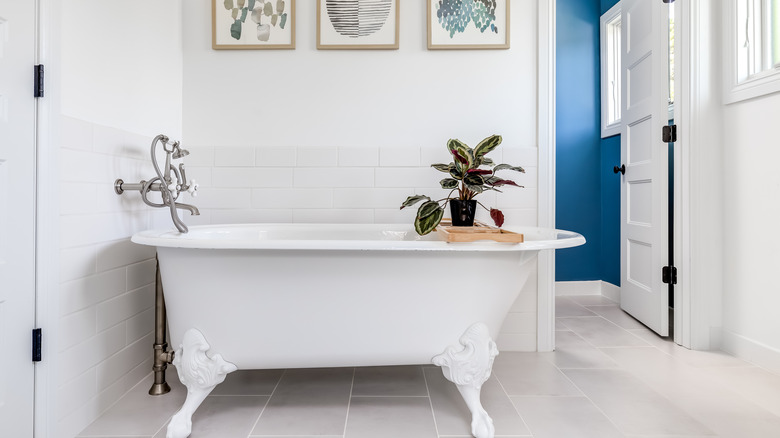 Hendrickson Photography/Shutterstock
They've used white subway tiles in this bathroom to surround the walls. They most likely did this to ensure that the water won't consistently splash the drywall — which could eventually cause expensive damage.
23. Vertical subway tile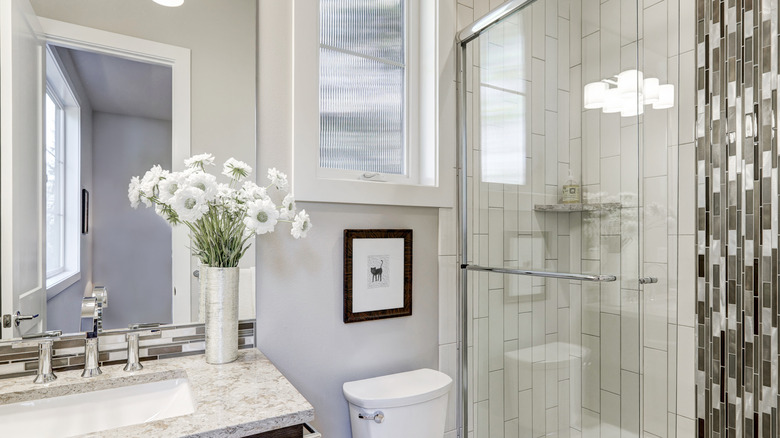 Artazum/Shutterstock
This is an example of what a subway tile would look like vertically in a shower. It heightens up the space and is placed in an irregular pattern to coincide with the mosaic pattern on the back wall. This helps create a waterfall effect, especially when the shower head is turned on.
24. Different patterns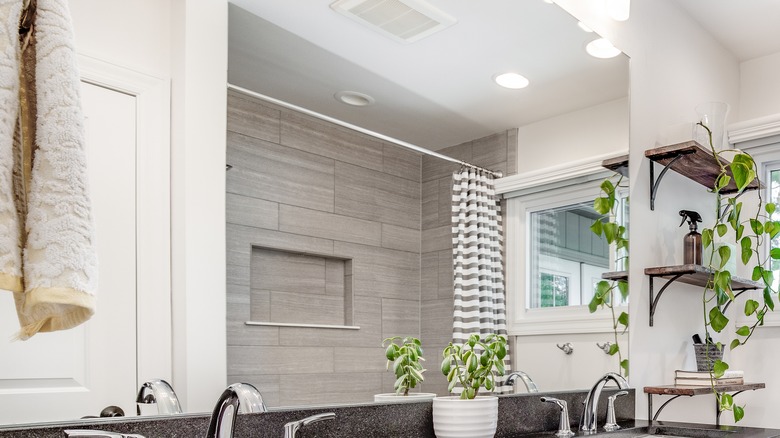 Hendrickson Photography/Shutterstock
Not only do subway tiles come in a variety of different colors as well as marble, but there are many other designs to choose from. Here, this subway tile has the appearance of a sandy, stone texture to complement the neutral design of the bathroom while also creating a lovely layout.
25. Spice up your bathroom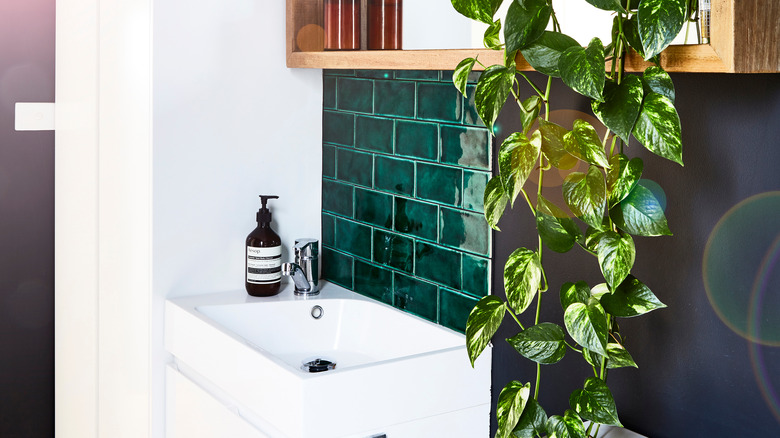 PhotoMavenStock/Shutterstock
This green and glossy subway tile — which is a complementary color to blue — was installed behind the sink. Although only a small area is covered, the impact of the color and texture is enough to leave a lasting impression.