3 Unexpected Places You Can Add Decorative Tiles In Your Living Space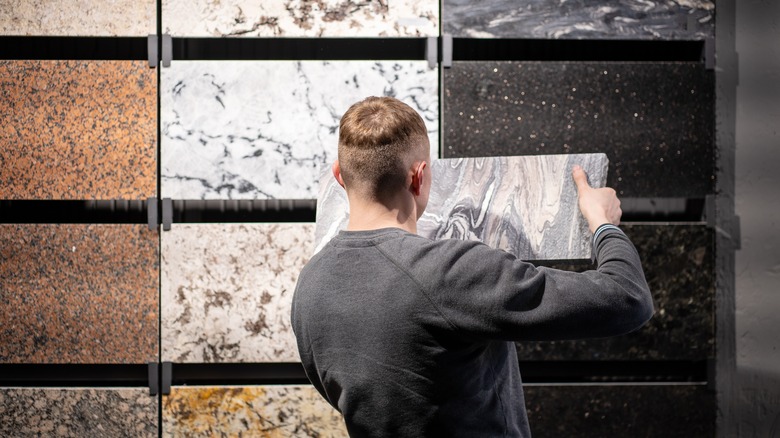 inframe36x24/Shutterstock
Spicing up your home in unique ways you probably didn't know of isn't difficult at all! Maybe you've recently purchased a house and are planning to remodel, or you've lived in the same place for a few years and want to give it a new look. Whatever it is, you'll want to introduce the most impactful design to truly see a change. There are plenty of ways to do this, including painting the walls, changing the carpet, updating the lighting, and more. But there's a design idea that most people won't be expecting.
Step out of the ordinary by installing decorative tiles in unexpected areas of your home. According to Mercury Mosaics, you can set up tile anywhere, from your bathroom to your living and entryway. It can have a stunning effect and introduce new complementary or contrasting colors. Depending on the style of your home, you may go for something subtle or super colorful. No matter what your taste in its design is, you're sure to find an idea that is great for your place.
Entryway and mudroom
Decorative tile can really transform a space, especially in an area where you least expect it. One such space would be the entryway; if you're currently not enjoying its current design, you can change the whole vibe by finding the perfect tile, as per Mercury Mosaics. Your choice of tile really depends on the aesthetic you're going for, but also make sure it's a stone that is graded for floor use. For example, according to Express Flooring, porcelain tiles are durable and can handle heavy foot traffic without suffering damage.
You'll also need durable tile if you plan on installing it in another unusual area, such as the mudroom. A mudroom can sometimes be quite boring, but adding stone to the floor can be the design element you've been looking for. Also, since this room is prone to getting dirty, it may be a good idea to use dark colors to hide dirt marks when your family walks in with their dirty shoes.
Kitchen island and fireplace
Typically, you'll see kitchen tiles installed as a backsplash. However, there are other areas in which to use decorative tile and add a pop of color, according to Mercury Mosaics. For example, if you have a kitchen island, now is the best time to add decorative stone underneath the countertop to add a fun design to a blank area. Most kitchens now are mostly white, but you can still include playful complementary colors by observing the undertone of your kitchen. If it has a cool undertone, you can choose to go for some decorative blue-tiled stone.
Another place in your home where the decorative tile will shine is on the fireplace. Having it cover the hearth and well as the inner section of your mantle will truly make it an astonishing focal point in whatever space it's in. Again, you should take this chance to add a stone design and color you truly love without worrying if it's too much; as long as it goes well with the rest of your interior space, you'll be able to create a golden design.