Jasmine Roth Shares Her Tips For Creating A Traditional Eclectic Entry Area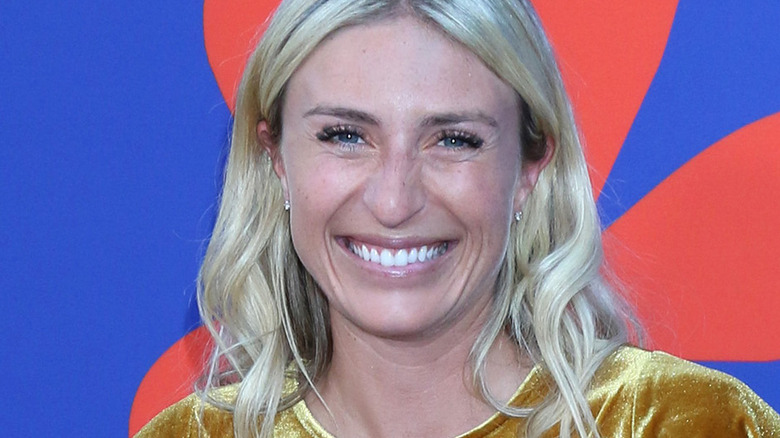 Kathy Hutchins/Shutterstock
Combining traditional and eclectic styles may seem impossible. However, Jasmine Roth, host of multiple HGTV television shows, says that mixing these styles can look beautiful, per Hunter Fan.
My Domaine defines traditional style as the opposite of trendy. To create a traditional look, choose elements that will never go out of style and that look aged. For instance, antique furniture and wooden elements are great traditional pieces. Traditional style seeks to create a warm, symmetrical, and comfortable space. Eclectic design, on the other hand, is the opposite of minimalist. It can feel like a mismatched collection of different styles. However, when styled correctly, it can look purposeful and gorgeous. HGTV says that to get an eclectic look, incorporate different metals, textures, and fabrics into one space. 
Roth has a few tips on how to mix these two styles in a home's entry area. She begins with designing the flooring, lighting, and wall paint and then moves on to the decorative elements.
Flooring, lighting, and wall paint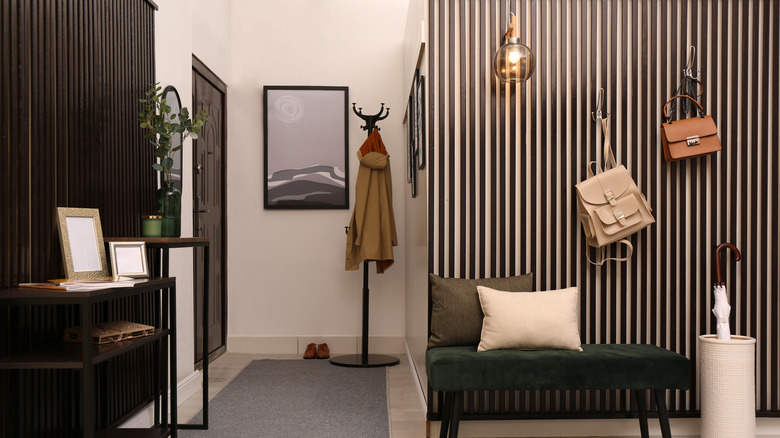 New Africa/Shutterstock
When creating any space from the ground up, Jasmine Roth says to begin with the flooring, per Hunter Fan. To create an entryway with both traditional and eclectic elements, Roth suggests choosing a neutral flooring. This will create a traditional base to add eclectic elements on top, like a colorful or textured rug.
Then, she moves on to choosing the lighting. Roth believes that lighting is always very important — but it's especially necessary in an entryway because it's the first space you see when you enter a home. Roth suggests choosing a light fixture with a traditional style but eclectic metal features. She chooses the Dukeson Light Pendant from Hunter Fan, which mixes a dark black exterior with a metallic interior.
Finally, you'll need to choose your paint color. To incorporate both styles, Roth uses contrasting colors. She uses a neutral white on most of the walls but a dark black as the base of her gallery wall. Choosing a dark color behind a gallery wall will make the pieces stand out and will give the space an eclectic flare.
Decorative elements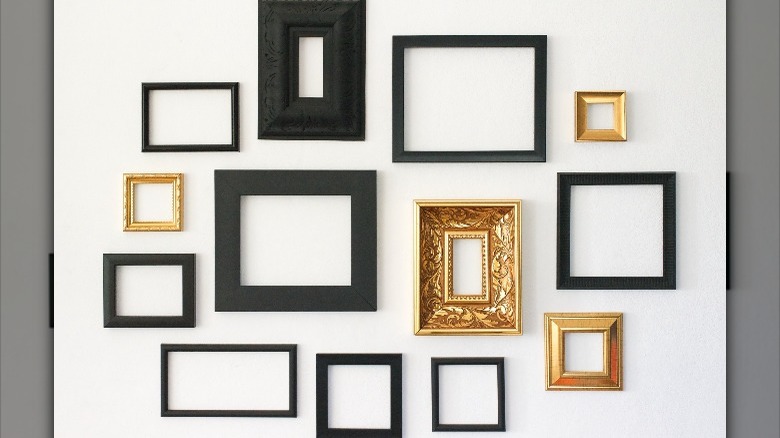 Parinya Feungchan/Shutterstock
A gallery wall is a great way to make a space look eclectic. However, it can also feature traditional elements as well. My Domaine says that wooden and metal elements can look traditional. Framing pieces in wooden, metallic, and other frames will give your space both an eclectic and traditional look. Symmetry is also emphasized in traditional design. If desired, you could keep your picture frames the same size to make the space orderly and symmetrical. Jasmine Roth says that, over anything else, it's important to choose decorative elements that make you happy and have sentimental value, per Hunter Fan. You could hang ticket stubs or photographs on your gallery wall — whatever you will want to see in your space every day.
For furniture, choose things that look classic and antique for the traditional style. Be sure to mix fabrics and textures to bring in a touch of eclectic style. A wooden entryway bench with a textured cushion and throw pillows could be a great way to do this.