The Least Expensive Coffee Tables At West Elm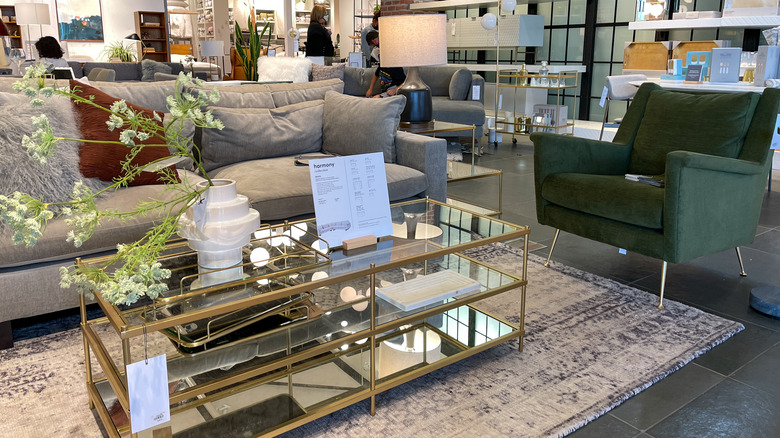 Joni Hanebutt/Shutterstock
When it comes to buying furniture, finding the most affordable piece that is also of great quality is sometimes pretty difficult at times. Sure, there are online stores where you can find something that is super affordable, which will also ship out quickly, but how long will that furniture piece last before you have to throw it away? Finding durable furniture for the centerpiece of a room in your home is even more important, such as a coffee table for a living room.
Luckily, West Elm has a few uniquely designed coffee tables at prices that won't make you cringe, according to its official website. The perfect coffee table for your living room, or any other space, is important to complete the aesthetic style you're going for, while it also provides the necessities you need, such as more storage, according to Star Living. If you're looking for a new and affordable coffee table — that's less likely to diminish in quality after a few months — then take a look at some of these products from West Elm.
Affordable West Elm gem
If you're going for a light and fresh Scandinavian design, West Elm has a circular coffee table at an affordable price that will blend right in, according to its official website. It's called the Naomi Rattan coffee table, and it's actually a new design offered for $159 if you purchase the 28-inch table and $259 if you decide to purchase the 40-inch option. This is a bright and textured coffee table made by hand with rattan on the frame and base. It is slightly see-through, which keeps the area more open.
Because this beautiful table is made of rattan, it is durable and can be easily maintained, according to Tropicc. This type of material doesn't have to be cleaned frequently, but when it does, you'll use a brush to wipe off any dust or dirt. On occasion, you can also mix dish soap and warm water to wipe down your table to give it a brighter and cleanlier look.
Mid-century beauty
The Asher coffee table at West Elm is affordable and is perfect for those who have a mid-century designed home, according to its official website. It's a circular wooden table that costs $200 and is 28-inches, making it a great piece for a smaller living room. It's a sturdy table to hold most decor items, as it is made of kiln-dried mango wood that was obtained from trees that stopped producing fruit. This table has the added convenience of legs that can adjust to the height you need. This piece is also strong enough for either residential or commercial use.
This coffee table has a warm orange tinge that'll go great with other warm colors, such as warm whites and other neutrals. It's a great furniture piece that can complete your mid-century home, a design that is popular due to its simple look that allows homeowners to introduce pops of bright, complementary colors, according to MyMove.