Home Depot Or Lowe's: Which Has Better Deals On Generators?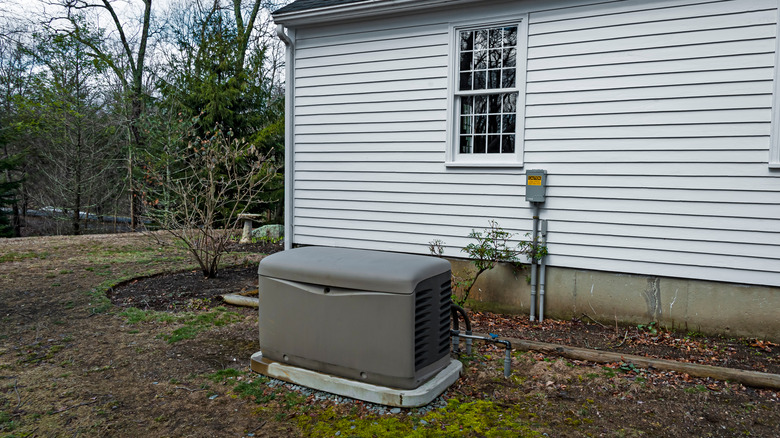 Steven Phraner/Shutterstock
With the climate crisis only growing in concern, the world is seeing larger-scale and far more frequent natural disasters and powerful storms, which can leave people without power for days, even weeks, on end. This is why Consumer Reports recommends everyone take the time to carefully and thoughtfully purchase a generator, which can be a literal lifesaver in the face of power outages, no matter how short or long they may be.
Each individual person and household has different requirements for what kind of generator you need. There are four main types of generators — standby, portable, inverter, and portable power stations. Standby generators are the most high-end and reliable, and turn on automatically once the power goes out, providing power for your whole home. Portable generators are smaller, movable generators, and inverter generators are a safer, more complex version of portable generators. Finally, portable power stations are essentially a large battery you can recharge as needed and plug appliances into in a pinch.
The price of these generators depends on what kind of model you get, as well as the size, weight, and voltage. You can find generators at most home improvement stores, but between the two most popular — Home Depot and Lowe's — which one offers the best deal? Keep reading to find out.
Home Depot generators
Home Depot and Lowe's both sell a wide variety of generators, with different price ranges, wattage, size, and types. Beginning with whole house/standby generators, one of Home Depot's best-rated and affordable models is from Champion Power Equipment, and costs $3,406. It has a 4.8 star rating with over 350 reviews (as of this writing), and an impressive 99% recommendation rate. It has 8500 watts, built-in noise dampening, and various fuel options.
One of Home Depot's top-rated portable generators is also from Champion Power Equipment, and costs $667. It also has a 4.8 star rating with more than 2,220 reviews, and a comparable 98% recommendation rate. The smaller generator has 4550 starting watts, a digital display, remote/wireless start, and can run for a total of 14 hours.
Finally, for portable power stations, Home Depot's bestseller is from Jackery, and costs $899. It has a 4.6 star rating with over 160 reviews, and an 85% recommendation rate. It has 1000 starting watts, and can power a mini fridge for 60 hours, a coffee maker for almost an hour and a half, and a drill or blender for nearly two and a half hours.
Lowe's generators
Beginning also with the standby/whole home generators at Lowe's, it sells slightly more powerful and more expensive generators. Its best-rated and most affordable model comes from Briggs & Stratton, and costs $4,299. It has a 4.6 star rating with just 40 reviews, and a 92% recommendation rate. It has 12,000 watts, but is 30% smaller in size than most standby generators.
As for portable generators, a comparable model sold at Lowe's is from Westinghouse, and costs $649. It has a 4.7 star rating with nearly 6,000 reviews and a 99% recommendation rate. This generator has 6600 starting watts — 2050 watts more than Home Depot's similar model. Other than that, it has the same features. Finally, Lowe's has a few portable power stations, but very few of them have ratings at this time. A comparable model is from Pulsar, and costs $849 for 1000 watts, but it doesn't have any reviews.
When comparing the generators sold at Home Depot versus Lowe's, the better deal generally depends on what kind of model you need and how much wattage it has. For example, the Lowe's standby generator is better and more powerful, but more expensive, whereas its portable generator is both cheaper and more powerful. Lowe's seems to have slightly better prices per wattage, whereas Home Depot has better reviews.