The Stunning Percentage Of Homes Flippers Bought In The Last Year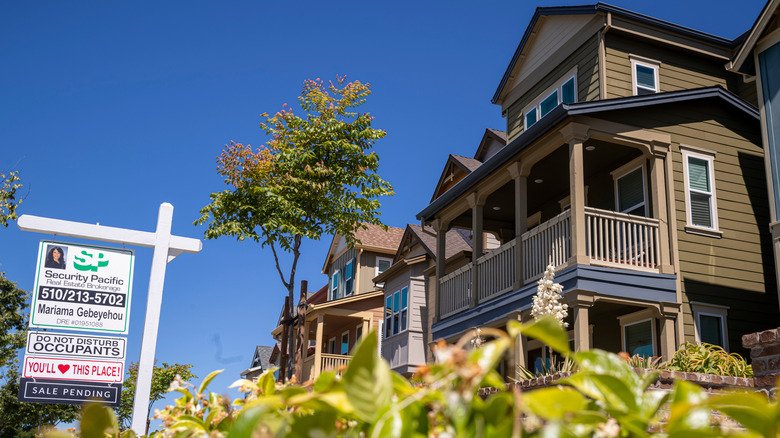 Bloomberg/Getty Images
Hunting for a new house? Always a race, the housing market has had a boost in the competition from the direction of house flippers. According to Axios, one in 10 U.S. homes have been purchased by quick-to-sell homeowners within the first quarter of 2022. Whether it's a passion or a business investment, an entourage of celebrities like Ellen Degeneres and Adam Levine have established a reputation for buying and selling homes capriciously, even marketing their properties within a few months. With extraordinarily high stakes, the housing market has progressively met a record high of house flipping activity since about 2000. With 10% of home sales being represented by house flippers, the almost viral activity reveals a rise in mortgage rates for everyone, including high labor and material costs. Rick Sharga of Attom Data Solutions has said that house flipping occurs more when there's a higher demand for homes, including the result of inflation.
While some states may see the opportunity for real estate rather minimal, others are obtaining and selling quickly. According to Realtor, inventory may have decreased approximately 26.8% in 2021, while homes are being sold about 11 days sooner in comparison to the year before. Over the last year, homeowners have migrated to more affordable areas while improving their location, which might include an ideal climate and better opportunities for more outdoor recreation. Additionally, in early 2021, over 100,00 single-family homes were flipped, including condominiums. Keep reading to find out where house flippers are buying.
Popular areas house-flippers may be moving to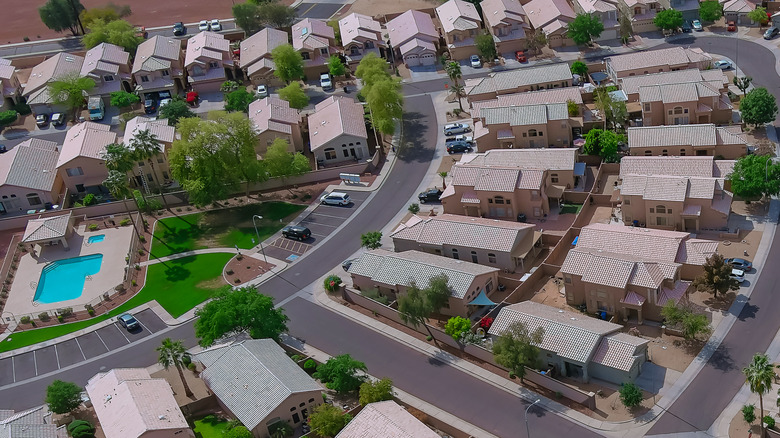 ungvar/Shutterstock
Since the pandemic, our way of life has been ultimately altered, maybe even for the better. People are motivated to broaden their surroundings by moving, working from home, or giving more focus on domestic arrangements and projects. According to Freddie Mac, relocation from 25 of the largest, most expensive cities has increased three times more than before the pandemic began. Many people are opting for smaller, mid-sized communities that may range from 500,000 to 1 million people. House flippers are found more on the opposite end. With a national profit average of around $65,000, wholesale real estate investors are finding success in various areas of California, including Seattle, Washington and Washington, D.C., with Phoenix, Arizona topping the list, as approximately 19% of all the city's homes were flipped.
A major reason why house-flippers have succeeded over the last year is that many have used cash to purchase their homes. According to Fortune, fewer flippers used financing toward their property, thus keeping their payments on an overall low. Paying with cash also produces loads of benefits like reduced holding and labor costs, including the time it takes to do the actual renovation. Depending on the location, the general value of a flipped home is about $275,000 and takes a little over 150 days compared to the previous 180+ in 2020.
Why house-flipping is such a trend
SERSOLL/Shutterstock
House flipping is both a profitable investment and a huge gamble. From starting small to going big, you might even draw inspiration from the dozens of successful home renovation shows on television. Depending on how aggressive you are, the work can pay off with significant capital gains for an individual or company's assets. According to Rocket Mortgage, house flippers should follow the 70% rule. This means that investors should never pay more than 70% of the after-repair value (or ARV) of a property, which is the amount a home can potentially sell for following a renovation. This will assist in determining how much you should pay for a home as an investment, to begin with.
Attom's Rick Sharga has also said that we may see a decline in how much buyers are going to spend on real estate because of mounting interest rates. Although house flipping is profitable for investors, it may not reflect well on a first-time home buyer, which likely affects their soaring percentages. Currently, the average rate for a 30-year fixed mortgage is at about 5.9%, which is nearly twice as much as it was six months ago, per Marketplace.