The Least Expensive Beds At West Elm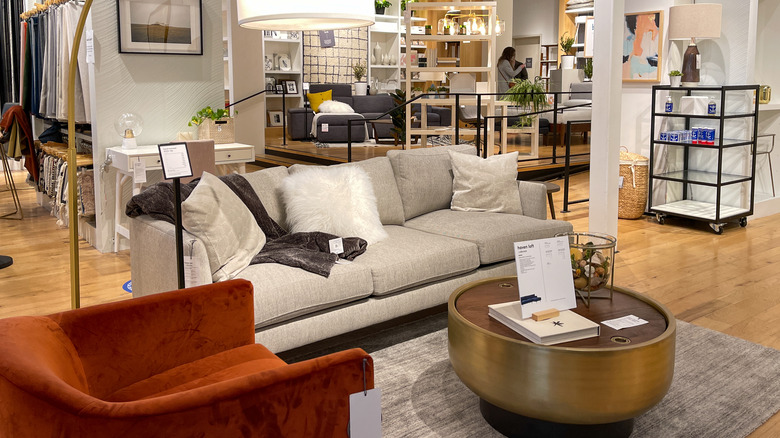 Joni Hanebutt/Shutterstock
For those interested in decorating their spaces on par with the latest home design trends, West Elm is the store to shop at. With hundreds of trendy, timeless, and high-quality items in their catalog simultaneously, West Elm is undoubtedly one of the more sought-after furniture stores.
The high price tags of West Elm furniture, though, is quite a deterrent for many — even a simple 8-inch by 10-inch picture frame can cost as much as $40, per West Elm. These prices aren't simply due to popularity, though. Most designs are original to the furniture company, and their products are handmade through fair trade and ethical labor, via West Elm. It's also a relatively sustainable company, according to Honest Brand Reviews. That being said, the positive root of the high prices doesn't make it any more accessible to the average furniture shoppers. While there are plenty of high-priced items in West Elm's catalog, there are a few hidden, affordable gems, including a couple of trendy but classic bed frames.
Simple bed frame
Aside from cribs, which are available at West Elm Kids, there are a couple of affordable bed frames from the furniture retailer. One such bed frame is the Simple Bed Frame. The bed comes in two colors: white and acorn. As you would expect, the white bed frame is white, and the acorn color is a rich, red-toned wood. It also comes in four sizes, twin, full, queen, and king. Finally, the bed comes in two different heights — a standard 7-inch and a tall 14.7-inch.
Both colors cost the same, but the price varies based on size and height. The standard height, full-sized option in both white and acorn typically costs $399, via West Elm. The tall, king-sized bed, though, is a little pricier at $549. The style is classic, with a thick but sleek wood base and standard square legs. As the description notes, the bed is compatible with West Elm headboards, which can add customization to the classic frame. It also has supporting slats that make a box spring optional.
Mid-century platform bed
Another more affordable bed frame from West Elm is their mid-century platform bed. Similar to the previous bed frame, it comes in white and acorn. It does not have different heights — the lower to the ground legs only measure 4.5 inches. The bed also only offers twin, full, and queen options.
As noted previously, the bed is lower to the ground than most. It has a very similar base to the other bed, but the legs are skinnier, round, and tapered at the bottom, which is a popular mid-century furniture silhouette. Other positives about the bed include being made from sustainable wood and fair trade and having slats that make box springs optional. Both colors are the same price, with a twin-sized bed frame costing $449, a full bed priced at $549, and finally, the Queen sized option commanding $599. The listing does not indicate if the bed is compatible with West Elm headboards.