The Worst Design Error You Can Make When Redoing Your Foyer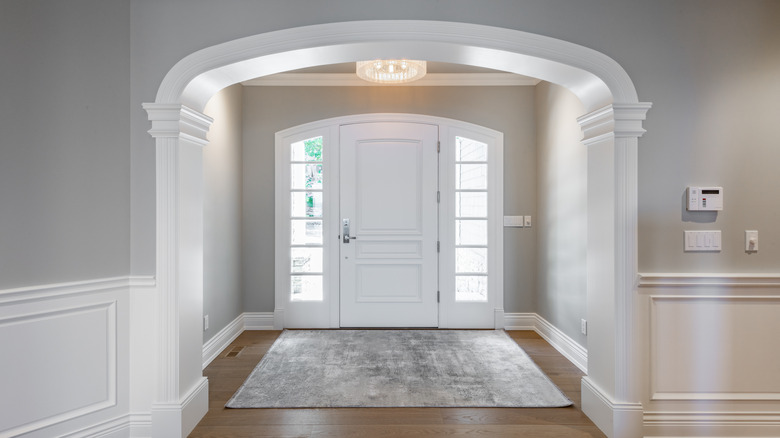 Sheila Say/Shutterstock
The current design of your foyer may not be to your liking, which is a major issue as this is the first area guests are introduced to in your home. So, it may be time to redo your foyer to fill in the necessary design elements that were missing before. Curio Design Studio says that a well-designed entryway is critical in creating the best first impression. By doing this, you will also give your guests an idea of what the rest of your residence will look like. If you're planning on redesigning your foyer, there are also definitely a few things you shouldn't do.
A few designers have provided advice on what to do and not do when designing your foyer, per MyDomaine. From everything to décor and more — there are multiple factors of design you should be aware of before you transform your foyer into something more inviting that is also more reflective of your style. However, there's an often overlooked error can cost the whole look.
You're missing the rug basics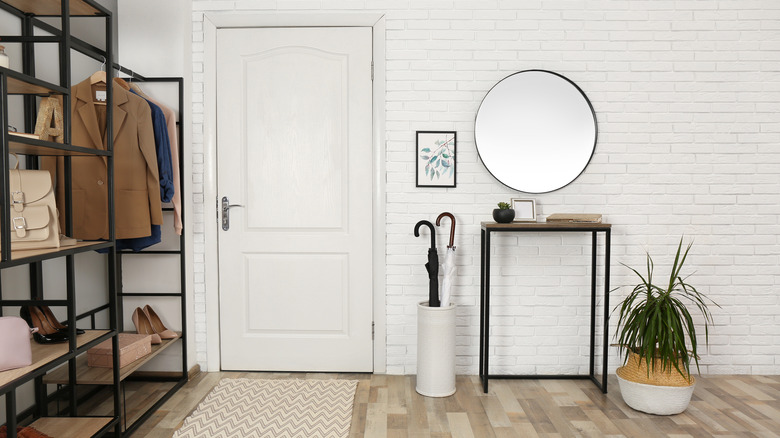 New Africa/Shutterstock
It doesn't matter how well done your foyer is if the rug size doesn't suit the space, MyDomaine explains. Typically, a rug that is 3 feet by 5 feet will look much better in a small space rather than the typical 2 feet by 3 feet doormat size. However, the wrong-sized carpet can make a foyer feel unbalanced and throw off all the other design aspects. To get the right rug size for your foyer, you'll need to measure the full length and width, then subtract 24 inches from both of those measurements; this would be the largest sized carpet for that area, according to Rugs Direct.
Furthermore, if your entryway still feels small, you'll regret not hanging a mirror. Not only can you look at your reflection on the way out, but this mirror will reflect light to create the appearance of a brighter and larger entryway. No guest wants to walk into a dark entry, so this will be an easy way to create a more welcoming home.