The Best Paint Color If You're Seeking Tranquility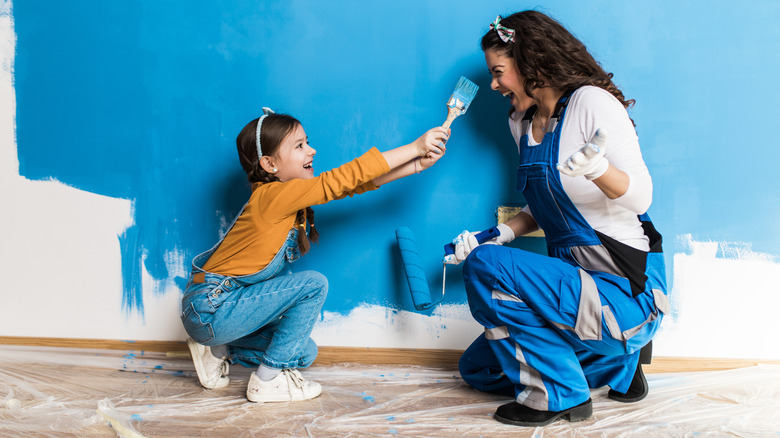 hedgehog94/Shutterstock
Despite having the advantage of countless modern comforts that go beyond the wildest dreams of those who came before us, modern people live incredibly stressful lives. In fact, according to the American Psychological Association, people are stressed about a wide range of issues. So if you're taking pains to find some much-needed tranquility in your life, consider starting at home. According to Curbed, choosing the perfect paint colors for your home can serve as a handy coping mechanism for keeping stress and anxiety at bay.
When it comes to tranquil settings that help your stress to melt away, many people will picture a huge, cloudless sky or a vast ocean with rolling waves. As such, it's probably not surprising that the color blue has been proven to have a number of therapeutic benefits, including lowering anxiety and blood pressure (per Clare). However, before you run to the paint store, it's important to keep in mind that not all blue hues are created equal. If you're seeking to minimize stress in your home, read on to learn about some top-tier blues that are suited for the task at hand.
Light, pale blue for tranquil relaxation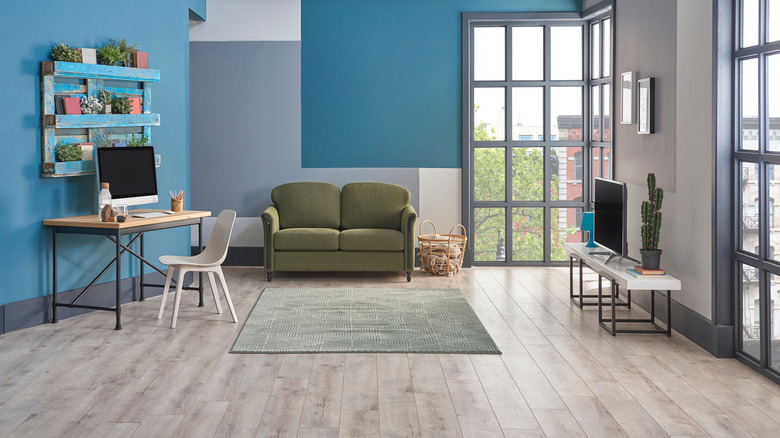 united photo studio/Shutterstock
Finding the perfect pale blue paint can pay dividends by maximizing your enjoyment and relaxation if you're planning on remodeling your bathroom. Pale blue paints are known to be incredibly versatile (per Veranda), providing a relaxing backdrop to teak furniture, your new copper bathtub, and anything else you choose to adorn your updated bathroom with. Plus, bathing yourself in a room that features the gentle palette of the ocean and morning sky is sure to provide a tranquil vibe to enhance your bath and provide a scenery of reflectiveness.
According to Adobe, besides tranquility, a light blue can also be used to promote feelings of trustworthiness and reliability. As such, it's no surprise that many companies use light blue when brainstorming colors to represent their brand. However, light blue paints are also great to employ in home office spaces or children's bedrooms. So, whether you have a kid who plays in their room all day or you're a working person who spends hours on end in their office, a soothing light blue paint can help weather the storm when our emotions or workload become hectic.
Rich, dark blue for tranquil reflection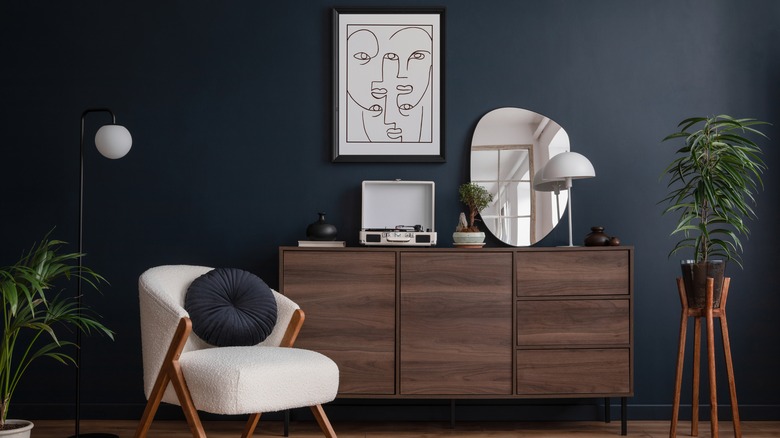 Followtheflow/Shutterstock
While light blue paints are excellent for setting a tranquil backdrop to your day, there's also plenty of evidence to suggest that dark blue color schemes can be even more therapeutic. In fact, according to Frieze, dark blue might be seen as the most relaxing color across countries, cultures, and customs. Given dark blue's widespread appeal, it's easy to see why many designers employ this hue as a calming-yet-bold alternative to dark gray color schemes that have become ubiquitous in homes in the past decade (per MyDomaine).
Undoubtedly, one aspect that helps dark blue paint retain a harmonious presence in the world of interior design is its flexibility. Dark blue paint works equally well as the dominant color or an accent and is easy to pair with both neutral and bright colors in order to bring out various elements of the room. In addition, while it's common to hear dark blue paints described as moody or brooding, the shade's intrinsic connection to the night sky and the dark depths of the human heart give it a relatable and calming appeal that's unique among blue tones.