How To Wash A Ruggable Rug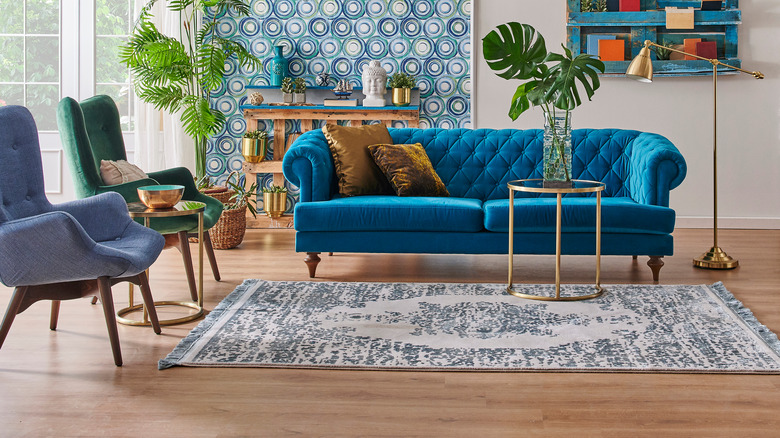 united photo studio/Shutterstock
If you hate cleaning your rug, you've probably considered purchasing a Ruggable rug. Ruggable was founded in 2010 with the desire to create easily washable rugs. Their rugs are stain and water-resistant, which could make spot cleaning a breeze. They're also machine washable for extra convenience. 
Better Homes & Gardens tested out the durability of a few different Ruggable rugs. They discovered that these rugs are easy to clean and made to last. They're ideal for families with messy children, pet lovers, or the extra clumsy. Offered in a variety of colors, styles, and sizes, Ruggable rugs could also be a great option for those who regularly like to redesign their space. These rugs are also said to be lightweight, which makes them not only easy to clean but also easy to replace with different designs. If you decide to add a Ruggable rug to your living space, it's important to know how to properly care for one.
How to wash in the washer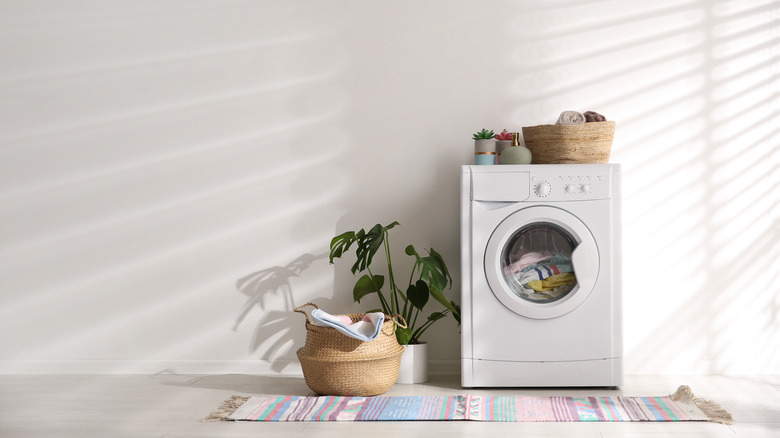 New Africa/Shutterstock
Ruggable rugs can be placed right in the washing machine. This should be done if a substance that stains is spilled on your rug or if you need to deep clean your rug. Ruggable rugs actually come with two parts — the rug cover, or the outside portion with the design, and the rug pad, which holds the cover in place. When washing your rug, only put the cover inside the washing machine. Also, make sure the design side is facing outwards. If a stain doesn't come out on the first wash, Ruggable says that a second cycle usually does the trick.
However, these rugs should only be cleaned on a gentle or delicate wash setting and with cold water. Also, refrain from using detergents that contain bleach — just a mild detergent will get the job done. If you have pets, Ruggable also suggests adding ½ a cup of white vinegar to your detergent to remove bad odors. You can place most Ruggable rugs in the dryer on a low heat setting with the design facing out.
How to clean by hand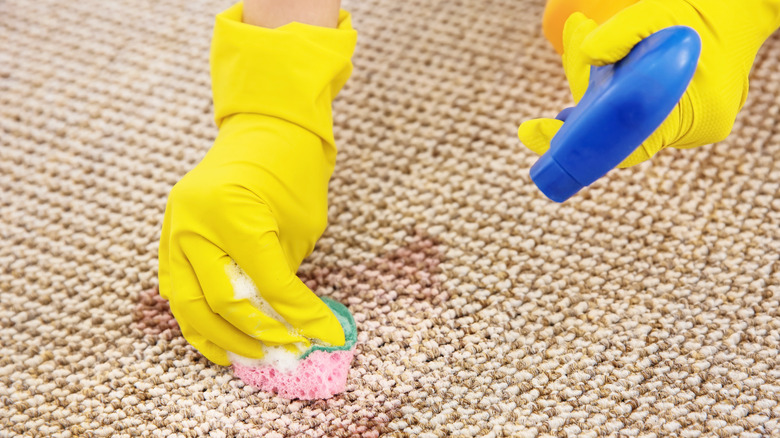 New Africa/Shutterstock
Because Ruggable rugs are stain and water resistant, they're also easy to spot clean, per Ruggable. Spot cleaning is the best solution for minor spills that probably won't stain. To spot clean, just wash with a mild detergent that doesn't contain bleach. If your Ruggable rug pad needs to be cleaned, it will have to be done by hand, as the rug pad cannot go in the washing machine. You'll first remove any large pieces of debris by hand. Then, soak up spills with a towel and spot clean with a mild detergent. You can hang your rug pad up to dry.
To remove debris, vacuum your Ruggable rug using a low suction setting. Home Depot suggests shaking your rug outside before vacuuming to remove loose debris. This is especially easy to do with a Ruggable rug since they're so thin and lightweight. To remove odors from your rug, you could also sprinkle baking soda on it before vacuuming.