The Least Expensive Desks At West Elm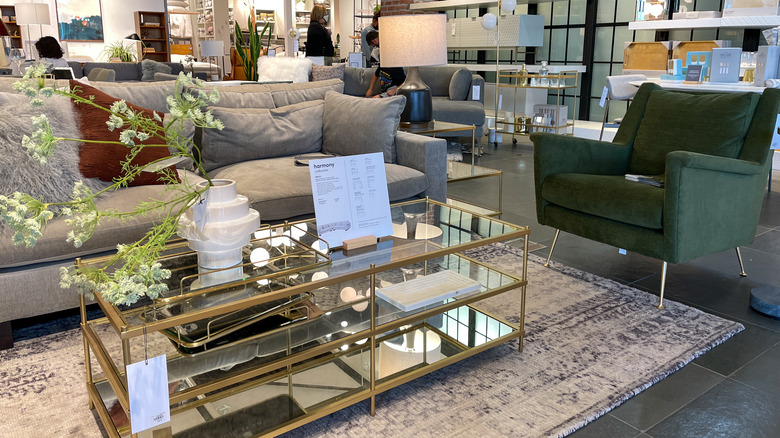 Joni Hanebutt/Shutterstock
The furniture store West Elm undoubtedly has its finger on the pulse of what's trendy in the home décor world. The store prides itself on its high-quality original designs, which are more than not crafted with sustainable materials and fair trade labor, according to the West Elm website.
These values come at quite a high price point, though, usually more than the average furniture buyer may want to expend. In comparison with a furniture conglomerate like IKEA, West Elm's prices, moral though they may be, are notably higher. Their price tags haven't saved them from product scrutiny, either. In 2017, West Elm came under fire after Anna Hezel published a scathing review of the Peggy sofa on The Awl. The $1,200 couch literally fell apart, beginning with buttons flying off and ending in the couch legs completely giving out. If you're cautious of West Elm's quality but still want to give their trendy décor pieces a try in your home office, you're in luck. A little bit of hunting on their website reveals two very stylish desks, each under $600.
Frame glass and metal desk
One of the more affordable options sold at West Elm is their frame glass and metal desk, which costs $549. The desk comes in two different colors — antique bronze and antique brass. The bronze color is more of a black steel than a traditional bronze, and the brass shade is more like a gold tone. The desk measures 45 inches across, 21 inches deep, and 28 inches high. The design is quite simple, with four square legs meeting at the top to form a rectangular frame. The top of the desk is a 2-inch thick sheet of glass, which has a slight blue tint to it.
The desk is described as being streamlined, sleek, and airy. The legs are made of iron, and the glass is tempered, meaning your morning cup of coffee won't shatter it. Furthermore, the desk has been Greenguard Gold Certified against volatile organic compounds and harmful chemicals. The legs also have adjustable levels for different surfaces.
Ladder shelf desk
West Elm's ladder shelf desk is even cheaper than the previous one, selling for just $479. It's available in three colors — white, shale/sandstone, and white lacquer/dark mindi. The first is solid white, the second has a black frame with a warm-toned wood desk, and the third has a wood frame with white desk.
The desk is a total of 77.5 inches tall, with 24 inches of clearance under the desk itself. It has a leaning structure designed to lean against the wall. There are two shelves at the top as well, which are 9 inches deep and can each hold up to 22 pounds. The desk itself is 19 inches deep and nearly 44 inches wide, with a rectangular opening for even more storage. This is an ideal desk for a smaller home office, offering a slimmer option with plenty of storage. It does have to be mounted to the wall, though.