The Best Mini Fridge That's Perfect For Any Space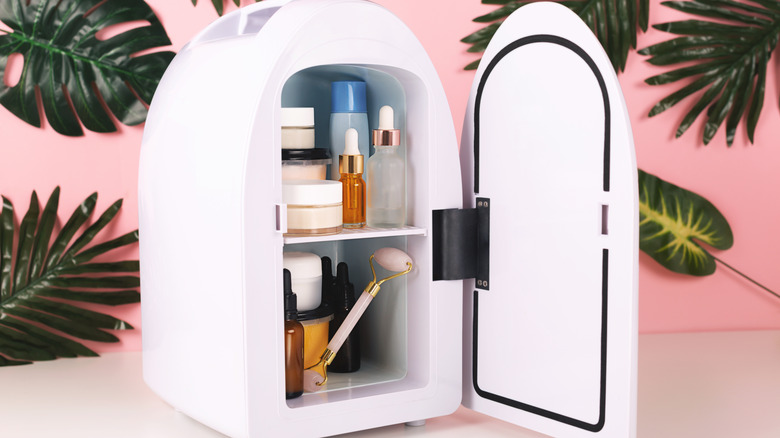 YuliaLisitsa/Shutterstock
We may receive a commission on purchases made from links.
Mini fridges are the ultimate versatile home accessory. Building a game room and want cold drinks available on the fly? Mini fridge. Looking to keep your skincare products fresh for longer? Mini fridge. Need refreshments in your workspace, whether that's an office or a home workshop in the garage? You guessed it: mini fridge.
We know we need a new trusty frigid pal, but there are so many options on the market that it can be tough to pick a new unit. Plus, according to the U.S. Bureau of Labor Statistics, energy rates just keep going up. Mini fridges take up a lot of energy, which is becoming increasingly hard to justify with these constantly increasing costs and higher and higher electric bills. Unfortunately, that means that a new mini fridge can put a hole in your wallet both at the time of purchase and every time your energy bill rolls in. That being said, there are still some great, energy-friendly picks out there, and we've rounded up a couple of our favorites.
The most versatile mini fridge
In our opinion, the Cooluli mini fridge is your most versatile option. It comes in two sizes, 10L and 15L, and seven different colors including some fun pattern options. While it may not have the fanciest looking exterior, both models come with three interior shelves. The 10L model also comes with one thin shelf on the door, while the 15L model has two.
Fortunately, the Cooluli fridge won't break the bank (or blow a fuse), either. The shared listing for both the 10 and 15L models says that the units use 60 watts maximum, and that's assuming the unit is run 24/7. This kind of energy consumption is on the low side of the average for this type of unit. Considering some mini fridge units use up to 100 watts, according to The Daring Kitchen, 60 watts feels quite manageable, and should result in a relatively small increase to your energy bill.
Runner up: a small, budget-friendly companion
If you're looking for something a bit smaller, the AstroAI mini fridge is a great choice. With the modest dimensions of 7.28 inches wide, 9.65 inches deep, and 10.63 inches tall, it's easy to fit into cramped spaces. The fridge even comes with a heating mode that can keep items warm. It's important to note before purchasing that this fridge has a very small capacity and only holds four liters. Since it comes with a removable shelf though, you'll have a little bit more flexibility when storing your goods.
While the AstroAI mini fridge's size makes it ideal for small spaces, its biggest perk is how budget-friendly it is. The fridge itself costs under $50, and depending on the current type and voltage, requires a mere 40 watts to run the cooling mode. The heating mode requires as little as 32 watts. Of course this means even less in annual energy costs per year to keep it running.