Make Your House Look Larger Than It Is With These Bargain Block Tips
After all the recent home purchases, big and small, most homeowners are designing their spaces to fit their needs and aesthetics. For those who have settled in a home that you feel is smaller than you desired, hosts of "Bargain Block" Keith Bynum and Evan Thomas have some tips that may work wonders for you, per Realtor. Their show centers around their desire to restore the bustling city of Detroit as it begins to emerge from the shadows, according to HGTV. As they remodel abandoned properties and other run-down homes, their work often leads them to make a small house look more prominent.
Therefore, partners Bynum and Thomas may be the builder and designer duo you've been looking for. Their tips are not only affordable but completely doable for the average homeowner. We ask you to take a look at a few of their tips and decide which are best for your property.
Minimalistic design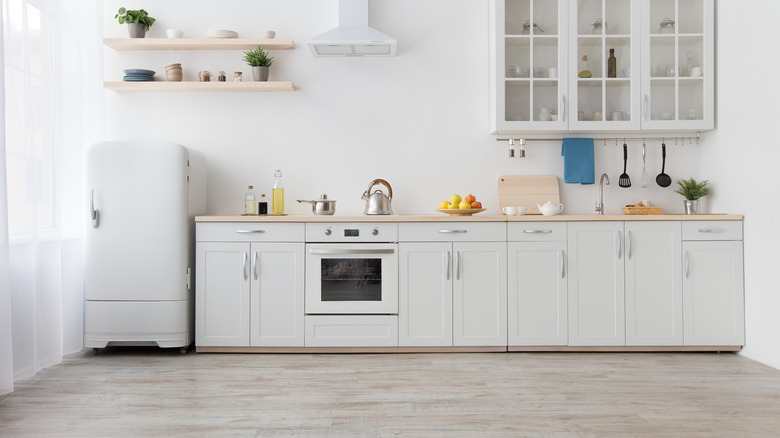 Prostock-studio/Shutterstock
Bynum and Thomas believe minimalistic designs are best when dealing with a smaller home, per Realtor. In order to make a house feel more spacious, they say to ensure your home isn't overcrowded and obtain only the necessities. A kitchen with simple cabinets and backsplash will significantly impact opening up the area rather than adding colors and other design aspects. Minimalism is a popular design method used to prioritize the function of your home while also creating a simple yet beautiful aesthetic, according to First Impressions International.
When dealing with an airy space, it is also wise to use soft textures and colors to keep the area looking open, cozy, and clean. Bynum believes light wood complemented with neutral colors is great for a small space, as well as soft textures. This way, no distinct contrasting colors or sharp angles would fill the room with too many design elements.
Affordable tactics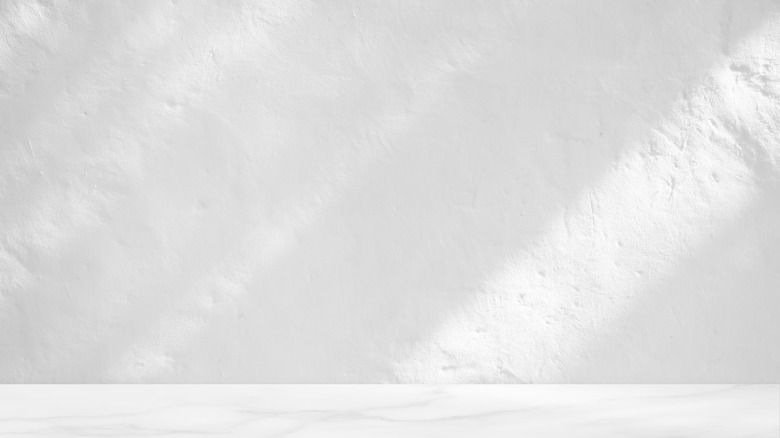 MeSamong/Shutterstock
If you've moved into a home with walls full of patches and mismatched colors, there is an easy way to fix that while also elevating the design of your small space, per Realtor. After applying wet mud to the ceiling and floor, you'll grab a broom you don't mind throwing away and drag the bristles down from the ceiling to the floor to create a beautiful texture similar to rice paper. When done professionally, this textured finish is typically costly, but once you paint it white, it'll become a simple yet elegant design. 
Bright, textured walls are one of the many ways to create the impression of open space, according to Trico Painting. You can implement textured walls in any room of the house, such as hallways, bathrooms, kitchens, bedrooms, and living rooms. Using one bright color, like white, will create a lovely flow throughout a room. Implementing multiple bright colors will only make your eyes constantly stop on different objects, consequently making your small home feel crowded.