Good Bones Reveals The Kitchen Upgrade That Truly Elevates Your Space
Experts will always stress that the kitchen is the home's most important room, and a beautiful cooking space will always increase a home's value. But outside of monetary benefits, kitchens are a central part and one of the most utilized spaces in a home, and these also have to be areas that function well for a homeowner. Turn Key Homes & Renovations notes that in recent years, kitchens have become the place that brings families together and helps them bond despite scheduling challenges.
This is a sentiment that the stars of HGTV's "Good Bones," Mina Starsiak Hawk and Karen Laine, agree with. The mother-daughter duo transforms old homes in the Indianapolis, Indiana, area into beautiful contemporary homes. Through their years of renovation, the pair has learned what elevates a house into a luxury that clients and buyers love. That almost always has to include a kitchen upgrade. So what kitchen additions will elevate yours into a luxurious designer-approved space?
A luxurious pantry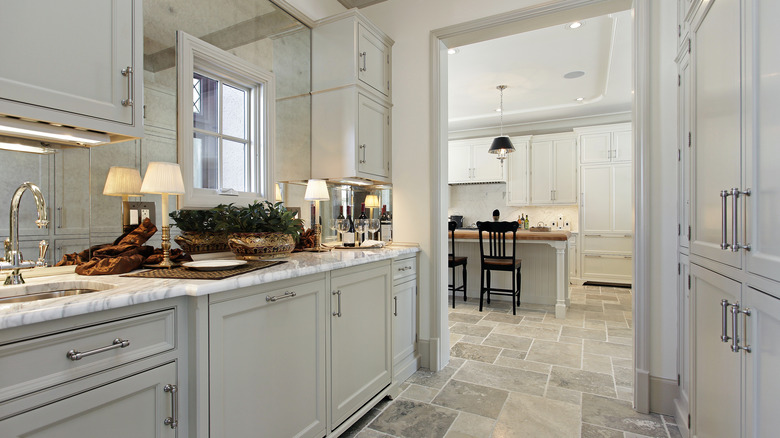 pics721/Shutterstock
Most homeowners will never complain about having ample storage space in the kitchen. Having a place where you can put all dried goods, serving ware, and equipment is invaluable. Whether you're an avid baker or enjoy making elaborate meals, that extra storage space will go a long way. That's why Mina Starsiak Hawk and Karen Laine suggest adding a luxurious pantry to your kitchen design. But you should take it a step further and not only include storage in your pantry. Opt for an extra large room that can accommodate a microwave, sink, or prep space, so the pantry feels like an extension of the kitchen and not a closet to hide items.
To create the perfect walk-in pantry, Main Street Design Build suggests assessing your needs for the space first. If it's going to have storage, what kind of storage? Will the pantry only include food, or will it hold kitchen tools, cleaning supplies, or pet items as well? What about a place for food prep or storage after it's ready? Thinking about how your pantry will function will allow you to know how much space you'll require, what appliances to include, and how to design the storage solutions to fit your needs.
Connect it to the living space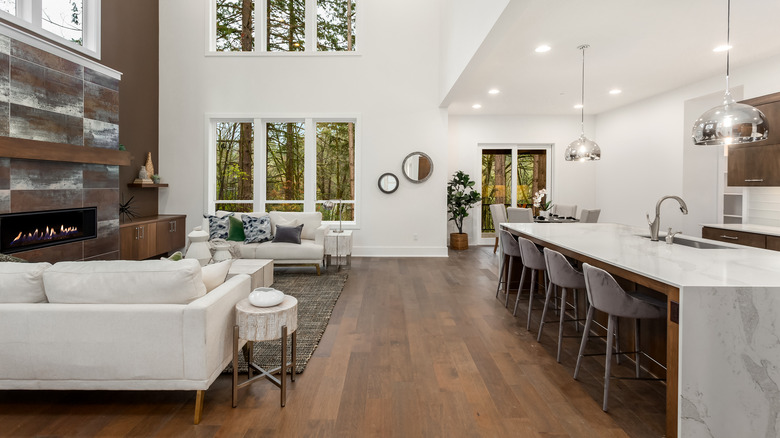 Breadmaker/Shutterstock
There has been debate about whether open floor plans are still in style. Instead of a kitchen that's completely open to the living space, many recent homeowners are embracing the division that walls bring, says WRAL. Whether open floor plans are still trendy doesn't matter much to Mina Starsiak Hawk and Karen Laine, who believe that the kitchen should be connected to the living space somehow. On "Good Bones," Hawk and Laine often move rooms to change the layout of a home to make more sense for modern homeowners. The rooms don't have to completely flow into each other or be part of one ample space; however, they should be close for a cohesive floor plan.
When homeowners have kitchens near living rooms but feel disconnected from the space, they often opt to open a wall. This often leads to a better flow between the rooms and allows light into otherwise dark places. These rooms can still feature some degree of separation by using furniture as a barrier or a home's natural architecture like support pillars to mark a room's boundaries. The critical aspect is closeness and connection.