The Predictable Vibe Most People Love For Their Living Room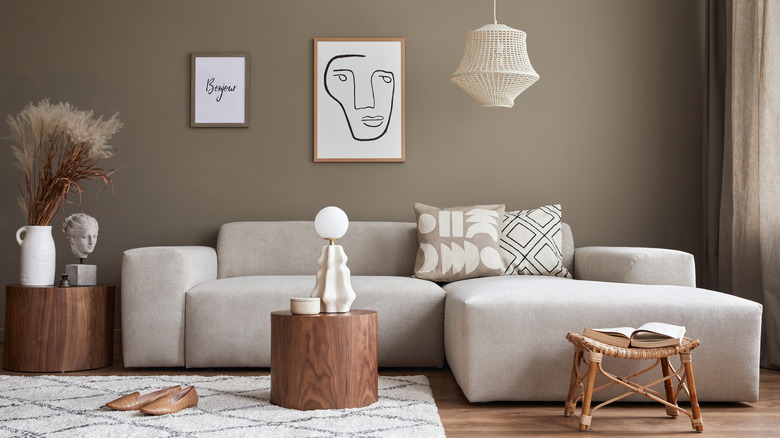 Followtheflow/Shutterstock
When styling your living room, Curated Interior says to consider both the purpose of the space and the style you're most drawn to. With these things in mind, consider your favorite living room vibe. Do natural elements and greenery make your space feel like home? Is comfort most important to you? What about incorporating trendy decor pieces? Would you rather have a warm vibe or a clean and open feel?
House Digest recently sought to discover what living room vibe most people desire. Individuals were asked to choose from five options: a bright and open feel, chic and trendy energy, a warm and cozy vibe, an efficient and practical space, or a green and natural area. Five hundred ninety-six people answered, and the results are in. This vibe was chosen by 258 people and over 43% of participants — and the results might not come as a surprise to you.
The most popular vibe – and how to achieve it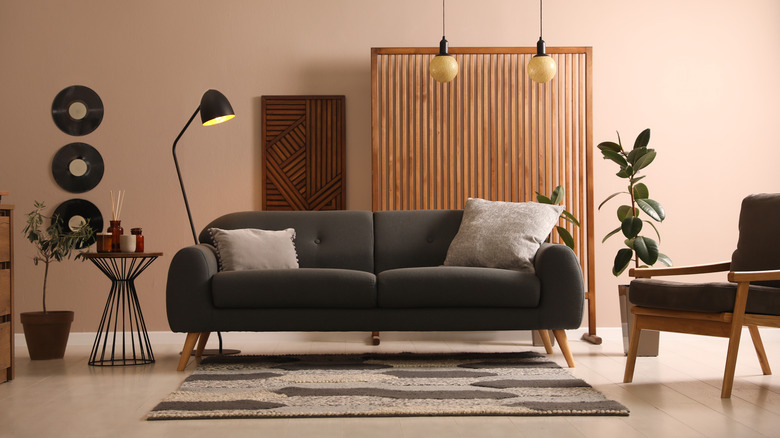 New Africa/Shutterstock
Most participants chose warm and cozy as their favorite living room vibe. Of course, this shouldn't come as a shock — who doesn't want to be comfortable in their space? If you're among the majority, there are a few ways to create a cozy living room. When designing any space, it can be helpful to imagine yourself building from the ground up. Keeping this in mind, begin by choosing the foundational pieces of your space, which include the flooring, lighting, and wall color.
Build Direct says that a cozy space focuses on simplistic design choices. This makes sense — it can be difficult to relax in an area filled with bold colors and patterns. With this in mind, wood flooring is a great option. Another way to make your floor comfortable is by adding thick rugs made from soft materials. When creating a cozy vibe, Inoleds suggests using natural light or red and orange artificial lighting. Using candles and a fireplace can also make a space feel extra snug. When it comes to the wall color, Benjamin Moore says to consider the undertones with neutrals. Different shades of white will appear either warm or cool. If you want to add some color to your walls, choose something with a warm undertone.
Other ways to create a cozy vibe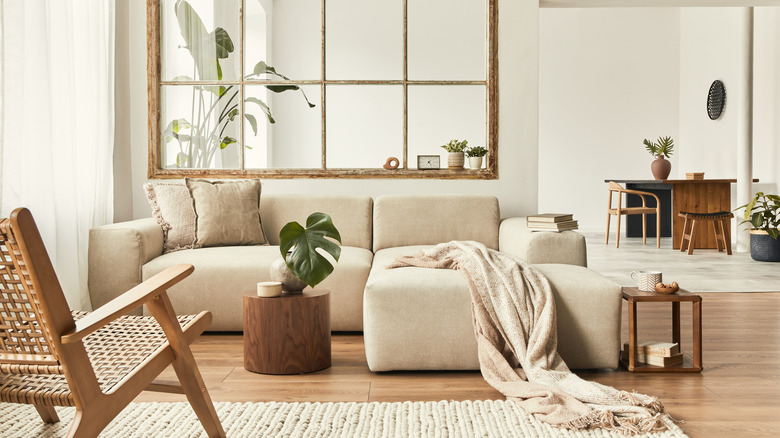 Followtheflow/Shutterstock
Other ways to add warmth to your living room space include choosing a comfy couch and inviting decor. When selecting your couch, think about how you like to relax, per Gainsville. Do you sit up straight on the couch or lay down flat? This will determine the size and style of the couch you choose. You'll also need to think about different materials. Fabric, cotton, and linen couches will feel softer, while a leather couch will last longer. Velvet couches look beautiful but may not last long with regular use.
Also consider smaller decor pieces. A comfortable throw pillow and blanket will make your space feel homier. Star Furniture suggests choosing a soft ottoman over a hard coffee table. Adding lots of art pieces to the walls and shelves can make your space feel more lived-in and personal. You can also add warm materials by hanging long curtains on your windows.
While the most people wanted their room to feel warm and cozy, about 36% said they prefer bright and open vibes. Other options were less popular, with efficient and practical earning 9.4% of the vote, chic and trendy with 6.2%, and green and natural with about 5.4% of the votes.