Declutter Your Home With These Tips From Renovation Island's Sarah Baeumler
Lovers of HGTV's "Renovation Island," — get in here for some home-decluttering tips shared by one of your favorite hosts. Yes, we mean the charming home designer, Sarah Baeumler, who believes strongly in intentional living and holistic home design.
If you've been following up on Sarah and her husband, Bryan Baeumler (including all the battles they fought to keep "Renovation Island" alive, as noted by Yahoo!), you already know she's a lover of bold patterns, serene color palettes, and timelessly neutral and sustainable decor that tells a story.
On the other hand, Bryan is a DIY expert and licensed contractor who started a handyman business at 14 after learning from his dad (an aircraft engineer), The List writes. According to Next Episode, Bryan and Sarah have starred in other reality shows such as "Island of Bryan," "Leave it to Bryan," "Disaster DIY," and "Renovation Inc."
As we anticipate the premiere of the third season of "Renovation Island" on July 24 (per Heavy), let us dig into Sarah's mine of knowledge to unearth tips that will take our homes from a complete disaster to an organized haven.
Go from boring to decorative boxes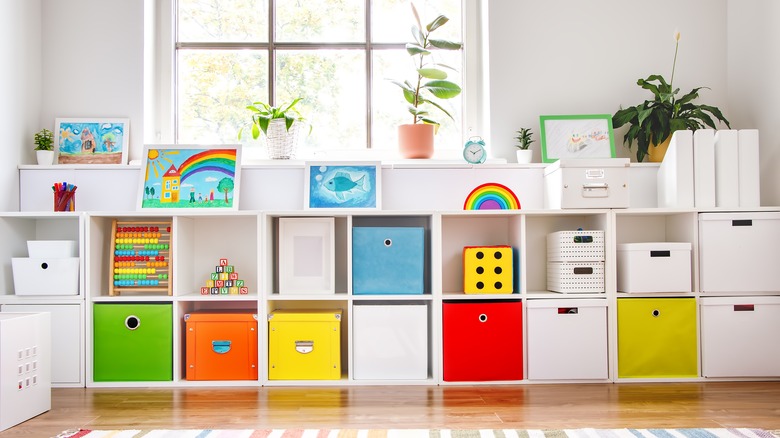 LeManna/Shutterstock
Life is too short to have bland decor. While Sarah Baeumler may be a preacher of neutrality when it comes to interior designing, the 44-year-old Canadian never creates mind-numbing styles. Also, as previously noted, she loves timelessly sustainable decor that tells a story.
So it's not surprising that she mentioned beautifying their house with decorative storage shelves. She told the Calgary Herald that she likes to put her children's crayons and other play stuff in fashionable boxes with removable lids that work for both function and beauty. If you have floating shelves positioned at heights beyond the reach of children, this nugget will also give you control over their playtime and put an end to missing stuffed animals. 
In addition, Baeumler explained to the outlet that replacing hand-washable furniture covering with machine-wash ones is a home-decluttering hack that most people don't know. She noted, "If you buy things that are easily washable, they'll stay looking fresh and radiant for years to come."
Invest in storage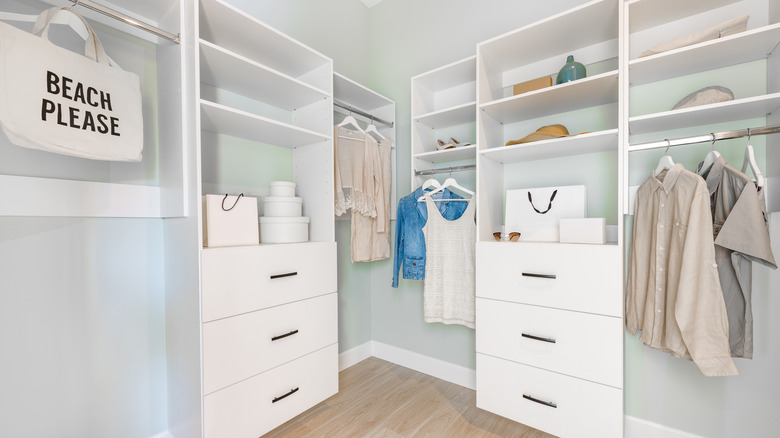 Sheila Say/Shutterstock
Sarah Baeumler shared some wisdom about storage on HGTV's official site. These three simple but often overlooked home organization hacks can save you a lot of space and give your rooms a new look. 
Her first tip is to find multipurpose furniture. She recommends having furniture that also serves as storage — imagine an ottoman that opens up to hold all of the knick-knacks scattered in your living room. Your space will look less cluttered, and you may not need that cabinet taking up space in the corner anymore. That means creating more space to use however you'd like.
Baeumler also recommends converting any empty spaces in your home's entryway into storage space. This is the perfect way to declutter the lounge of any shoes or outerwear that people take off upon arrival, creating an organized space to welcome you and your guests. Finally, Sarah said that both built-in media units and built-in custom cabinetry offer a lot of space for large belongings without taking away from the space in your room.