Sarah Baeumler's Top Tip For Picking A Paint Color
Choosing the perfect paint color for the interior of your home can seem overwhelming. With so many brands, textures, and far too many shades and colors to count, the task can be quite discouraging, but there is no reason for it to be. So, if you've spent many frustrating hours in a room holding paint card after paint card ranging the entire color spectrum without making a decision, then take a deep breath because there's advice from an expert that may help you out. Designer, entrepreneur, and HGTV personality, Sarah Baeumler knows a thing or two about bringing out the beauty of each room. Along with her husband, Bryan Baeumler, the two have hosted several shows on HGTV, including "Renovation Inc.," "Renovation Island," and "House of Bryan," according to IMDb. She's also the founder of a self-named holistic lifestyle brand that sells everything from furniture and home decor to apparel and scented candles, as per the Sarah Baeumler website.
Fans of her shows have followed her journey through countless renovations and projects and have surely picked up a tip or two about design, how to declutter your home, and how to carefully balance family life while building the home of your dreams. Among her sage wisdom is advice for those who struggle to find the ideal paint color for rooms around the home. But how can people with varying design tastes and personalities settle on just the right shade? Let's find out the one tip that could make all the difference.
How to choose a paint color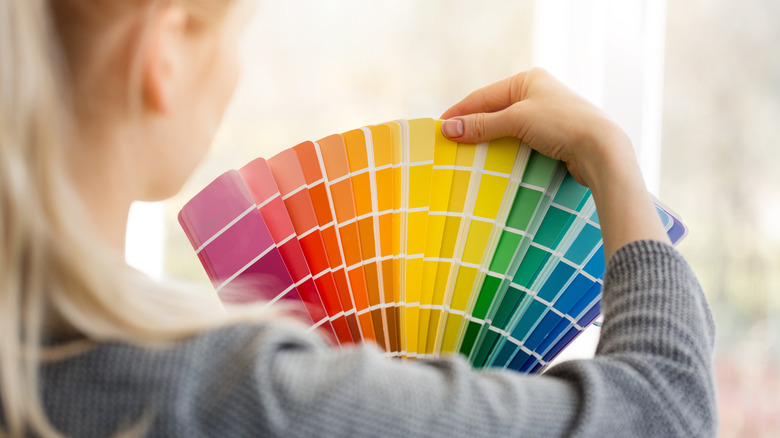 ronstik/Shutterstock
In 2020, major paint brand Sherwin-Williams teamed up with HGTV to release a home paint collaboration called "HGTV Home by Sherwin-Williams." This project let customers view themes such as "Boho Chic," Eclectic Mid-Century," Rustic Farmhouse," and "Scandinavian Minimalism," that was then broken down into 16 color collections that fit with each theme. For example, the "Boho Chic" collection would include paint colors like "Honeycomb, " Aloe," and "Thistle" as suggestions to create the ideal bohemian-style room. As ambassadors for this project, Sarah Baeumler and her hubby Bryan helped spread the word about these exciting new colors as well as share helpful tips for choosing the paint color that's right for you.
When it comes to determining the color palette of any room, the HGTV personality recommends that the paint color "should speak to your personality," according to an interview she did with the Ottawa Citizen. This means that if you are a laid-back type of person who enjoys the outdoors, then perhaps more earth-toned colors would work in your bedroom or living room. If your style and demeanor lean towards a more contemporary feel, maybe shades of greige or even soft pink paint color may help to put your personality on your walls. Warmer tones such as oranges, yellows, and reds can elicit a more energetic, happy, and social kind of feeling, whereas cooler tones like soft blues and purples can help to relax the mood in any room.