The Easiest Way To Add Rugged Touches To Your Home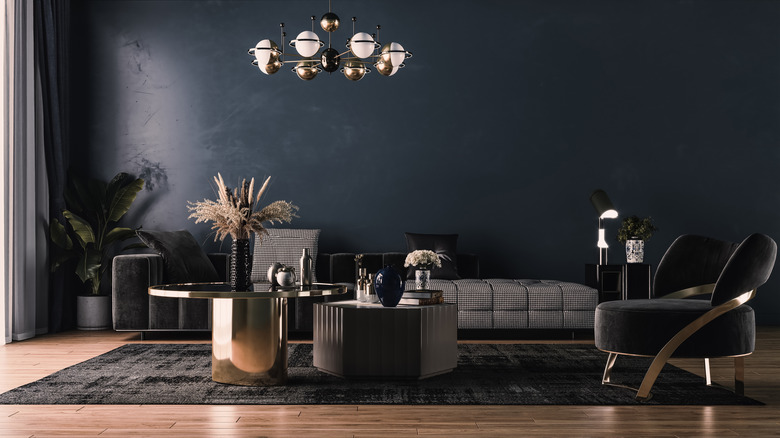 mixphotos/Shutterstock
A home with a rugged interior décor style that is handsome with a lot of straight lines, dark hues, and a moody ambiance isn't very common. If this is your preferred aesthetic, it can be especially hard to find if you're renting or are the owner of a new home. However, if you don't want to do a full re-do of your home, worry not. There are easier ways to create a tasteful space with a rugged ambiance without having to change everything around.
Also, according to Wit & Delight, taking the time to craft your space is in itself a great way to care for yourself. It's also a place where you can be yourself completely, where you can feel safe and secure, away from the outside world.
Taking all of this into consideration, we bet you can't wait to start changing your home to reflect this style. To that end, we've discovered an easy way to add a touch of ruggedness to make your space more opulent, bold, and classic. Keep reading to find out!
Materials are key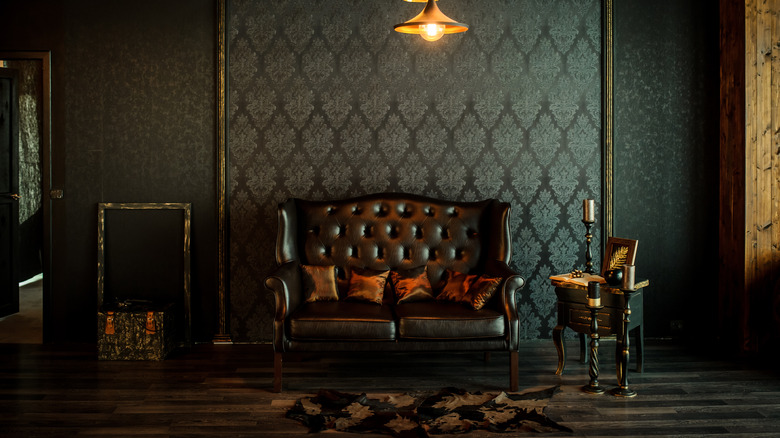 Med Photo Studio/Shutterstock
As Tidylife explains, your room's material palette can make or break the outcome. For a rugged look, they recommend going for woods with a darker stain, gray concrete with a smooth finish, steel, and even darker-hued marble. Of course, you can combine these materials as well, as long as you do it tastefully.
Mon Coin De Vie also agrees that choosing your materials carefully can add that touch of ruggedness to your space without any effort. They suggest opting for materials with a raw, natural finish, such as concrete, wood, and marble. Certain elements, such as your floors, furniture, or ornaments, can be a door for you to introduce raw material elements into your space. It's also recommended to consider getting some leather furniture in a mid-century modern style for the best possible outcome, as well as introduce metal accents and even brick.
Leaving existing elements such as beams and pipework exposed is another great hack to showcase the rugged nature of certain materials in your space with minimal efforts, such as concrete and metal.
Mix it up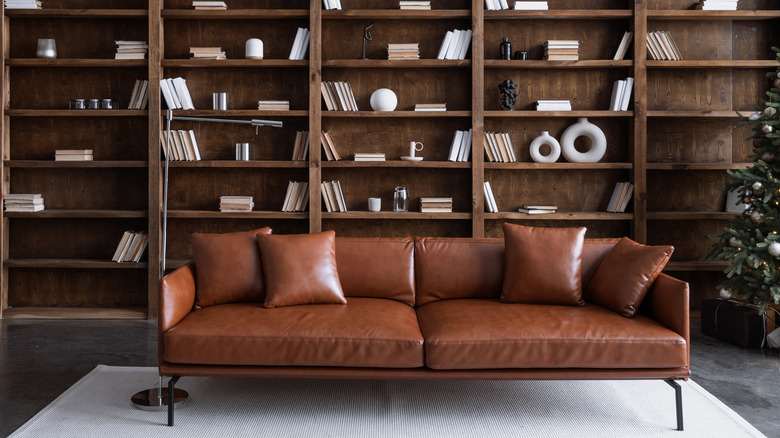 brizmaker/Shutterstock
Now that you know which materials to opt for let's focus on another important but often overlooked aspect of interior design. The way you mix different materials can bring a room together, says Kathy Kuo Home. Experts recommend combining materials like leather and wood with fabrics like linen, wool, or tweed to tie your space together, making it feel cohesive and complete.
Design Ideas Guide says you can incorporate wallpaper with texture and smooth marble for a contrasting but united look. You can also add unexpected touches like weathered wood or stone and modern furniture for a unique result. Experimenting and training your eye to spot the best combinations is also key. After all, you want to avoid making your room look messy and noncohesive. These clever techniques will help you create lots of visual appeal, making your home bold and rugged, just how you like it.