The Best Backsplash For Granite Countertops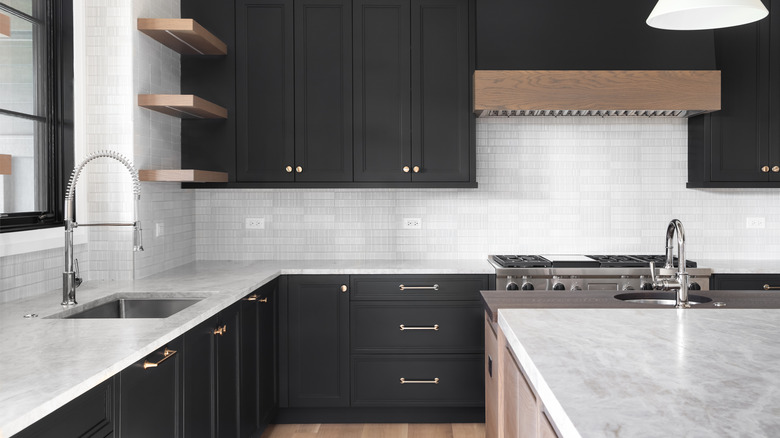 Hendrickson Photography/Shutterstock
Granite countertops are a very popular choice for kitchens and bathrooms, especially in homes that are a bit more extravagant, per Designer Appliances. Large families and those with a busy kitchen also appreciate granite countertops because they are durable, heat-resistant, and stain-resistant. Its beauty is also known to last, but only if you take the time to properly maintain and seal it every year, and use the right cleaning materials. When it comes to designing the rest of your kitchen, you should be careful not to take away from the beauty of your countertops. Your kitchen backsplash can either elevate your granite or create a distraction — or worse — create an unbalanced design, absent of complementary colors.
Luckily, there are many options that work well with granite countertops, according to Henry H. Ross and Son. The different styles and different materials can be seamlessly matched with either traditional, contemporary, or modern kitchens.
Keep the granite going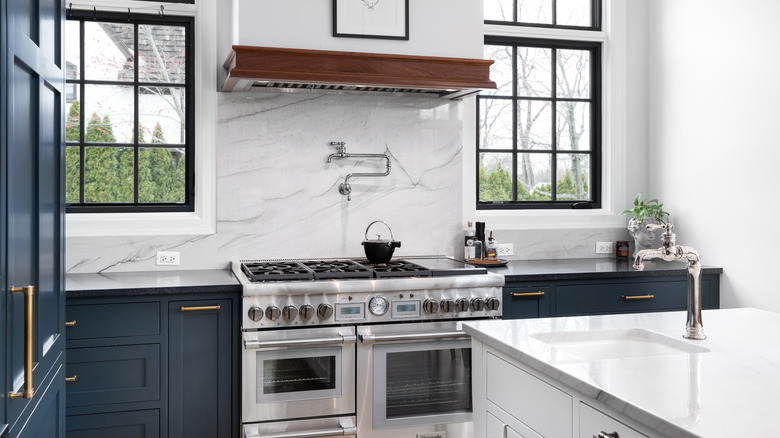 Hendrickson Photography/Shutterstock
If you adore the look of your granite countertops, you may enjoy creating a uniform design by having granite as your backsplash as well, suggests Henry H. Ross and Son. This is an easy method of creating a balanced look with all the right colors, as you'll continue the same type of material all throughout your kitchen. If you have a large enough kitchen and your granite has a simple design, you can actually have it climb all the way up the walls to create a modern design. If that seems a bit overwhelming, you can also do a typical 4-inch upstand.
If executed correctly, this method can turn out beautifully. However, there are pros and cons you should be aware of. Although durable, if your granite backsplash is damaged, it can easily be replaced or repaired, per Regatta Granites India. But, it can be stained — especially if it's placed behind a stovetop. If anything spills on your granite backsplash, you must wipe it away as soon as possible.
The basics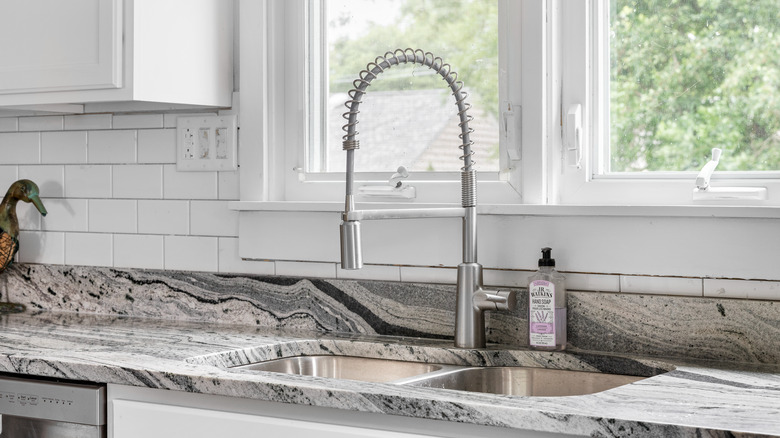 Hendrickson Photography/Shutterstock
For a traditional or farmhouse design, you can pair granite with a simple, white subway tile. Henry H. Ross and Son says a white or neutral-colored subway tile will work, and you can also add in a mosaic above the range or sink to add a bit of interest — although, your granite may have enough pattern going on already. The color tones should also be relatively similar to each other, if the granite is warm-toned, then the backsplash should be warm-toned as well.
If you think subway tile is too simple, think again. There is a variety of styles to choose from that will make your space look unique, but not overpowering. Tile Outlets of America says there are beveled subway, ceramic, and porcelain — all with subtle but beautiful designs. One of the most popular ceramic options comes in multiple pale colors and has a slightly distorted look.