The Least Expensive Sectionals At West Elm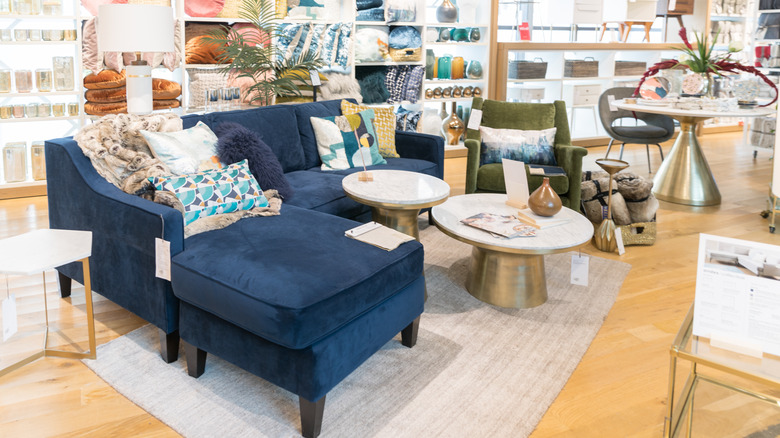 Helen89/Shutterstock
West Elm has emerged as a leader in the home furnishing market in recent years, thanks in large part to the notoriety and popularity of its parent company, Williams-Sonoma -– who also owns the iconic Pottery Barn. Known for its high-quality furniture and home decor, Williams-Sonoma has grown to be one of the largest e-commerce retailers in the U.S. -– owning some of "the best known and most beloved brands" in the industry, per the company's website.
And while West Elm is one of the more recent additions to the Williams-Sonoma profile, it has quickly grown to become one of the most popular and successful -– with Forbes noting that West Elm led the majority of the parent company's growth during the first quarter of last year at 50.9% (which is particularly impressive considering that Williams-Sonoma closed a large number of its physical stores over the past couple years due to the pandemic).
Though West Elm and Williams-Sonoma's other retailers are catered to higher-end shoppers due to their high quality, expertly designed furnishings, it is entirely possible to score some great furniture pieces at affordable prices. Sectionals, in particular, are known for being pricey regardless of where you buy them, but these affordable sectional finds at West Elm prove that you don't have to sacrifice quality and luxury for affordability.
Consider building your own sectional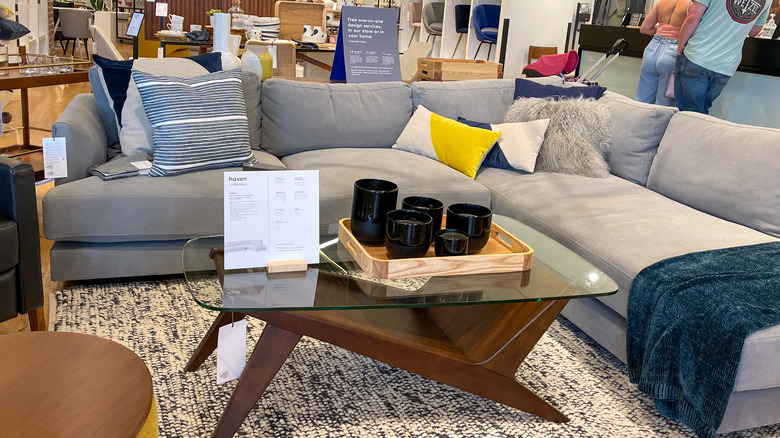 Joni Hanebutt/Shutterstock
A great alternative to buying a bulky and expensive sectional is to utilize the "build your own" sectional option that West Elm offers. Instead of searching for an existing sectional and trying to find one that you love that also happens to fit in your space, building your own sectional allows you to customize the sectional design that you love to your exact specifications. With each piece of the sectional being sold separately, you can easily pick and choose which components you want and which you don't -– allowing you to design the layout you want.
Customizing your sectional to the specs of your living area and only buying the pieces you truly need and want is also a great way to save valuable space in your home, which is particularly important if you live in a smaller home or a tiny studio apartment and don't have much of an area to work with in the first place.
These West Elm sectionals are the least expensive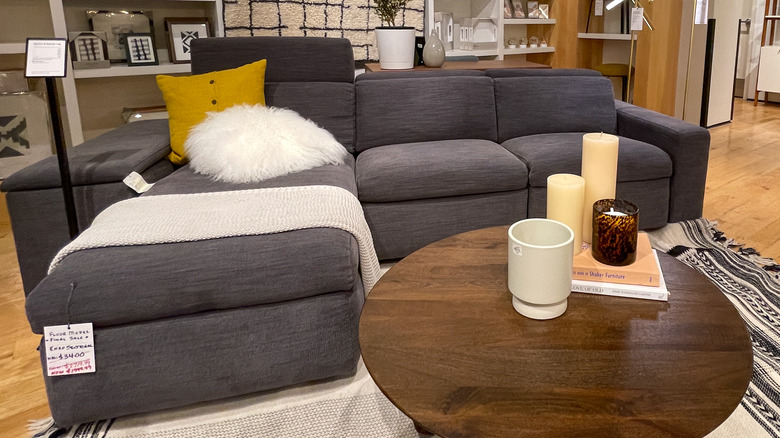 Joni Hanebutt/Shutterstock
While there are quite a few "build your own" sectional options on West Elm's website, some are notably less expensive overall than the others, regardless of the configuration and components you choose to buy.
The Enzo sectional is a great, affordable option for those looking for a truly customizable piece. With all components of the sectional being offered in seven different materials and over 40 different colors, the Enzo is one of the most customizable sectionals sold at West Elm. With each component ranging from $230 to $1,869, you can design your own unique sectional without breaking the bank -– plus, the added built-in storage that comes with the chaise is a great feature for those lacking storage space.
If you are looking to spice up your outdoor seating area, the Portside Outdoor Sectional is a comfy and affordable option. With each of the eight pieces ranging from just $399 to $1,499, this sectional allows you to customize your outdoor space and make it your own for an affordable price. If you like the Portside sectional but prefer lower profile furniture, the Portside Low Outdoor Sectional is a modern and sleek option that will give any outdoor area a dose of elegance and sophistication for a price of just $499 to $1,499 for each piece.