What Is A Spool And Why Should You Get One?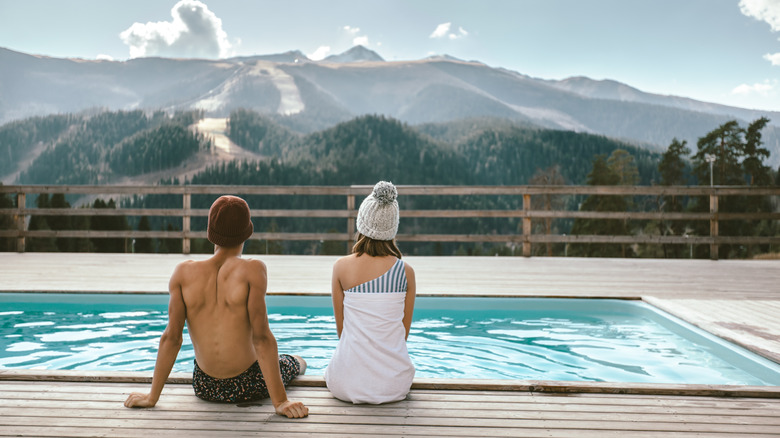 Alena Ozerova/Shutterstock
As the weather is getting considerably hotter, you may have thought of adding a pool to your outdoor area. Whether you live alone, with a partner, roommates, or kids; a pool is generally enjoyable for all. You might however not have the budget or the space to put in a regular swimming pool and that's why we'd like to introduce you to the spool.
Spools are the perfect balance between a pool and a hot tub. In fact, the name is a hybrid of the words pool and spa. Also referred to as cocktail pools, spools offer the space to move around like in a pool but also include jets, like a jacuzzi. As indicated by Leisure Pools, they are great for adding entertainment value to a smaller space and can be used very differently depending on your needs.
The trend of spools started a few years back already as Americans realized it was a great space and money saver for people who didn't necessarily want to reinvent their whole backyard for a pool or make it the focal point of their space. They can be a great addition to your outdoor area provided you know what you're getting into regarding types of spools, features, and necessary maintenance.
What are the different features?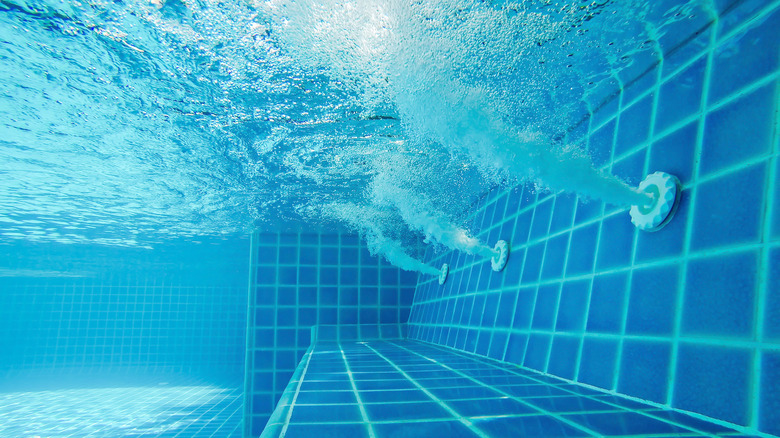 oneSHUTTER oneMEMORY/Shutterstock
The great thing about a spool is that it combines the benefits of a jacuzzi and a swimming pool. Much like shampoo and body wash, why get both when you can get two-in-one? A spool should include a few essentials, like body jets for starters. The iconic hot tub feature is also included in spools, which is great for both relaxation and for exercise since it enables you to swim against the current.
According to Lyon Financial, a spool is usually no more than 16 feet long and 8 feet wide which is pretty much what you'd expect from a hot tub and pool hybrid. Another feature bringing together the pool and spa is the temperature control. While a pool is on the cooler side and a hot tub on the warmer side, a spool can do both! Use it in pool mode for the hotter months, then switch it to spa mode for the cooler ones.
Different types of spools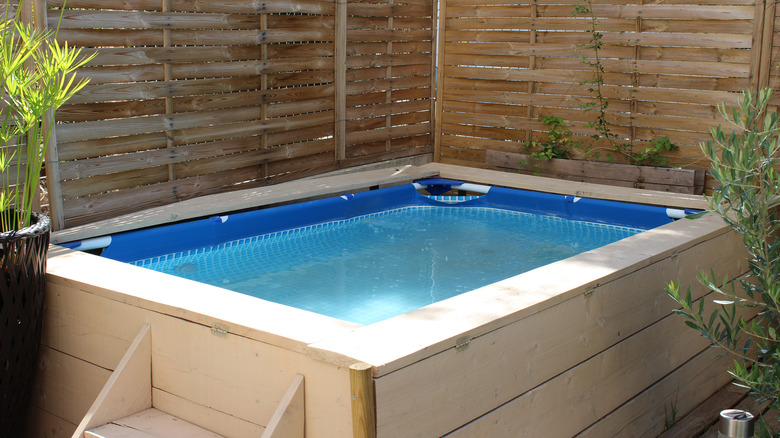 Ally Foster/Shutterstock
There are different ways you can go about getting a spool. The main decision you have to make is whether you want it inground or above-ground. Spools, just like swimming pools and hot tubs can be installed both ways. If you choose to have it above-ground, you can place it directly onto a concrete patio or even have it indoors. However, if you choose to have it inground, it can usually include more features and décor elements such as steps, stepping stones, ceramic planters, and bench seating points out River Pools and Spas.
Another way to incorporate a spool is to have it be a small part of a larger pool — although this might defeat the purpose if you are looking at spools to save space. Some people have chosen to integrate a spool in their swimming pool as a cozier, relaxing, kid-friendly area.
Spool vs. Swimming pool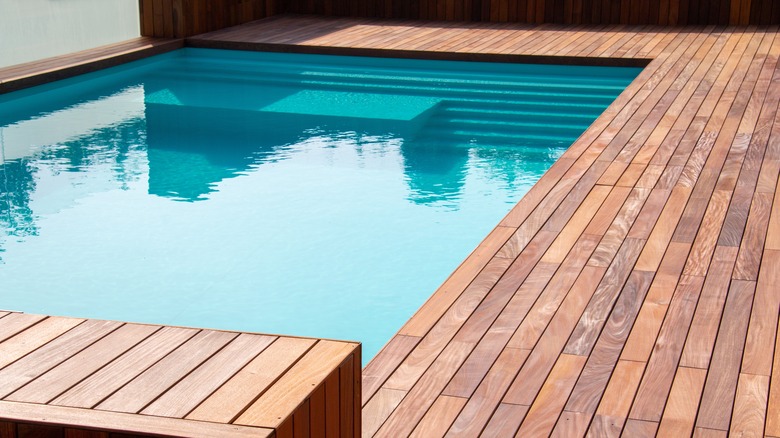 Radoslav Cajkovic/Shutterstock
The biggest question you're probably asking yourself is, why should I get a spool and not a swimming pool? The main difference between both is the size. If your backyard is on the smaller side, getting a pool might not leave you with much extra space while a spool could be installed in a corner and leave lots of space for a grass area or patio as well.
In terms of expenses, a spool will cost you less and can also be more versatile. The kids will love the bubbles and you will love keeping them safer in something more shallow than a pool. If you are in the mood to swim laps, swimming against the current, essentially without moving, is a great exercise, explains Precision Pool and Spa. However, if you're in the mood to relax, the jets have you covered. If you and those you are living with are having trouble deciding between a pool and a hot tub, a spool is the perfect compromise.
Pros and cons of a spool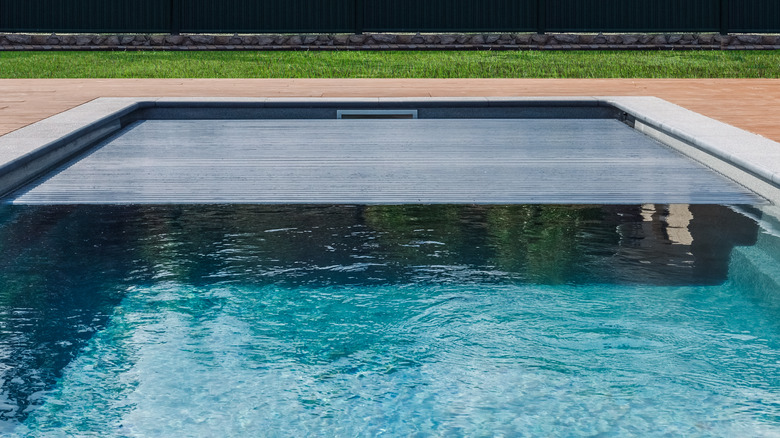 Alexey Shmul/Shutterstock
On the pro side, spools will save you space and money, which are obviously two big factors when considering a home renovation or addition. They are also great if you want to get the most use out of this installation since a spool can be used year-round due to the temperature adjustability. Spools are also great if you have toddlers or young children since they aren't as deep as regular pools and the jets can also be a great way to learn how to swim. Finally, their fast installation and possibility to be indoors are great.
On the other hand, the drawbacks are all related to size. A smaller size means it cannot fit as many people as a regular pool. If you are big on swimming laps, Memphis Pool states that swimming full laps is also out of the question. And finally, although having access to the spool year round is a huge advantage, this feature will also increase your electricity bill more than a regular pool, since the latter is only used for part of the year.
How to maintain a spool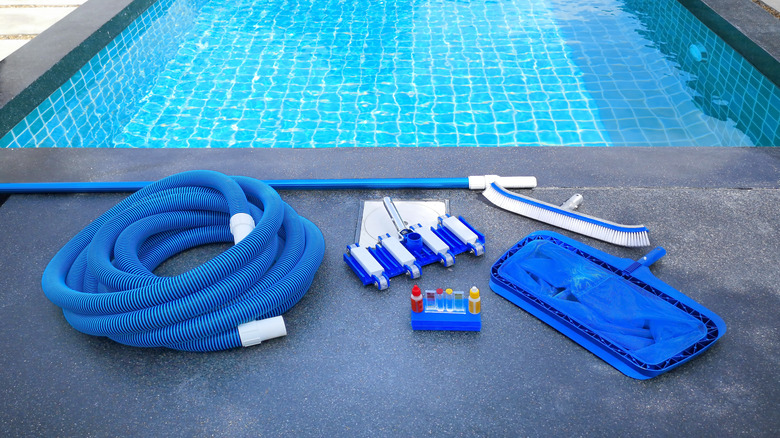 oneSHUTTER oneMEMORY/Shutterstock
In terms of maintenance, the location and design of the spool will determine the frequency, however, a spool is generally less demanding than a regular swimming pool since it is smaller in size. The same practices that apply to a pool apply to a spool as well. Namely, changing the filter once a month and testing the water a few times a week, according to Eco Outdoor, to make sure the pH, alkaline, and chlorine levels are in balance. If you do those two things, your spool should stay in pretty good shape all year round.
In addition, do not forget to clean out any debris and make sure there aren't too many leaves and natural elements falling into your spool, as these will clog the filter and prevent circulation. Finally, it is recommended to fully drain and refill your spool entirely every three to five years to ensure good quality water.
Installing a spool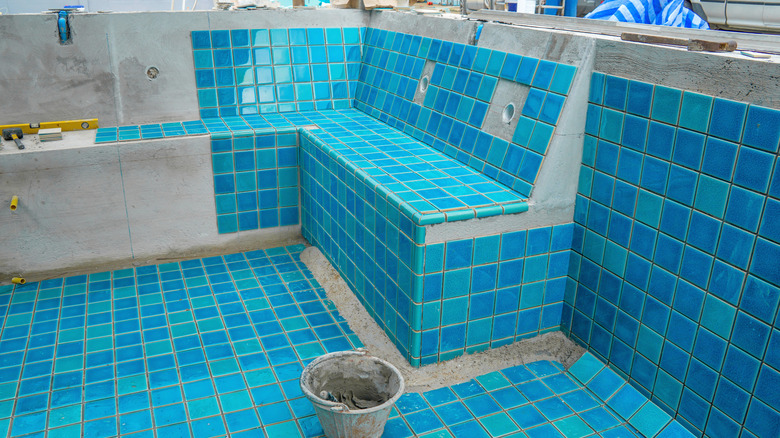 oneSHUTTER oneMEMORY/Shutterstock
The installation process depends on what kind of spool you decided on. As mentioned by Bellareed Luxury Pools, spools require gas, electric, or oil heaters to maintain the right temperature. If you decided to install an above-ground spool, a simple electrical hook-up will generally suffice however, you'll also need a solid concrete slab to place the pool on. 
If on the other hand, you decided on an in-ground spool, the installation will require a bit more work as you will need to factor in the excavation work. Additionally, in-ground spools, along with swimming pools and hot tubs for that matter, can usually have more decor options so if you do want to add tiles, underwater stools, and temperature regulators you will need to consider these factors when estimating the time and cost of installation.
Overall cost of a spool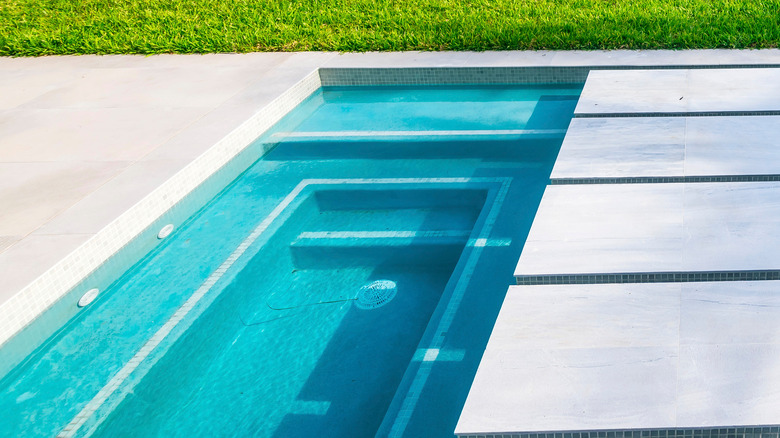 MDV Edwards/Shutterstock
According to Pool Care Guide, when including everything from labor to materials, you can expect to pay around $25,000 to build a spool, but this price point can easily go up to $50,000 depending on lots of different factors.
The price will vary depending on the size of the pool you choose, the décor and accessories, like whether you want tiles, lights, a ladder or steps, a cover, or an infinity edge, as well as whether it's in-ground or above-ground. Evidently, an above-ground spool will cost less. For an in-ground spool, the chances are that you will need to spend additional money on land preparation as well as permits. Finally, the shape of your spool will also determine the coasts. Square or rectangular spools are easier to build and therefore cheaper, however, unique designs or uncommon shapes will all add to the overall expenditure.