The Easiest Way To Make Your Home Office Inspire Productivity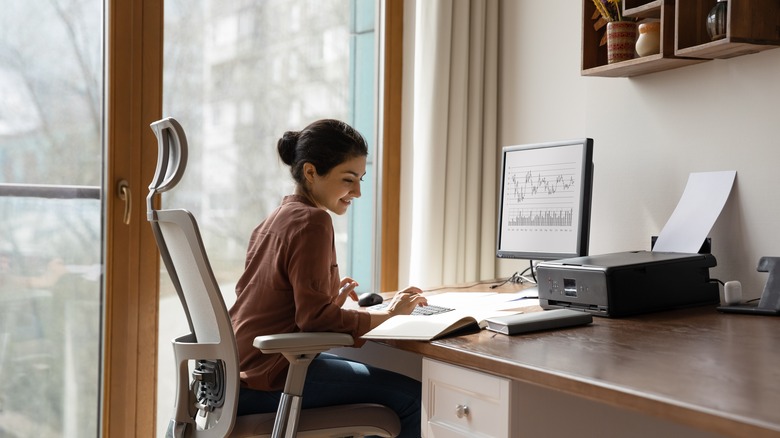 fizkes/Shutterstock
When designing a home office, there are a number of challenges you may face. A common issue is not knowing how to balance productivity and relaxation. Both these elements are very important, so creating an office that energizes without overwhelming or that relaxes without putting you to sleep is key. Colorado Homes & Lifestyles lists some other challenges you may come across. These include having a small office that doubles as another space, like an extra guest room or a home gym.
Another common problem is not being able to focus or feeling easily distracted in your home office. Or, maybe you think that your room's atmosphere doesn't promote creativity. You may also struggle with headaches or other health issues while working from home. Luckily, there may be a way to remove all these barriers to productivity in your home office. This easy change will allow you to be more productive and creative in your space.
How to inspire productivity in your home office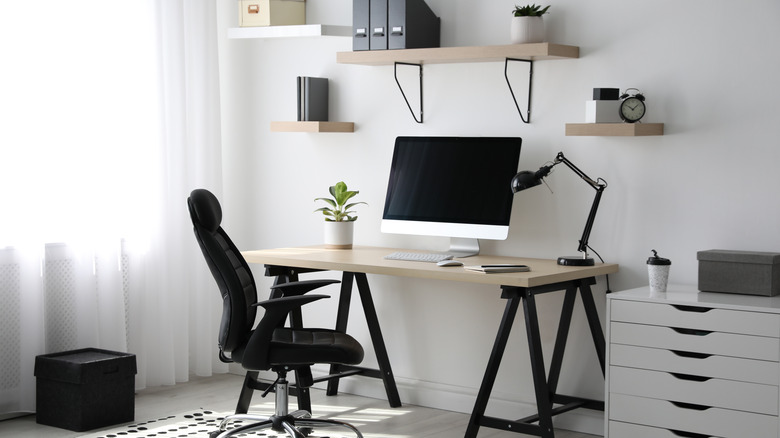 New Africa/Shutterstock
The easiest way to inspire productivity is by investing in smart light features. While natural lighting is the best, when you need to use artificial lights, smart devices may help you be more productive. Constellation says that smart lighting can be controlled through voice commands. To install this in your home, you'll hook up light fixtures to a smart device (for example, Alexa) through a WiFi or Bluetooth connection.
Installing smart lighting in your home office can assist you in a number of ways. It will allow you to turn on and off the lights without having to reach the switch. It will also allow you to change the settings for different moments in the work day. For instance, according to Nevada Sales Agency, dim lighting is good for breaks or relaxation, mid-level lighting is ideal for conference calls, and bright lights are best for when you need to be the most productive or creative. Smart lighting will allow you to change your settings to match what time of day it is for you. Also, headaches are typically caused by inadequate lighting. Bright fixtures can feel overbearing, while dim ones may cause you to strain your eyes. Having the ability to change the settings with just your voice could help you avoid painful headaches. Another benefit is that if your space has multiple uses, you can easily change the lighting to fit the task or mood. 
Other things to consider when designing a home office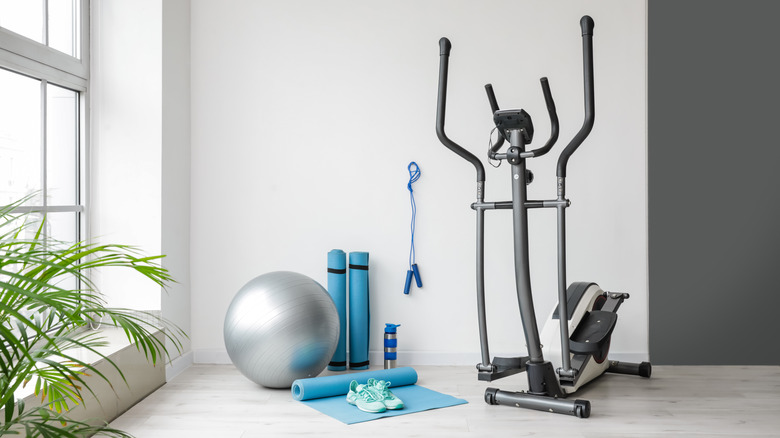 Pixel-Shot/Shutterstock
When designing a home office, there are a few other things you can include to make the space more productive. For instance, Jostle says to prioritize comfort, manage distractions, and declutter often. Another tip is to keep your office space and relaxation areas separate -– in other words, don't work from the couch or your bed. This will help you stay alert during the work day and also help you relax once the day is over.
Another way to make the most out of a home office is by combining it with a home gym. While combining two different spaces into one room may cause some problems, smart lights will help tremendously. You'll be able to transform your bright work room into a dim gym in seconds. Thirty Something Super Mom gives some more tips on how to combine these two spaces for the most productivity. To avoid distracting clutter, ensure that you only keep what you need in the space. Choose multi-functional gym equipment so that it doesn't take up as much floor space. And make sure to organize your belongings often.