Affordable Bathroom Feature The Property Brothers Use To Make A Statement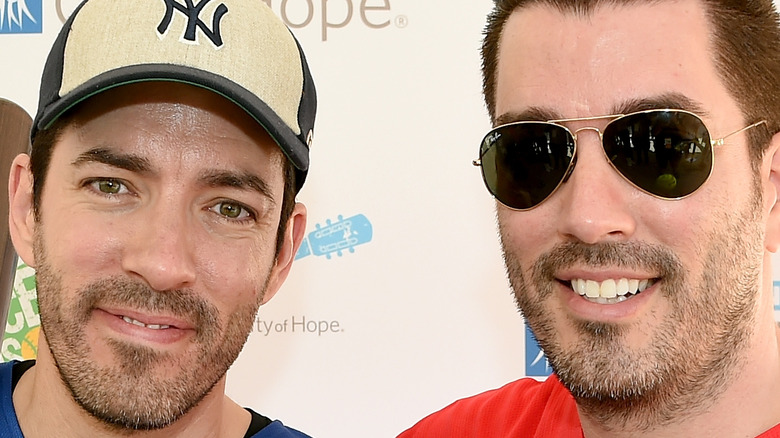 Rick Diamond/Getty Images
While bathrooms likely take up a relatively small amount of square footage, especially when compared with key rooms like the kitchen or even the master bedroom, they're still an important space in your home. And luckily, their smaller square footage means you can make a serious impact on a relatively modest budget — and you can do so without doing serious renovations like changing the entire floor plan of the bathroom.
The bathroom is also one of the better places in your home to invest a little bit of money in terms of what you'll get back if you one day decide to sell it. As Zillow reports, minor cosmetic changes in bathrooms yield the biggest return on investment, and over a quarter of homeowners looking to sell decide to refresh or remodel the bathroom before listing. These types of cosmetic changes often have the biggest aesthetic impact, which is an added bonus. When changing major features such as an outdated shower or tub may not be realistic with your budget, it's still definitely possible to upgrade your bathroom.
Jonathan and Drew Scott, a.k.a. "The Property Brothers," know all about transforming a space without breaking the bank, having advised countless homeowners on their various HGTV shows. While a fresh coat of paint will always be a serious game changer, and small accessories or decor items can breathe some fresh life into your bathroom, there's one particular feature that can make a serious statement when done well.
Turn your attention to tile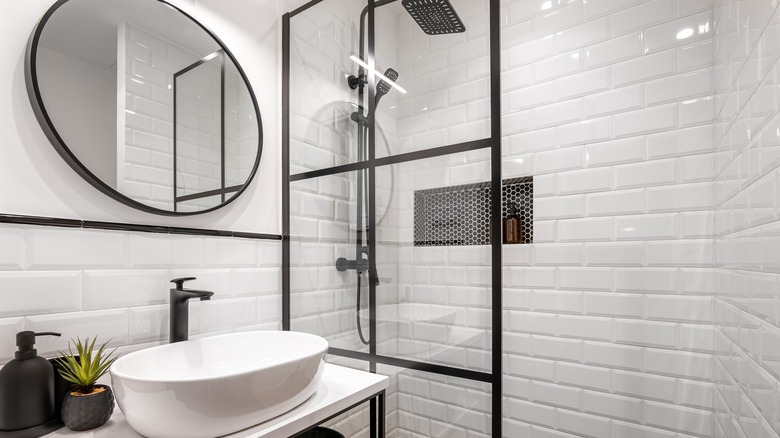 Pavel Adashkevich/Shutterstock
One affordable bathroom feature that makes a huge statement is the tile, something "The Property Brothers" like to change up in renovations often, as seen on HGTV. Anyone who has ever walked into an older home where the bathroom has remained untouched over the years knows how quickly the choice of tile can date a space. Luckily, it can just as easily revive it.
And you can select the tile that would work best with your desired aesthetic. Jonathan Scott recommends keeping a few different things in mind when trying to choose tile for your bathroom — you want something that has either an interesting shape, an interesting pattern, or an interesting color. This means that if you prefer a neutral color palette, you can simply search for unusual shapes or patterns to add visual interest. If you have a relatively boring space with standard fixtures and not much surface area, you might want a burst of vibrant color and gravitate towards colorful tile options.
However, this doesn't mean selecting any tile that strikes your fancy — you do want to consider what it'll look like in the context of the bathroom, especially if you're choosing more than one type of tile. Ross's Discount Home Centre, for example, suggests sticking to three different tiles maximum. Style by Emily Henderson recommends varying your scale and pattern but trying to work roughly within the same color palette to help create a cohesive space where the various tile choices all work well together.
Practical considerations when selecting tile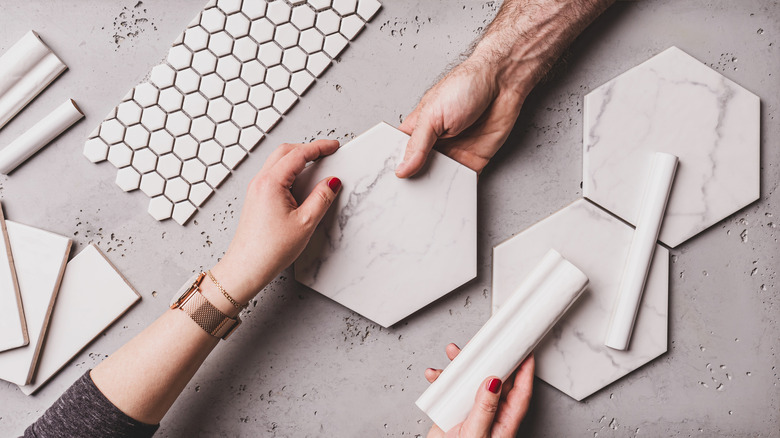 Pinkyone/Shutterstock
Whether you're upgrading the tile in your shower, behind the vanity, or on the floor, there are potentially a few different types and locations of tile in your bathroom — and there are a few considerations beyond just the aesthetic. After all, you want it to look gorgeous, but you also need it to be functional in the space.
One thing that Ross's Discount Home Centre advises everyone to consider is the maintenance needed for certain types of tile. If you're not the type who loves deep cleaning your bathroom multiple times a week, you want to steer clear of tiles that will require that kind of upkeep.
If you're switching up the tile on the floor,  there may be some safety considerations as well. Daltile recommends steering clear of glazed floor tiles in places where there's a lot of water (like a bathroom) due to the risk of slippage. Tiles with a bit of texture to them can be great for avoiding slips.
Finally, there are also certain types of tile that are more porous and could potentially stain. While you may be more concerned about this when it comes to kitchen countertop materials, it does matter in your bathroom, too, especially if you regularly do things like dye your hair at home. As Plank & Pillow explains, certain natural stones like marble are quite porous and may not be the ideal selection within a shower, for example.