The Least Expensive Coffee Tables At IKEA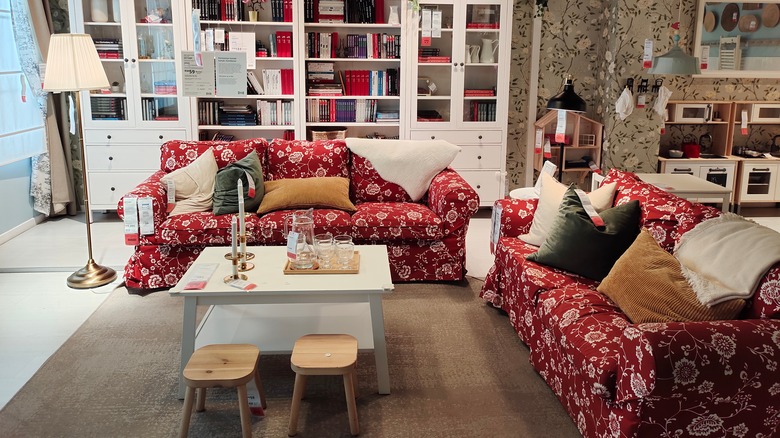 muhammad afzan bin awang/Shutterstock
Whether you're buying your first home or looking to freshen up an old home with some new furniture, IKEA may be the one-stop shop for you. IKEA states that it was founded in Sweden by Ingvar Kamprad in 1953. The business originally started as a mail order catalog business but quickly grew to become one of the largest furniture and home appliance store it is known today.
IKEA is full of a variety of furniture items and designs that can be used nearly anywhere around your home. The store provides everything from beds to desks to couches to tables and anything else you can think of that you might need for your home, and that's not even the best part either — it's also affordable. Insider explains that homeowners love IKEA because they are able to get the same comfortable, stylish, and high-quality furniture for nearly half the price of that from other competing stores. So, if you're interested in taking a closer look at exactly what IKEA has to offer, let's take a closer look at some of the least expensive coffee tables you can find at IKEA today.
Lack coffee table
Currently, the LACK is the cheapest coffee table you can purchase at IKEA. The structure costs about $35 and spans approximately 35 inches long, 22 inches wide, and 18 inches tall. Allowing it to fit a variety of styles you may have inside your home, it is also available in white, black, or brown. The two-layer design is perfect for keeping your items organized and the table top clear. It's important to note, however, that the table can not hold more than 44 pounds.
IKEA states that the coffee table is made of a variety of different materials. For example, the top panel is made from particleboard with plastic edging, melamine foil, acrylic paint, and acrylic clear lacquer. To clean these materials safely and properly, it is highly recommended to wipe the surface clean with a damp cloth and quickly drying it afterward with a clean, dry cloth. To ensure the coffee table remains in its best shape, it's also important to check all the assembled pieces of the table to ensure they remain firmly in place. If any piece becomes disassembled or loose, it's important to readjust it before resuming the use of this furniture piece.
Lunnarp coffee table
Another relatively cheap coffee table option is IKEA's LUNNARP. Compared to the LACK coffee table, this structure is a bit more expensive but still only costs approximately $70 and spans a slightly larger size of 35 ½ inches long, 22 ½ inches wide, and 19 ½ inches tall. This coffee table comes in a couple of different colors, brown and white. It has a two-layer design like the other table, which allows at is a storage space to help keep your living room organized and to keep stuff both off the surface of the table and off the floor. 
This coffee table also has a strict weight limit of 44 pounds. IKEA claims that this coffee table mainly consists of a particleboard material with paper foil and plastic edging. You'll want to clean it the same way instructed for the other coffee table option. There is a chance that assembled pieces may come loose if you like rearranging furniture often, so be sure to tighten things up if the table ever gets wobbly.