The Best Sheet Colors If You Have A Blue Duvet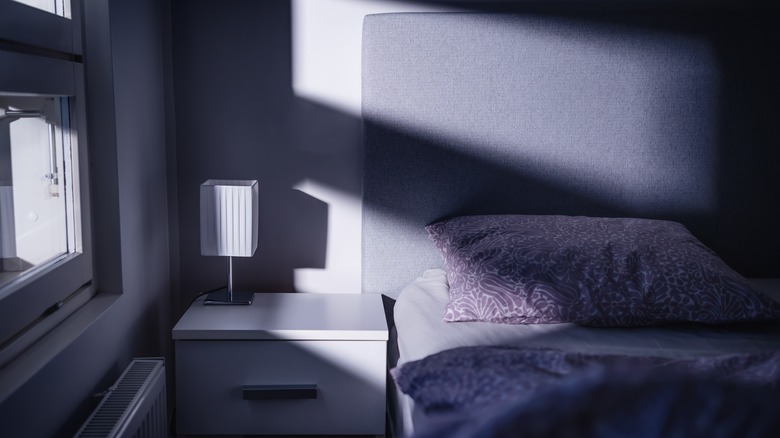 Tero Vesalainen/Shutterstock
If you own a blue duvet, you might be lost when it comes to choosing sheets. Of course, blue is a gorgeous color, but it's also known to improve your mental health. The color is associated with a sense of calmness, and has been scientifically proven to induce a relaxing state of mind, says 99designs. Having said that, choosing sheets that will increase that calming sensation is a good idea. With the correct color, you'll be able to create a space of peace and tranquility. The question is, what color sheets will do just that?
When choosing the set, there are a couple of things to keep in mind, the first being that a high thread count doesn't always equal high-quality products, Consumer Reports explains. This means you can focus on finding the right color without worrying about the thread count. To give you some inspiration, here are two of the best sheet colors if you have a blue duvet.
Neutral tones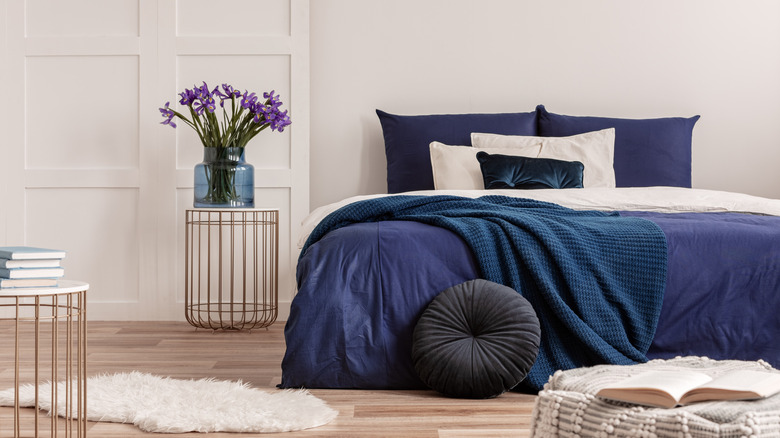 Photographee.eu/Shutterstock
When shopping for sheets, Veranda strongly recommends paying special attention to the undertones in your blue duvet. If the duvet has cooler undertones, such as purple, you want to stay away from blue shades with green or yellow tones and opt for colors that pair well with indigo. Treehouse suggests choosing bed sheets in various shades of white. One of the great things about this color combination is that it isn't harsh on the eyes, and creates a beautiful mix.
Blue and white is a calming duo, yet it offers a bit of a preppy vibe, which is why it's so popular among homeowners. At the other end of the spectrum, beige shades, namely cream and ivory, are excellent color choices to complement a navy-blue duvet. Colors in the beige family have warm undertones, which accentuate the lavish tones of deep blue, making your bedroom the ultimate place to relax and unwind.
Shades of blue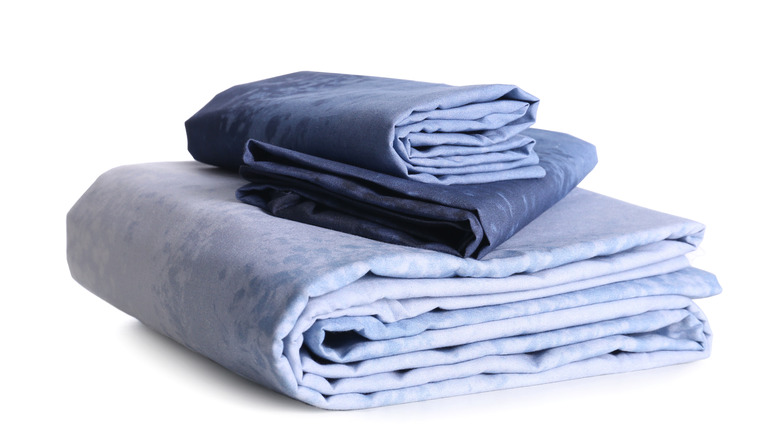 New Africa/Shutterstock
Lucky for you, blue is extremely versatile, which essentially means it works well with every color — even more shades of blue, Elle Decor states. Monochromatic color schemes are growing in popularity due to the chic and elegant aesthetic they give any room. Not only will an all-blue color scheme make your bedroom look luxurious, but it will also give dimension to the space, according to 21 Oak. That being said, strive for sheets with different shades and hues of blue than that of your duvet.
If you stick to one shade, it will make your bedroom look dull, as opposed to bold and unique. If you're worried about choosing the wrong blue for your sheets, don't panic — there are no rules! DIY Home Staging Tips says that all blues complement each other, so it's virtually impossible to make a poor choice. The color combinations are endless, so it's up to you to decide which one best suits your style.