The Best Way To Make The Most Of A Small Living Room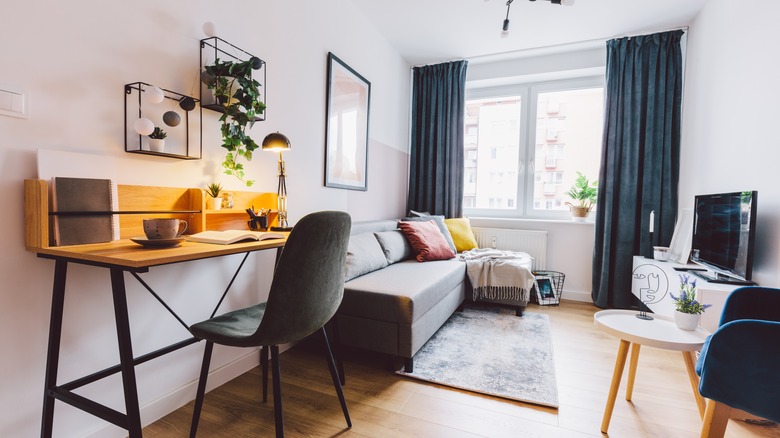 PHOTOCREO Michal Bednarek/Shutterstock
Small living rooms can be cozy and comfortable, more budget-friendly, and produce less clutter, says Lighting Tutor, but they aren't always the most convenient. Most of the time, though, they're unavoidable. However, don't worry if you happen to find yourself in this predicament. You can do many things to improve your small living room and make it the best it can be.
According to Houzz, designers employ a number of tricks to optimize small living areas. For example, they take into account what is beyond the walls of the room to come up with the best design for it. Custom storage solutions and focal features such as art or sculpture are also popular among designers. They also make sure to pay attention to the tiny details and proportions of the space. However, you don't have to be a professional designer to change up your living room so it can live up to its potential. Let's find out what you can do.
It's all about the furniture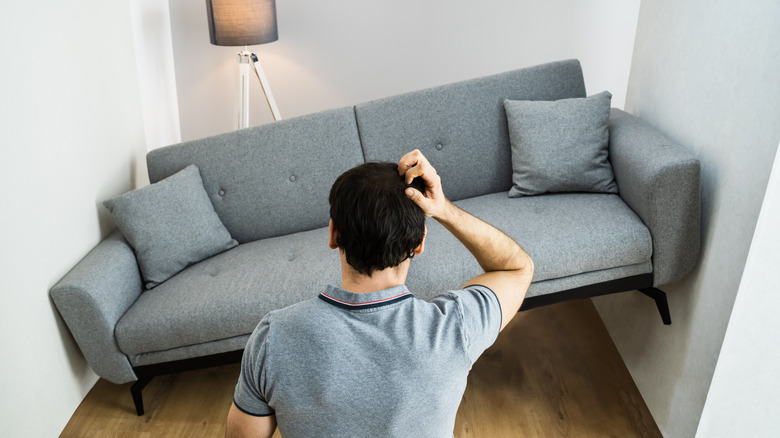 Andrey_Popov/Shutterstock
When decorating a living area with limited space, you have to be extra careful about what furniture you choose. According to Room & Board, it's best if you can pick furniture that is as small as possible while making sure that it is comfortable and functional. They recommend loveseat sofas and modular sectionals that will allow you to pick which piece might suit your space the best. They also recommend picking furniture that is raised off the ground with legs, so it makes the room feel more spacious.
According to Real Homes, picking the right furniture for a small living area isn't rocket science. Instead, they suggest choosing pieces that could serve more than one function, such as a coffee table that can double as a footstool. Investing in built-in storage is also recommended. Finally, picking furniture that comes in a shape that is best suited to your space is also critical.
The backdrop also matters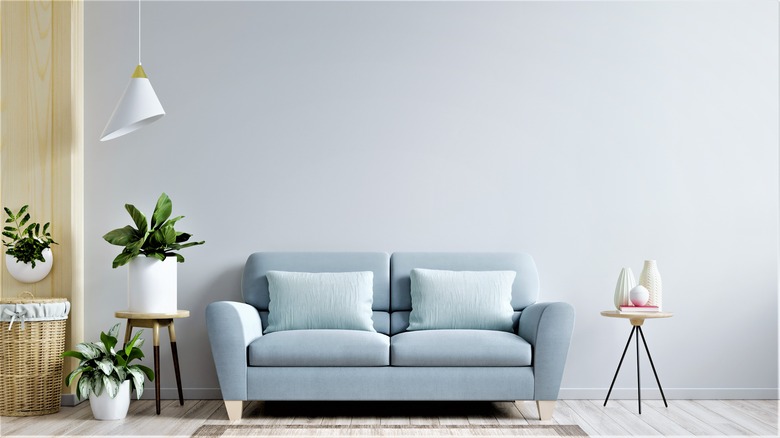 fazilran1234/Shutterstock
While furniture is a big part of maximizing a small living space, the backdrop against which your furnishings will sit is equally important. Besides, all of these factors are especially important in the context of a smaller living room because you're working with limited space. According to Forbes, lighter walls are the best choice for small living areas as they can open up a space and make it feel bigger than it is. Light walls also allow you to pick furniture in fun colors to brighten the area.
According to Ideal Home, a single feature wall might also be a great idea. They suggest painting the top portion of a wall in a lighter hue while painting the bottom portion in a brighter shade so it's eye-catching. This will make your space appear taller and add a wow factor. They also recommend keeping all the colors at work in your room cohesive, so it adds a chic finish to your area, making sure no single element overpowers the rest.