The Best Fire Pit To Take Your Patio To The Next Level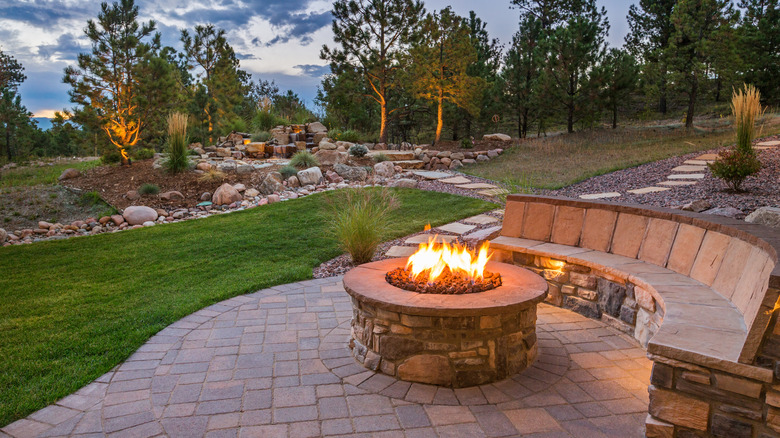 Neil Podoll/Shutterstock
We may receive a commission on purchases made from links.
If your backyard is looking a bit uninspiring and you find yourself constantly staying in, you might want to consider upgrading the decor. One of our favorite outdoor accessories? Fire pits — not only do they feel cozy, but they're also a great source of warmth later in the year. Depending on the model, you may even be able to roast s'mores over top! That being said, it can be tough to find the right fire pit for your backyard.
To help narrow your search, we've rounded up our favorite fire pit models. However, safety always comes first. According to KD Landscape, you should consider your local fire regulations and family specifics in mind when choosing a fire pit. Do you have a curious toddler (or pet) that might want to investigate the flame? You're probably better off with an enclosed fire pit. Keeping this in mind, check out some of our top picks.
Our favorite: the most aesthetically pleasing fire pit
If your main goal is to invest in a fire pit that looks good (and lasts), we'd recommend TIKI Brand's portable fire pit. You can choose from a 21.5-inch rectangular pit or a 25-inch circular pit, both of which are portable. Unfortunately, neither version has significant barriers to prevent curious toddlers from investigating the flame, so it's probably best to hold off for now if you have younger children.
According to the Amazon listing, both fire pit models give off heat that travels about 4 feet. Depending on your patio's layout, you might want to adjust the seats late at night so more people can sit around the flame and benefit from the warmth.
While we appreciate TIKI Brand's sleek aesthetics, you may want to look elsewhere if you're an aspiring cook. In the Q&A section, TIKI representatives say that it is safe to cook on the fire pits "if you follow all instructions, warnings, and good fire safety practices," with the added caveat that you should "wait until flames die down and the wood pellets begin to form glowing coals" when cooking with the TIKI brand's Fire Pit and Wood pack. However, other reviewers mention that they hesitate to cook anything beyond lightly roasted marshmallows. In response to an Amazon customer question, customer Shari Bitterman said she "would not want the food oils and grime inside of this beautiful fire pit."
Runner up: the best fire pit for adventurous chefs
Are you looking for a fire pit to create an outdoor kitchen setup? We'd recommend checking out UDPATIO's 30-inch fire pit: it comes with a removable 15.75-inch grill so you can enjoy an aesthetically pleasing fire pit or experiment outside the kitchen, depending on the day. Plus, according to the listing images, you can adjust the grill's height and swivel it 360 degrees, making it easy to tweak the setup according to your recipe's requirements. And according to customer Quicia J., the fire pit is easy to clean after cooking.
Unfortunately, the UDPATIO fire pit's listing does not say how far the heat will travel. However, it does say that the pit can best accommodate three to five people, so chances are that you'll need to huddle close to the flame to feel the heat. If you'll primarily be using the fire pit for cooking, that's not an unreasonable number of people — you just might struggle to fit more than five burgers on the grill.