The Best Backsplash For Quartz Countertops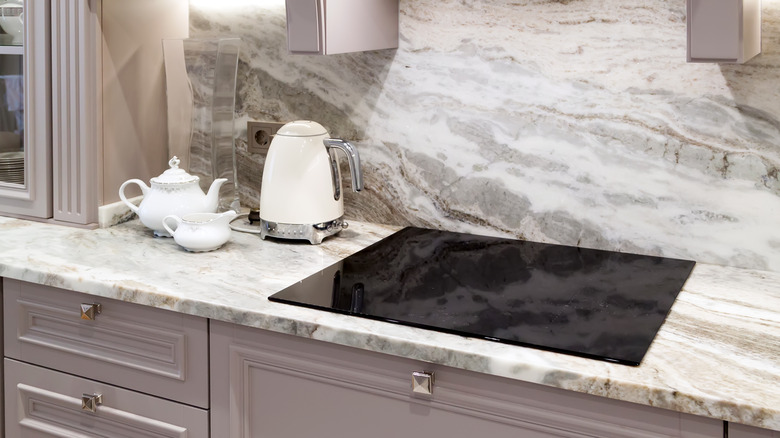 sommthink/Shutterstock
Quartz is one of the most attractive and simultaneously durable countertop materials, offering the beauty of stones like marble or granite while being much more sturdy, per Caesarstone. The stone can be made to resemble a multitude of different materials, like marble, porcelain, and concrete, and are incredibly resistant to chipping, stains, and other damage. If you have the resources to install quartz countertops in your kitchen, it is undoubtedly a good idea.
Something to keep in mind with quartz countertops, though, is what backsplash you should choose to match them. Backsplashes are a very important addition to your kitchen, helping protect your wall from heat and water damage, moisture build-up, stains, knicks in the wall, and other inevitable damage (via Proline Range Hoods). Backsplashes are also a great opportunity to add more beauty and aesthetic value to your kitchen, though, and quartz countertops are worthy of an equally beautiful backsplash. While quartz is a very versatile and variable material, there are still a couple of classic backsplashes that will always pair nicely with the stone.
Simple subway tiles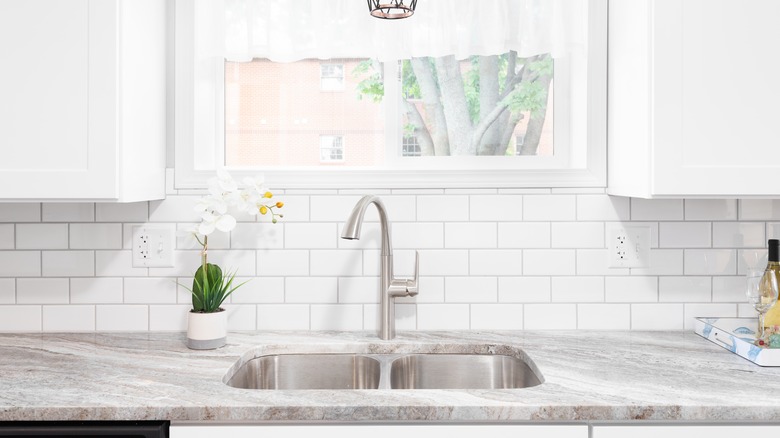 Hendrickson Photography/Shutterstock
One of the most timeless and classic backsplash options out there is a subway tile backsplash, which is why Tile Club recommends pairing it with your quartz countertops. In particular, they recommend pairing the simple, sleek look of subway tiles with busier quartz countertops, like those resembling granite.
Subway tiles gained popularity in the early 20th century when they were used in New York subway stations, hence the name (via Why Tile). This backsplash option has survived multiple trend cycles, reigning supreme as one of the most versatile, timeless, and beautiful options for your kitchen. Most subway tiles are made out of ceramic, but some are made out of porcelain or even glass. With quartz being such a durable and low-maintenance material, it's a good idea to go with a similarly durable and low-maintenance backsplash like ceramic. Subway tiles tend to be white or off-white, but more modern designers may prefer a sleek black, while those with a bolder preference may enjoy a colorful tile. They also traditionally have black grouting, but some prefer white or gray.
Play with color matching
If you want a bit more color and personality in your kitchen, consider matching your countertops to your backsplash. As H.H. Ross notes, some quartz countertops, especially those modeled after granite or marble, will have varying levels of veining. This presents a really fun opportunity to use the veining as an accent color throughout your kitchen. If you have gray or brown detailing in your quartz countertops, consider matching that color to your backsplash tile.
On the other hand, if your countertops are one color or a particularly eye-catching color, incorporate that color throughout your kitchen in varying shades. If you have flecks of blue in your countertop, for example, play around with varying shades of blue in your kitchen. Match your backsplash to that color, or incorporate it in a lighter color. For solid concrete-inspired quartz countertops, you can also vary that shade for your backsplash. If the countertop is a soft gray, install a smokier gray backsplash, or vice versa.