The Best Bedding Color If You Have A White Bedroom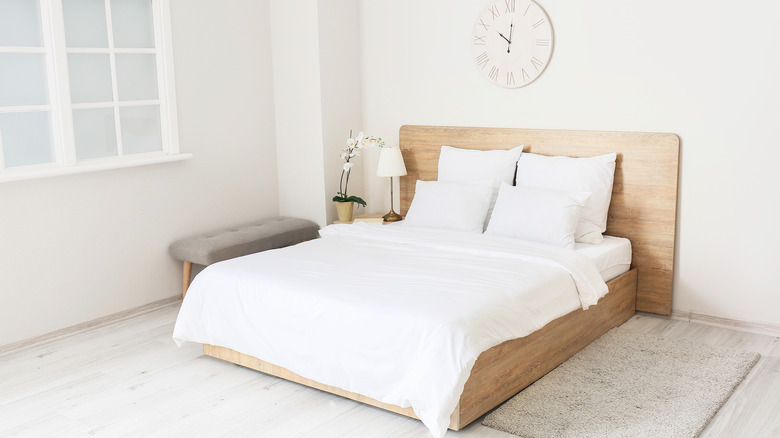 Pixel-Shot/Shutterstock
Just because you have white walls in your bedroom doesn't mean you can't add some color to your life. After all, who says a white bedroom has to be boring? According to American Home Shield, there are plenty of ways to easily add a pop of color to an all-white room. You can bring in a brightly-colored rug, add some flowers (real or fake), or swap out your plain bedding for something fun and bright. Changing your bedding is a simple way to mix up the vibe of your bedroom.
Her Campus suggests minimalist bedding without patterns or frills; however, that doesn't mean you can't have fun with some color. But, with so many color combinations to choose from, how can you pick just one? Lucky for you, we have a couple of options to make your decision easier. Now, let's take a look at the best bedding colors for your white bedroom.
Teal blue and orange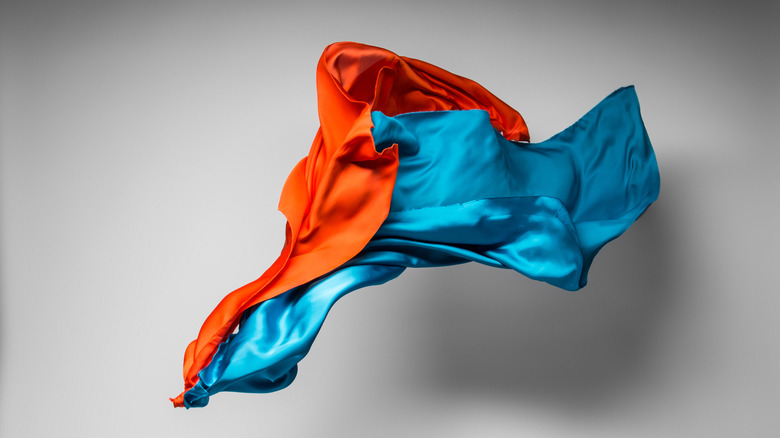 yurok/Shutterstock
When you have a white bedroom, the world is your oyster, as white is one of the most (if not THE most) versatile colors to work with, MyMove states. Because of the endless choices, we're going to give you a color palette to work with instead of singular shades. This first palette includes teal blue, orange, and of course, white, as seen on Color Combos. The reason these colors mesh so well is because of the sense of calmness they evoke when used together.
Teal blue is known for its relaxing, stress-relieving properties, as well as its eye-catching effect, says Designer Blogs. On the other hand, the color orange brings about happiness and joy. This bright color palette will leave you feeling rejuvenated and ready to conquer anything. Use teal blue for your duvet and orange for the sheets, or the other way around (you can even add some matching throw pillows). It's your choice!
Soft pinks and grays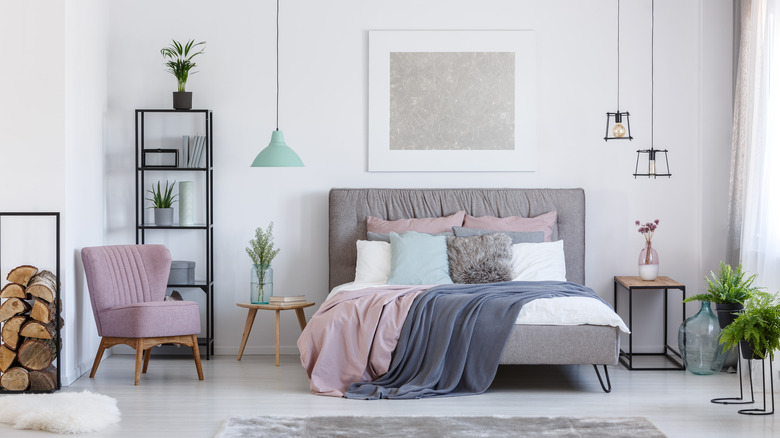 Photographee.eu/Shutterstock
For a more romantic aesthetic, may we suggest a color scheme of white, pinks, and soft grays, like the one seen on Color Combos? This gorgeous color palette offers a touch of femininity without using a hundred shades of pink and nearly drowning you in it. Livingetc suggests pairing blush, dusty, or muted pinks with your choice of soft gray for your bedding. Pink warms up the cool gray color just the right amount, to where it doesn't look too warm but not too "cutesy" either.
Despite its reputation as a depressive color, gray is associated with balance and neutrality, Oberlo states. In contrast, the color pink symbolizes love and kindness, and often awakens a happy state of mind, says Very Well Mind. That being said, if gray doesn't fit in with your sense of style, you can ditch it for another neutral and still have beautiful pink bedding that brings you happiness and your white bedroom some much-needed color.