The Return Policy At West Elm, Explained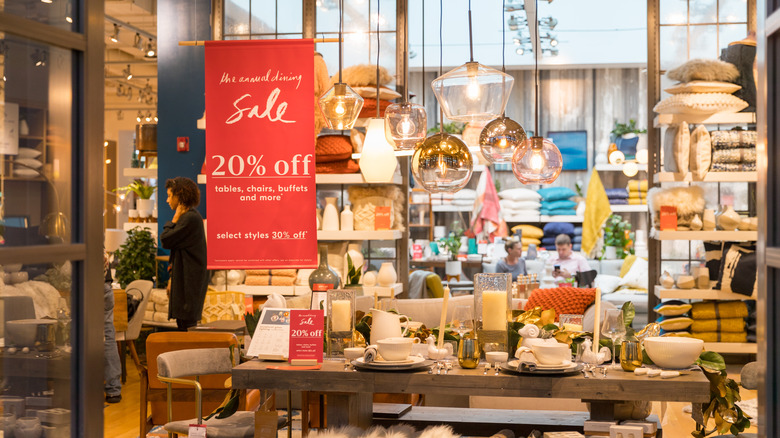 Helen89/Shutterstock
At times, walking into West Elm feels like taking a stroll through a Pinterest board. Neutral, stylish designs can be found anywhere you look. But while this can make walking through the store feel like a treat, it can also lead to a higher bill. According to New Neuro Marketing, a store with a strong ambiance can increase the odds of customers making impulse purchases.
While an impulse purchase here and there is all but inevitable, home goods should ideally be used for many years. Whether you bought a pillow or a couch on the spur of the moment, there's no shame in returning it if you've realized that it simply won't work in your home (especially with West Elm's higher price tags). That being said, since some of West Elm's products are either customizable or relatively large, you may need to peer at the return policy's specifics to see if (and how) you can actually return your latest purchase.
Which West Elm items are eligible for return?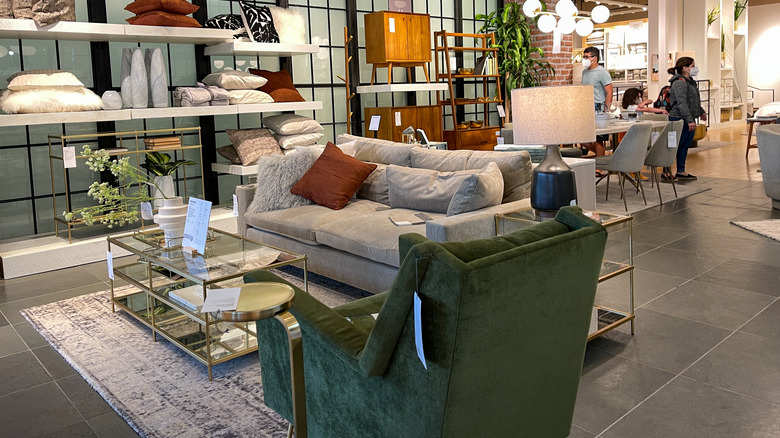 Joni Hanebutt/Shutterstock
Generally speaking, most items at West Elm are eligible for returns. According to West Elm's website, you can return almost all purchases within 30 days. However, you're stuck with items that are monogrammed, made to order, or specifically designated as final sale. Similarly, you can't return Robin mattresses or box spring replacements (aka Robin foundation), nor can you exchange a recently purchased gift card for its cash equivalent. You also won't be able to return an item that you've worn down through regular use (for example, a plate that you've eaten on which now has a couple of faint knife scratches). On the other hand, if a purchase is tied to a registry, the recipient will have 90 days from the event date to process a return.
When you make a West Elm purchase, be sure to keep your receipt (or request a gift receipt if the item is for someone else). According to their site, West Elm also requires proof of purchase for all returns. If you don't have the receipt, you can instead provide your order number or a relevant gift registry number so that the staff can track down your order specifics.
How can I return purchases to West Elm?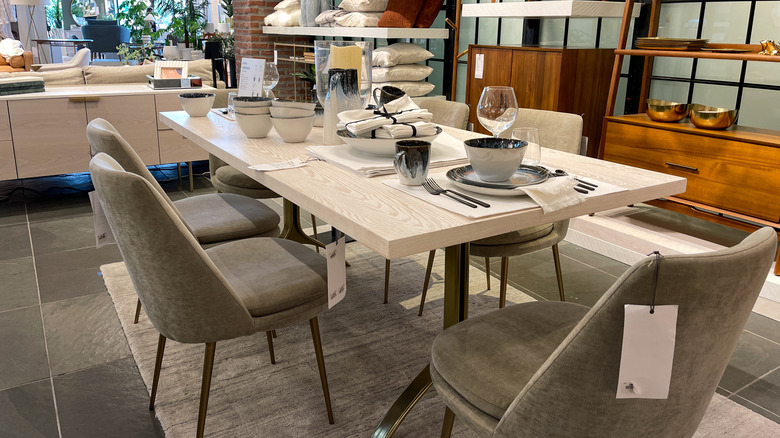 Joni Hanebutt/Shutterstock
There are three ways that you can return items to West Elm, but not all are created equal. According to West Elm's return policy, certain items can only be returned via specific methods.
In-person returns are probably the fastest and easiest return method. Unfortunately, it's also the one with the most restrictions. According to the site's return policy, "most non-furniture items" can be returned in-store, a policy likely due to space restrictions. However, don't try to bring any West Elm items purchased internationally to an American store without prior approval — customer service needs to manually approve the return. Also, outlet stores do not take returns.
If you've received your West Elm items in the mail, the store's return policy allows you to ship them back. But heads up: if you don't have a good reason for returning the items, you'll be on the hook for any new shipping fees.
Your last option? Call West Elm customer service, who will help get your items "arranged for return" according to the return policy. West Elm notes that this option is required for "[f]urniture and other large items not delivered by mail."