The Least Expensive Beds At Urban Outfitters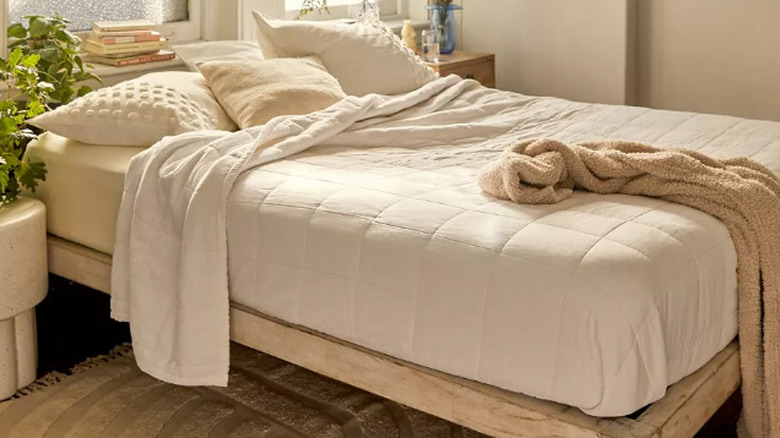 Urban Outfitters
Urban Outfitters is a very popular and trendy store that is mainly known for selling clothes but also sells a variety of home décor, furniture, and accessories. Founded in 1970, there are over 200 stores globally, as well as an extensive online catalog, per Urban Outfitters. It ranks as the 77th most popular clothing store, just above Yves Saint Laurent, according to YouGov America.
There is a price to pay for the retail store's trendiness, though. The store's prices are a little high, and shopping for furniture can be a little intimidating when looking at those tags. This is for a few reasons, including high-quality materials and construction, as well as the store commissioning independent designers (via The Cold Wire). However, if you do a little searching, you can find some more reasonably priced but still very trendy options. One example of less expensive options in the store's furniture catalog is their bed frames.
Sadie platform bed
Up first for the least expensive beds sold at Urban Outfitters is the Sadie Platform Bed, which starts at $399. The bed is offered in four standard bed sizes, each with a slightly increased price. The twin size is the cheapest at $399, then full at $449, queen at $499, and king at $599. It is sold in one brown color, which the product description notes is made of sustainable mahogany and sengon tekik wood.
The bed has a very classic, simple design, with just four legs and clean square lines. Each size of the bed sits 12 inches off the ground. The twin and full sizes are 75 inches long, and the king and queen sizes are 80 inches long. The base of the bed frame has wood slats, meaning you don't have to add a box spring. The description notes that the hardware required for assembly is included in the purchase.
Aaron storage bed
The next more affordable bed sold at Urban Outfitters is the Aaron Storage Bed, which starts at $499. It comes in two colors, white and natural, and two sizes, twin and queen. In both colors, the twin-sized bed costs $499, and the queen-sized bed costs $699. The bed is made of paneled, engineered wood. The white color has a smoother finish, whereas the natural shade has a more traditional wood grain finish.
This bed's unique feature is the two drawers underneath, which each have two small black handles. This is perfect for smaller spaces in need of extra storage. The queen-sized bed is 14.25 inches high, 82.2 inches long, and 62.3 inches wide, providing plenty of storage space in the drawers, as well as comfortably fitting a queen-sized mattress. The product description does note that assembly is required, but the necessary hardware is included.