The Least Expensive Dining Tables At West Elm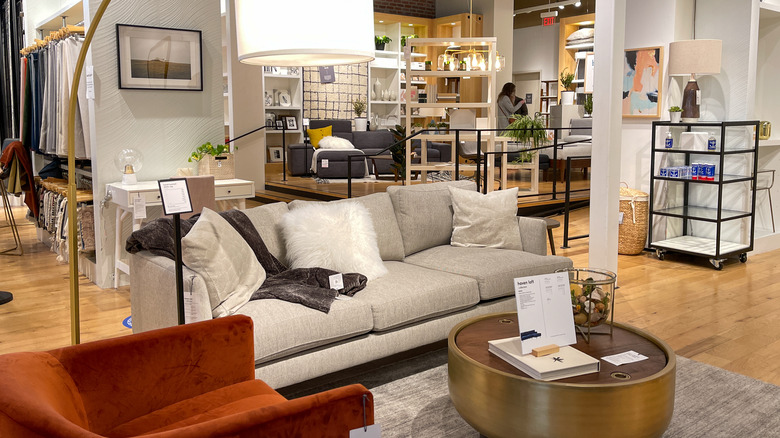 Joni Hanebutt/Shutterstock
Dining tables are a classic staple for most homes, offering a place to eat, gather, socialize, etc. According to La Belle Assiette, having a dining table is very beneficial. One usefulness they list is promoting better eating habits, as dining tables make you think more intentionally about your choices. It's also believed that familial and social bonds are strengthened when you eat together at a dining table.
Aside from being practical and functionally important pieces of furniture, dining tables are also a great decorative opportunity. Popular furniture stores like West Elm offer trendy and attractive dining tables that make for a great addition to any home. However, West Elm tends to be on the pricier end, mainly due to their commitment to sustainability, fair trade labor, and independent designs, via West Elm. Not every item at the trendy furniture retailer has to break the bank, though — there are a couple of cute dining tables at relatively affordable prices.
Gable porcelain table
One of the cheapest dining tables sold at West Elm is the Gable Porcelain Table & Stacking Stool Set, which starts at $769. The table comes in two colors: black and white porcelain. Both tables have a 48-inch wide size, and the black porcelain option also comes in a 32-inch wide size. Both sizes are 29.5 inches high and 32 inches deep; the larger option is more rectangular, and the smaller size is a perfect square. The larger size costs $839.
The top of the table is made of both porcelain and aluminum, and the base and legs are made of just aluminum. This table is built for indoor and outdoor use, made to withstand the elements, and then put away for the colder months or to brighten up your indoor space year-round. The table is also sold in two different set options, including one with stacking bar stools in the colors blush, oyster, or shadow, as well as an option with stacking metal chairs in the colors oyster black, and shadow, via West Elm.
Gable indoor and outdoor bistro table
Up next is the Gable Indoor/Outdoor Bistro Table & Stacking Stool Set, which starts at $679. The table is sold in two different sizes and shapes — a 32-inch rectangle top and a 30-inch round top for $699. Both options come in four colors, too. The first is black, which has a black base and top. Similarly, the white option has both a white top and base. The other two options are black top and oyster base, and white top and black base.
This bistro table also has a porcelain and aluminum top with an aluminum base, making it perfect for indoor and outdoor settings. Both shapes of tables are 29.5 inches tall, and the rectangle size is 24 inches wide by 32 inches deep. Also similar to the previous table is that this one is sold in two-chair sets as well, and they offer the same options, with the seat height of both the stools and chairs 18 inches off the ground, via West Elm.