The Easiest Way To Paint Over Your Chalkboard Wall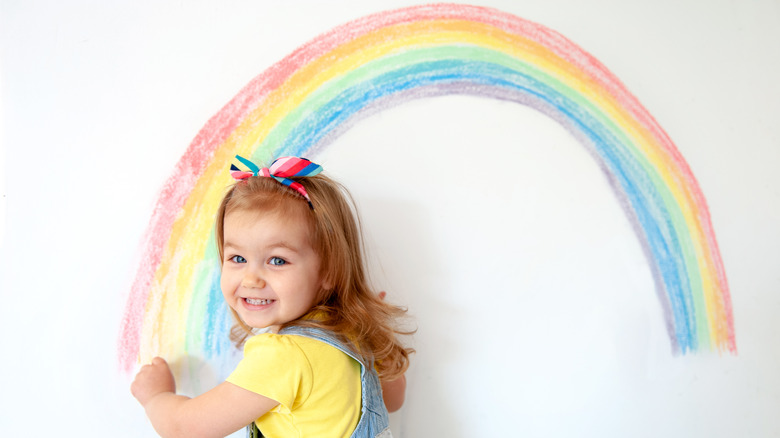 Mykola Gomeniuk/Shutterstock
Chalkboard paint is a popular choice among homeowners, especially those with kids. They offer a lot of great benefits, as BonBon Break mentions. For instance, a chalkboard gives your kids a whole wall to draw on and takes up practically no space. It also reduces a lot of junk that might accumulate if you were to use regular paper or a traditional means of drawing for the kids. What's more, chalkboard paint is also available in a huge range of colors, so you can have your pick.
However, when your kids grow older and grow out of the habit of drawing on the walls, maybe it's time to change things up and paint your walls. Since chalkboard paint isn't like other kinds of paint, however, you may not be able to color it like you would any other wall. So, we've got you covered if you're wondering about the easiest way to paint your chalkboard wall.
Sandpaper it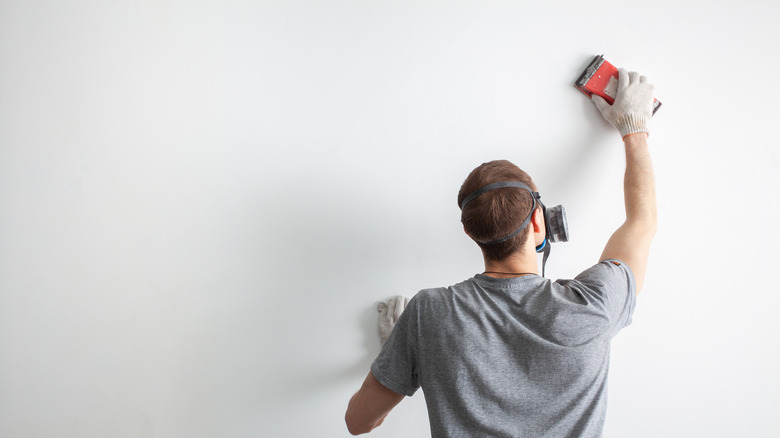 lucky boy studio/Shutterstock
According to ArtRadarJournal, the first step to painting over your chalkboard wall is to go over it with sandpaper — they recommend using 180-grit sandpaper. Next, get some soap and water and wash the wall so you get rid of any fingerprints.
This step is essential because you want to ensure your surface is clean of prints before moving on to the next step. Make sure you dry the wall so no water remains on it. You can now go over your surface with latex primer, and after you've applied the primer, you have an hour to paint your walls. You can use regular wall paint of your choice to do this.
As Networx explains, it's very important that you follow all of the above steps. A well-cleaned and sanded wall is what will make sure your new paint will stick to your surfaces well enough. For best results, primer is also a key step, and it is recommended that you go for two coats if possible.
Choose the right paint type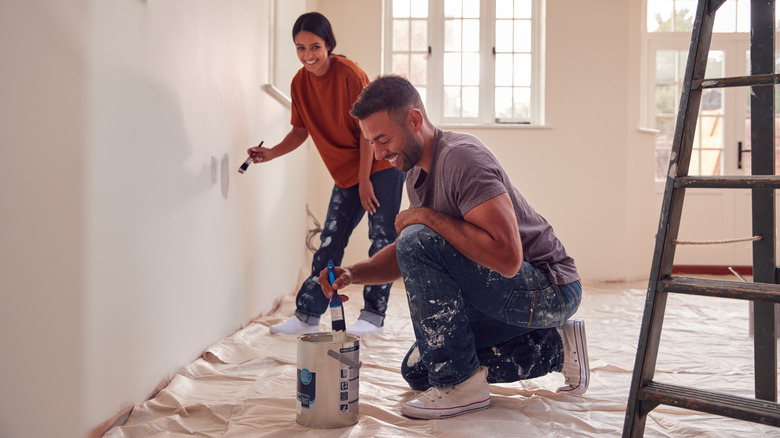 Monkey Business Images/Shutterstock
You might also be interested to know that the options are endless for wall paints and their finishes. According to Nerolac, you can go for a matte finish as it gives great coverage, is budget-friendly, and hides any imperfections well. Wall paint with a textured finish is also a great option for those wanting to try something different and bold. Textured wall paint is also good at hiding flaws and is long-lasting. A few other finishes include satin, eggshell, semi-gloss, and high-gloss.
MasterClass mentions that there are also a few factors to think about before picking your paint. Your number one deciding factor is movement in your space. If the surface you're repainting is one with lots of foot traffic, your best option is a durable paint finish such as satin or semi-gloss. You should also consider the luster of your product, as it determines how much light your wall will reflect back into the room. Also, take note of the flaws on your surface. A wall with lots of imperfections might require you to choose a less reflective paint finish.