The Best Leather Sofa To Tie Your Living Room Together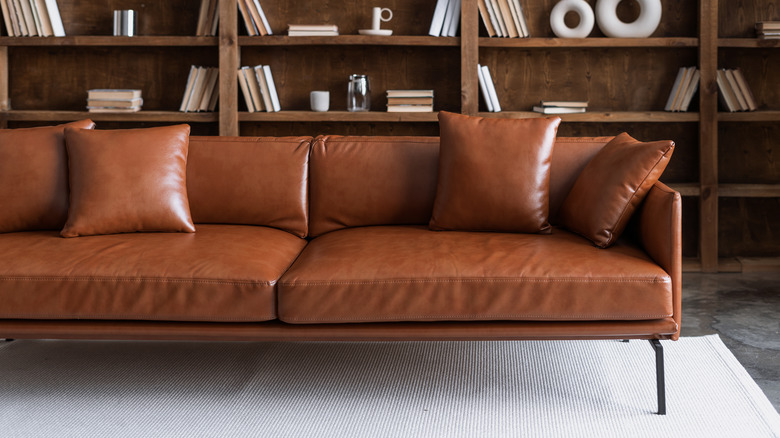 brizmaker/Shutterstock
We may receive a commission on purchases made from links.
Picking out the perfect comfortable couch for your living room can be stressful. The wide range of options you get to choose from can take a while if you're not quite sure what you're looking for. There are different colors, fabrics, finishes, and styles to consider. Different fabrics can be linen, cotton, rayon, polyester, etc., which can come in various colors such as beige, white, blue, black, green, and many others. If you're looking for a durable, long-lasting, and classy sofa, then leather can be the way to go.
The leather can be dyed in your choice of color, whether that be a classic coffee brown, black, or amber. There are other options, of course, Castlery touches on the benefits of investing in a leather couch that won't only make your living room look and feel luxurious but also make it worth your money. Leather sofas are stain resistant and easy to clean since the fabric is sleek and non-absorbing. The great quality leather will also prevent any cracks or tears to occur so that they last you for years. If you're in the market for a new sofa, here's one of the best leather sofas you can add to your home.
Poly & Bark Napa sofa
The Poly & Bark Napa sofa is ranked one of the best leather sofas on Amazon with 4.6 stars that are priced at $2,969. It's a gorgeous three-seater couch with armrests that comes in four different colors such as cognac tan, slate gray, onyx black, and midnight blue, per Amazon. There are two different sizes you can choose from, 72-inch length or 88.5-inch length, which both come in those four colors. The most interesting thing about this product is there are other styles of sofas and chairs you can choose from or pair with. There are a couple of sectional couches that come in the cognac tan color.
Customers who bought the sofa claim that it's sturdy, easy to assemble, valuable, and the craftsmanship is great. One review said the leather is "thick and luxurious" and is "perfect for taking naps" via Amazon, which for a leather sofa can sometimes be impossible. This sofa is filled with a fiber blend to give you the ultimate comfortable seating. Other reviewers claim they enjoyed how fast it took to put the sofa together, for some folks, it took a couple of minutes, while for others, it took about 10 minutes. It can fit with any style of living room, from mid-century modern to minimalistic, this sofa will complete your space.