Housing Units In Construction Are Skyrocketing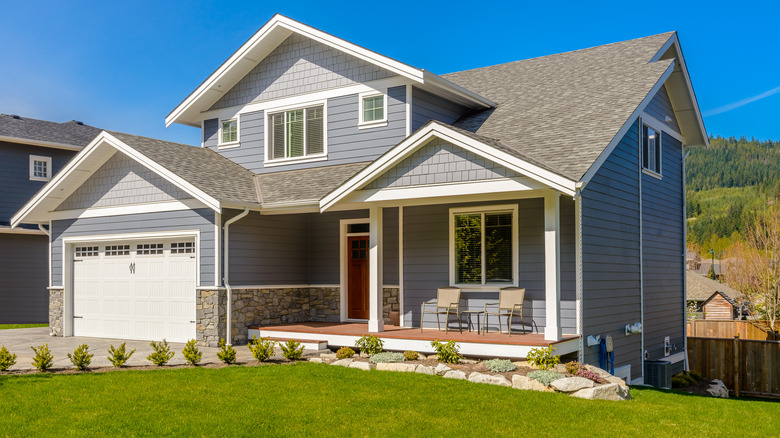 karamysh/Shutterstock
According to data taken from the U.S. Census Bureau and U.S. Department of Housing and Urban Development, American housing units in construction have been skyrocketing after a brief lull to end 2021. This will come as welcome news to many in light of the well-documented shortage of housing caused by unprecedented demand, the rising cost of new home construction, and supply-chain issues experienced during the COVID-19 pandemic. According to Forbes, by December of 2021 new construction made up greater than a third of home sales, an unprecedented benchmark that is in stark contrast to recent years.
While the incredible rate of new housing units being built should be promising for prospective homebuyers, single-family homes aren't exactly the star of the show. In fact, as noted by CNBC, last year saw home construction of these residences reach its slowest pace in over two decades. However, single-family homes in construction have been on the rise since their low point in 2021, with more being built in July of 2020 than at any point in the past four years. However, single-family homes still represented slightly less than half of the total units under construction when this data was taken, with units in buildings with five or more dwellings also representing a significant portion of housing units being built.
Meeting rising housing demands
For those with an eye on the real estate market, a major uptick in new construction is eagerly anticipated, if not a somewhat belated development. According to Forbes, this is due in part to the fact that existing homes are hard to find despite an increasing demand for housing that shows no sign of subsiding anytime soon. However, while many metro areas are experiencing an influx of newly-built homes appearing on the market, others are not so lucky. The availability of land and favorable zoning are both key factors that set hotbeds of new development such as Houston and San Antonio apart from congested coastal cities with fewer new homes for sale.
Per NPR, strict zoning regulations may be doing a huge disservice to would-be homeowners, especially younger ones who are seeking smaller, more affordable dwellings in desirable neighborhoods. However, until regulations change to meet the demands of a changing housing market, developers are making due. One way that builders are keeping busy is by knocking down existing homes and building new luxury homes. While practices such as this have a positive impact on the total number of housing units in construction, they're unlikely to benefit most prospective first-time homebuyers.