The Best Sheet Colors If You Have A Green Duvet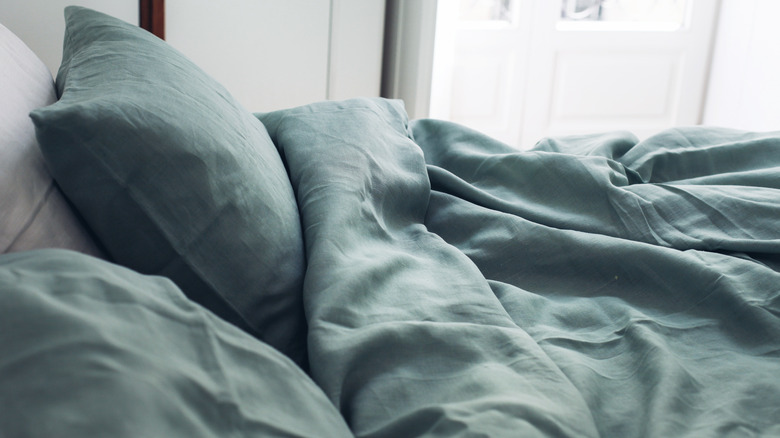 dabyki.nadya/Shutterstock
Color coordination is key when designing any part of your room, and not knowing which colors go together can cause a space to feel unbalanced. Some say that understanding color theory is crucial in designing a space that feels truly harmonious while also expressing the feelings you desire in that space, per Painting Pixels. You can do this by looking at the color wheel and taking note of what colors are across each other, as those are contrasting colors, and the colors next to each other are complementary. 
 This is especially important in the bedroom, as you want your space to be calm and relaxing. So, if you're introducing a brand new green duvet for your bed, you're going to want some coordinating sheets! It doesn't have to be a stressful process, as there are plenty of colors to choose from that will give you the aesthetic you've been working so hard for.
Comfy vibes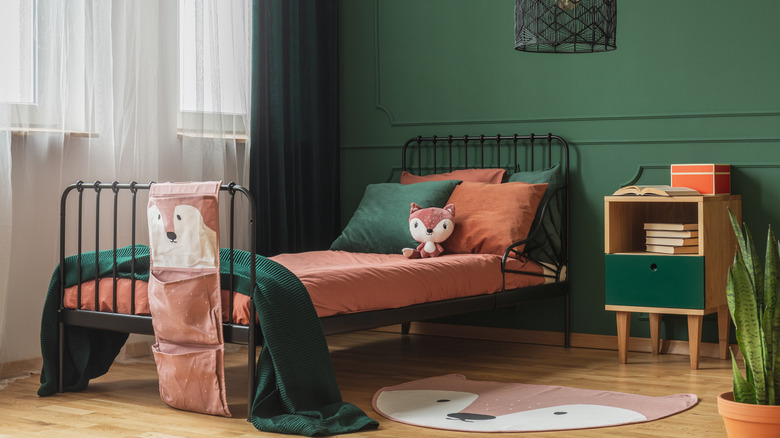 Photographee.eu/Shutterstock
If you're hoping to create a comfy, cozy vibe — yellow-green and hazelnut is a combination worth trying out, according to Shutterfly. Your yellow-green duvet will serve as your necessary pop of color to bring in a feeling of prosperity, while your hazelnut sheets will neutralize the palette to create a visual that is appropriate for all seasons. Not just that, but shades of brown have continued to remain a classic color and don't seem like they will go out of style anytime soon, per The Sliding Door Wardrobe Co.
You can also achieve a cozy vibe by combining emerald green with burnt orange, as they both serve as deep-colored neutrals. Although burnt orange may seem bright, the depth of the color and its tone can create a warm environment, especially when contrasted with a cool color like emerald green. A deeper orange like this can also class up a space and make it seem more sophisticated if you're working on an adult room, per Benjamin Moore.
Bright and fun
For a more upbeat bedroom, try a combination of white and light shades of blue-green, according to Shutterfly. The white sheets would serve as the base of your color palette, and the blue-green duvet will have relaxing elements to create a balanced space. You'll then be able to design the rest of your room with blue and green decor to create a harmonious visual. Light shades of blue-green are typically called sea-foam, and the combination can create a tranquil design that is also reminiscent of the 1950s, according to Picsart.
Another combination that can be fun to design around is dark green and a blushy purple that is a few shades softer than lavender. This combination creates a modern, eclectic design that is fun to design around. With this combination, you'll have the opportunity to introduce more prints and artwork, as well as different textures. This is a great option for artists who are trying to aim for something bold.