The Best Bedding Colors To Pair With A Leather Headboard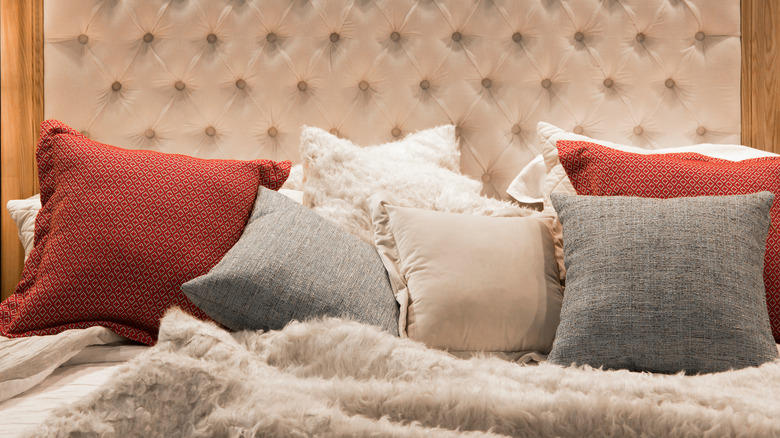 Ivanka Kunianska/Shutterstock
Leather is an appealing option for foundation furniture pieces because of its durability and because it is so easy to style in different ways, states Victoria Advocate. Whether you like sleek modern styles or prefer a more boho approach to decorating, a leather headboard can adapt to your style.
There are many colors of leather headboards. You can opt for a neutral piece in black or various shades of brown or gray, or go bold with green, blue, or red. Because leather absorbs color, you can dye it in almost any color of the rainbow. How you decorate your bedroom with a leather headboard begins with the color and style of your bed.
If it is ultra-modern, you will need to select equally minimalist bedding. If it is heavily adorned with carved wooden accents, consider tapestry-style bedding. For most leather headboards, the best colors for your room just depend on what you like.
Neutral tones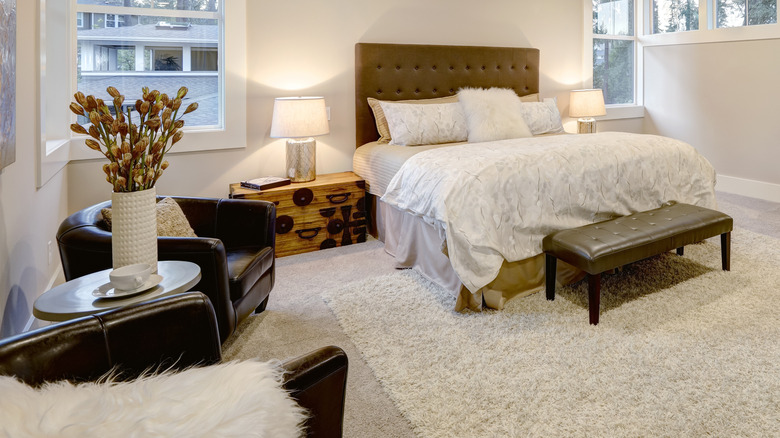 Artazum/Shutterstock
You can use neutral bedding with neutral or brightly colored leather headboards. If your bed has a bold color that you want to be part of the focal point in your bedroom, select neutral bedding with just a hint of that color. For example, if you have a bright green leather headboard, choose linens with a neutral base that features a small green print. This option creates visual cohesiveness while keeping the headboard the focus of the room.
If you are creating a neutral color palette for your bedroom, select bedding in tones that complement the color of your headboard. If it is dark brown, opt for light-colored bedding with brown trim or bedding in shades of white, off-white, or tan to create contrast. Textured bedding, like linen, solid-colored quilts, or comforters with ruffles also add visual interest. Decoraid suggests bringing in some‌ bright white accents, such as throw pillows, for a bit of intrigue while keeping the color palette neutral.
Color options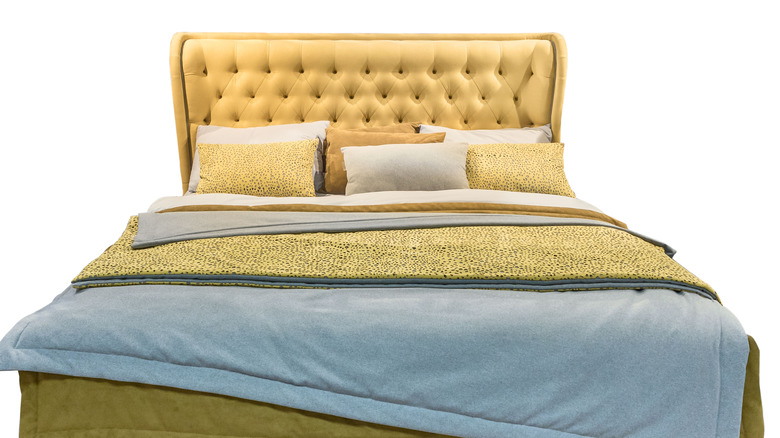 Natalya Erofeeva/Shutterstock
If bold colors are more your style, a leather headboard is a perfect complement to a prismatic space. Again, when selecting bedding for a brightly colored headboard, make sure that the hue is incorporated into the pattern you choose. For example, if you have a red leather headboard, look for bedding in which red is not the primary color. Instead, get something with red as an accent. For example, a bright floral print with hints of red is perfect for people who like jewel tones.
For neutral headboards that are black, brown, or grey, you can choose almost any bedding color. The Company Store recommends combining light-colored headboards with light-toned bedding options for a Scandinavian feel. If you have a tan headboard, consider pastel shades or beachy shades, like ocean blue. You can still opt for bedding in lighter colors if you have a dark headboard. Just balance the contrast by adding accent pillows that have a touch of your headboard hue — black, dark brown, or grey — to bring everything together beautifully.