The Best Sheet Colors If You Have A Black Duvet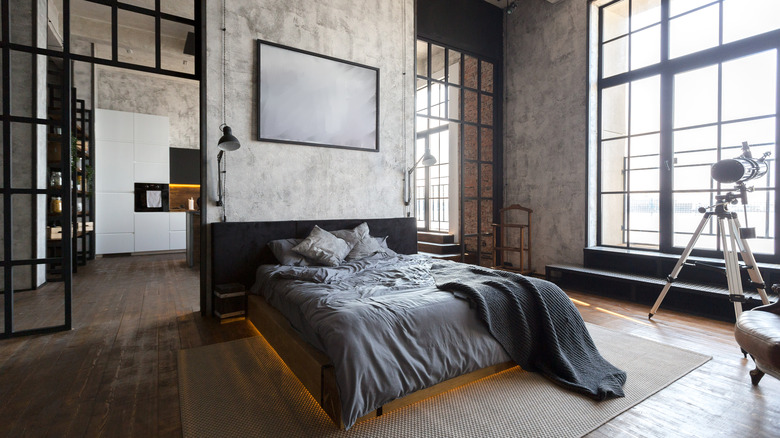 Pinkystock/Shutterstock
When you have a black duvet, it's common for others to assume you hate bright colors and are very sad. Yes, a black duvet can make a bedroom seem dark and gloomy when paired with the wrong sheet color; however, when paired with the right sheets, your bedroom is instantly transformed into a chic masterpiece. After all, black is the epitome of sophistication and elegance, according to Oberlo. Besides white, black is one of the most universal colors in interior design, so it goes with everything, PureWow says, which means you have no limitations on colors for your sheets. 
The only downside is that because you have so many options, it may be difficult to pick the right one for your space. Because of this potential issue, we wanted to give you two color choices for two different bedroom styles, so you don't feel confined to a sheet color that doesn't suit you. With that in mind, let's jump into the two best sheet colors if you have a black duvet (and you may be surprised to find out what they are).
Go light and fresh with cream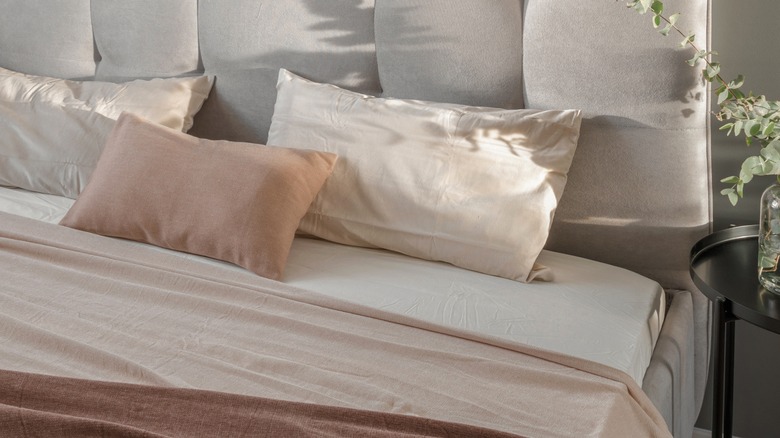 Jevgenija ZUK/Shutterstock
It probably comes as no surprise that cream is an extremely popular sheet color. As a matter of fact, cream and other similar shades (such as ivory and beige) create 90% of the linen purchases in the US, The Sleep Judge states. One of the best things about using cream in interior design is its simplicity and ability to adapt to any style. This light shade offers an air of class to any room, which is why we strongly recommend it as a sheet color to go with your black duvet. Keep in mind that cream sheets won't do the best job at hiding stains, but if that doesn't matter to you, this is a great option. 
Another excellent feature about this black-and-cream color combination is that it's a neutral palette (not too masculine or feminine). If you're looking to create a more masculine vibe in your bedroom space, consider dark shades of brown, blue, and green for your sheets, HGTV recommends. As you can see, cream is extremely versatile and would make an excellent addition to your room.
A feminine blush pink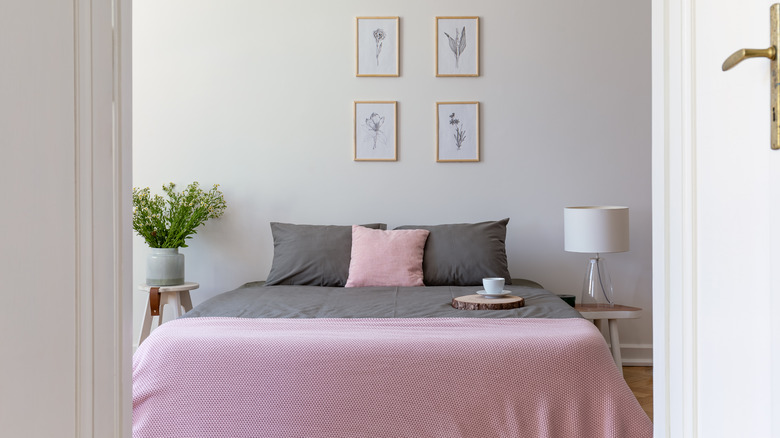 Photographee.eu/Shutterstock
For a more feminine aesthetic, try blush pink sheets with your black duvet. Because blush pink isn't one of the brighter pink shades, it will make your bedroom look more sophisticated as opposed to childlike. According to Joss & Main, the drama of your black duvet grabs your attention, while the subtlety of your pink sheets creates an inviting atmosphere. To style the rest of your bedroom with the black-and-pink bedding combination, think about purchasing gold furniture, which will really add dimension to your space.
Gold complements both black and pink, Aero Drapery and Blinds explains, making it a match for the black-and-pink aesthetic you've created in your bedroom. Just like the color black, gold represents elegance, so by choosing gold furniture to go with your black-and-pink bedding, you're only enhancing the chic and sophisticated vibe. If you want, go ahead and add more gold to your bedroom with accent pieces, such as lamps and picture frames. Together, the gold furniture, black duvet, and blush pink sheets will make your room the center of attention in your home.